Official Roland Boutique VP-03 Info, Plus Video Review
The VP-03 is a new version of the original Roland VP-330 Vocoder Plus, swapping analog for ACB and adding 16 chord memory setups and a voice step sequencer. Plus, here's a review by Kosmic Sound.
The VP-03 is a miniature version of the VP-330 Vocoder Plus, one of the most popular vocoders ever made. Part of the Roland Boutique series, the VP-03 brings together the worlds of synthesized sound and the human voice, using the latest ACB technology to accurately emulate the sound that made the original so influential. The VP-03 has the VP-330's vocoder, human voice, and strings sound sources on board, and comes with a gooseneck microphone. And when paired with the optional K-25m Keyboard Unit, you've got the authentic VP-330 vibe in a reliable, low-cost setup that's highly portable. There are new features too, including 16 Chord Memory setups and a Voice Step Sequencer for even more creative potential. Whether you want the classic, electro-infused "talking robot" sound or the expressive power of shaping synth sounds with the human voice, the VP-03 puts it all at your fingertips.
Here's an impressive review of the VP-03 from Kosmic Sound: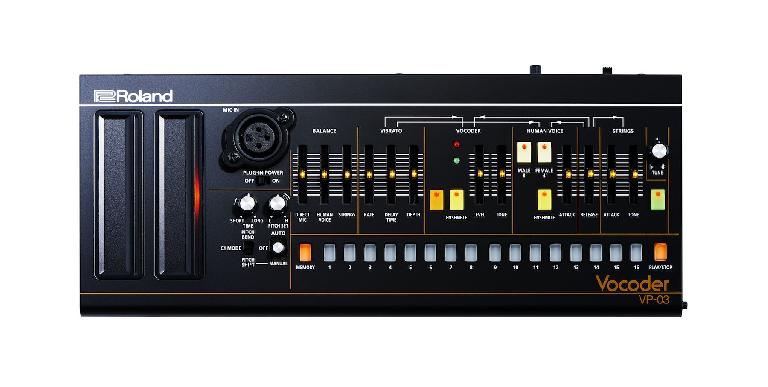 Features
Ultra-compact recreation of the iconic VP-330 Vocoder Plus
Retains the sound, character, and user interface of the original VP-330
Gooseneck XLR mic included
New features include Voice Step Sequencer and Chord Memory function for one-finger performance
High-quality construction with metal front panel
Highly portable for mobile music making
Battery-operated (4 x AA) or USB powered
24-bit/96 kHz stereo IN/OUT USB audio interface
Built-in powered mini-speaker for instant enjoyment
Dual ribbon controllers for pitch bend, modulation, and one-touch sound preview
Compatible with optional K-25m Keyboard Unit and DK-01 Docking Case
New Voice Step Sequencer
The VP-03 includes a new Voice Step Sequencer not included in the original VP-330, which allows you to input a single note, chord, or your voice into each of the 16 steps, with each step comprising up to six notes. The result is a distinctive rhythmic effect that brings dynamic motion to the VP-03. You can use a series of functions to change the order of steps within the sequence for unpredictable and inspiring results. Saving your best sequences to a computer via USB is easy using the backup/restore function.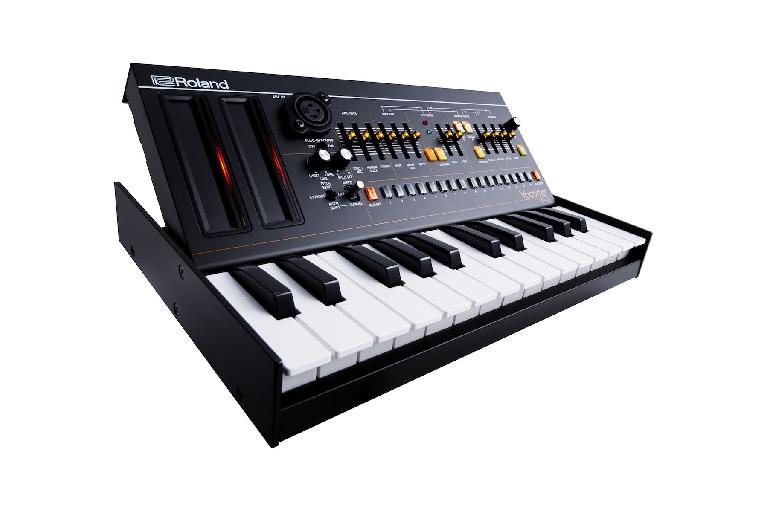 New Chord Memory Function
Another new function not found in the original VP-330 is Chord Memory, which lets you play back chords using just one finger. With 16 locations available, you can quickly store and recall your favorite chords using one of the 16 step buttons. You can also create your own chords and save them into these locations, and back them up to your computer using the backup/restore function.
Connect with External Gear
In addition to line and headphone outputs (both in mini-jack format), the VP-03 is equipped with a full-size XLR mic input. Simply connect the supplied gooseneck mic to fully unlock the VP-03's creative potential, using your voice (or any other sound) to filter and shape the onboard synthesized sounds. You can also connect the VP-03 to other devices, either through the standard MIDI IN/OUT ports or via a Micro-B USB connection that handles both audio and MIDI data.

Optional K-25m Keyboard Unit
The VP-03 works especially well with the K-25m, an optional 25-note keyboard that takes your music making to the next level. Once docked in the keyboard, the module's front panel adjusts to three positions for convenient access to the knobs and sliders. Just attach the included gooseneck mic and you're ready to go!
Battery or USB Bus Power
Some of the best music is made away from the studio, so the Roland Boutique series runs on 4 x AA batteries, ready for when inspiration strikes. Alternatively, you can use the VP-03 with USB bus power. Incredibly portable, the VP-03 weighs just 940 g/33 oz. with the batteries installed.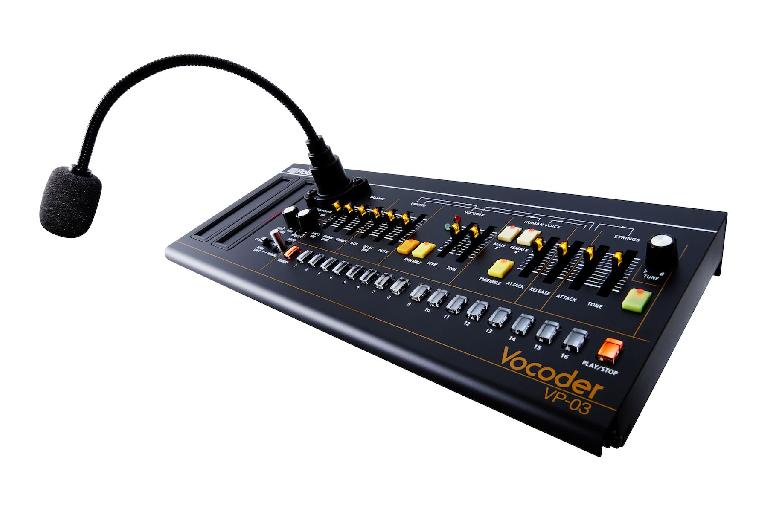 USB Audio Interface for Direct Recording to Your DAW
Via its USB port, the VP-03 also functions as a high-quality 24-bit/96 kHz audio interface, providing a simple and reliable way of recording directly to your DAW application. You can keep your favorite settings and voice step sequencer patterns safe too via the USB data backup function.