Cumberland, RI USA (March 13, 2017)— Numark (numark.com), the world's leading innovator of DJ solutions, today announced the introduction of the NS6II, an all-new 4-channel DJ controller with a full roster of professional features and uncompromised performance at an amazing value. Just as the original NS6 broke barriers and was the first standalone professional 4-channel controller, the all-new NS6II strengthens Numark's reputation for innovation, performance and fun by delivering a 4-channel controller with dual USB ports, two built-in 2-inch high-res display screens and the full version of Serato® DJ.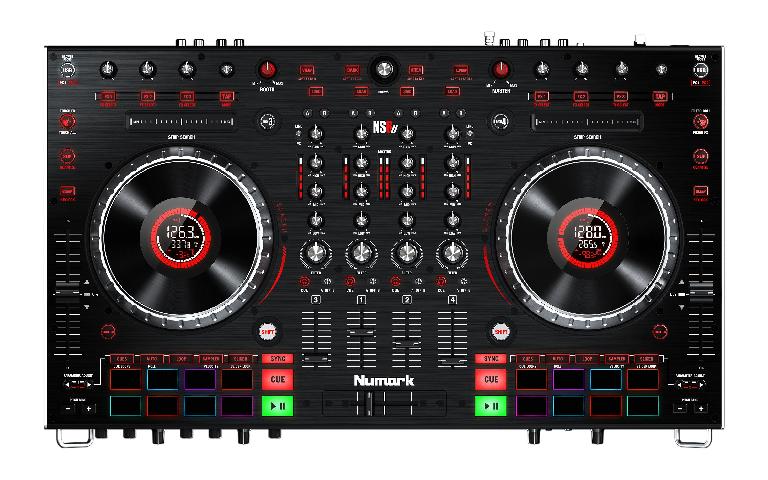 The NS6II is a Numark first—a DJ controller that enables connect two laptops to be connected simultaneously, each engaging Serato DJ, for seamless DJ hand-offs. With a push of a button, both DJs can switch between the two laptops and play at the same time between four channels. The possibilities are endless—your creativity has been unleashed!
In addition to the dual USB ports, the NS6II contains a standalone mixer to connect turntables and external media devices. Users can connect two media devices to the RCA line/phono inputs and instantly switch between them. A pair of microphone inputs with independent EQ ensure the DJ can manage their night with ease. With its audiophile-grade circuitry, the NS6II delivers impeccable 24-bit sound quality without compromise.
Its Numark-exclusive capacitive-touch technology really makes the NS6II something special. Utilizing revolutionary Numark technology, the platters are intelligent and self-correcting, sensing every motion and touch to ensure solid, reliable operation no matter what's going on around you. No other brand of controller has this technology as well as heavy-duty platters that stand up to rigorous use, night after night. In addition, this exclusive capacitive-touch technology is also in the NS6II's knobs, allowing for unique filter effects, instant and spontaneous effect control, as well as EQ frequency elimination simply by touch.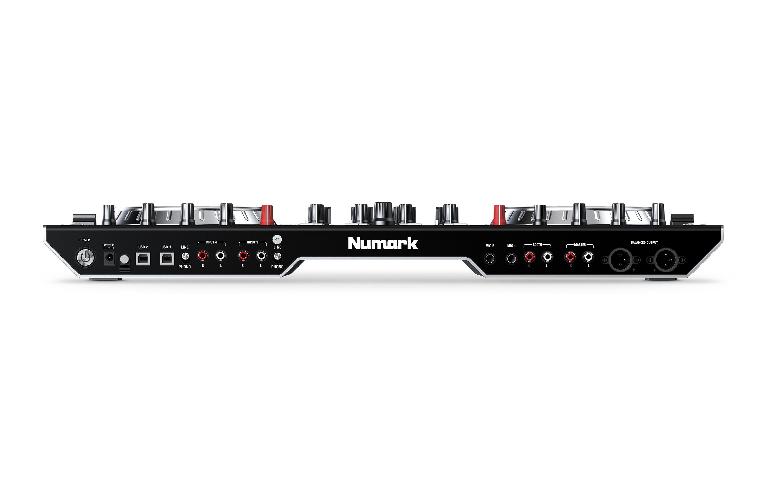 Rubber MPC style performance pads give users quick access to hot cues, auto loop/roll, manual loop mode sampler and slicer. Each function doubles-up with sub functions to give DJs access to a total of 16 velocity-sensitive pads.
Key Features
 (2) USB ports for DJ handoffs or multiple computer connection

 (2) Color LCD track status displays for each jog wheel

 Capacitive Touch knobs for Instant effects and EQ kills

 4-channels with filter knobs and filter effects

 Roll bar to protect front panel control knobs

 Stand-alone digital mixing 24-bit, 44.1k audio (no computer required)

 (2) Stereo RCA inputs with DVS-ready phono preamp

 (2) Dedicated 1⁄4-inch mic inputs with EQ

 Balanced XLR outputs, RCA booth and master outputs

 CLASS COMPLIANT: plug and play - no drivers required

 Includes Serato DJ (full version)

"The NS6Il is an amazing all-new 4-channel controller with all the features, performance and flexibility any DJ needs for a great experience," said Chris Roman, Senior Product Manager for Numark. He added, "The LCD readouts and our one-of-a-kind touch-capacitive platters give the DJ instant feedback and ultimate control. This is a sophisticated but fun-to-use controller at an incredible value that will be a hit with all DJs."