4th July, 2016–The KONTAKT GUI Maker is a new software for Native Instruments KONTAKT 5 Sampler, that helps you in the process of designing graphical user interfaces for KONTAKT instruments.
It lets you position and manipulate controls directly on the screen. Once you are done, you can export a KONTAKT-ready script file.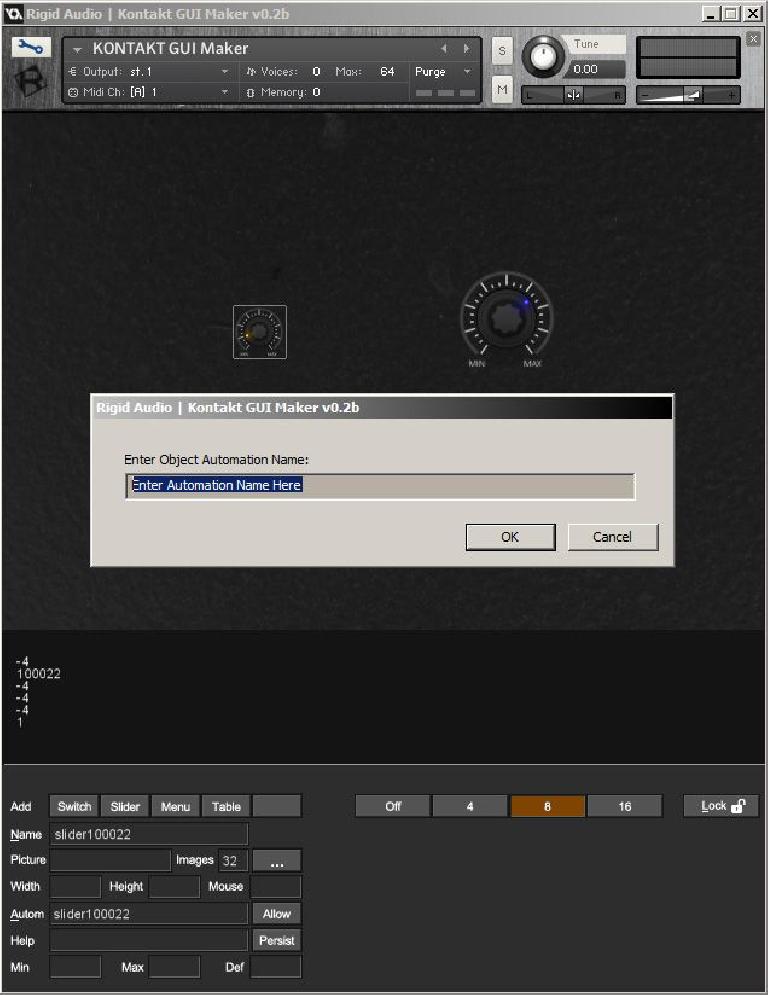 Planned features for the first (v1.0) release
assigning basic operations to UI elements.
assigning pre-made functions to UI elements.
basic included operations like set_volume, change_pan, set_reverb_amount and so on.
import of PNG image strips. If a *.TXT file exists for that particular image, the contents will be read and used/displayed accordingly.
editing of UI properties like name, picture-file, no. of images, width, heigth, mouse, automation name/allow, help text, min, max and default values.
on screen positioning and arranging of UI elements.
on screen image animation preview using the mouse wheel.
customizable on_init block.
customizable on_async_complete, on_ui_control, on_controller, on_listener, on_note, on_pgs_changed, on_poly_at, on_release, on_rpn/nrpn and on_ui_update blocks.
support for UI tables with custom width, height, range and colours. resizable on screen, set_table_steps_shown().
message output.
control over make_persistent, read_persistent_var.
support for text input fields and ui_labels.
user definable central readout display (shows labels / control names + values).
user expandable script library.
It is currently in development and can be pre-ordered from Rigid Audio directly.