Neyrinck are perhaps best known for V-Control, the DAW controller for iPad. It was one of the first and best music software controllers available for Apple's tablet… long before Logic Remote appeared.
But, what we're really here to talk about is the Dolby Atmos plug-in (for Pro Tools HD) which can now be controlled using the V-Panner and V-Console iPad apps. So, here's what Neyrinck tell us about V-Control Pro 2 update, Dolby Atmos plug-in and V-Console:
As part of our ongoing commitment to provide frequent updates to the V-Control Pro 2 system we are pleased to announce that all versions of V-Panner, and the iPad version of V-Console, now include a new screen that directly controls the Dolby Atmos plug-in in Pro Tools HD. V-Panner and V-Console can be updated for no charge, see links below.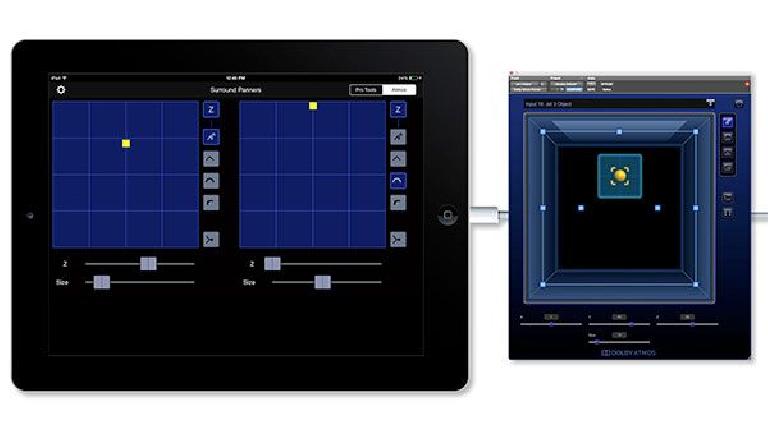 We have also updated the V-Control Pro 2 software that runs on the OSX or Windows media computer. The update supports the new Dolby Atmos screen and includes stability improvements and bug fixes. We recommend the V-Control Pro 2 update for all licensed customers, those using the restricted function trial version, and for the legacy V-Control 1.9 iPad app.
Dolby Atmos Plug-in Control Features
Directly control the Dolby Atmos plug-in on Pro Tools HD Object Tracks from tablets and phones
First and only touch-screen Dolby Atmos controller available
Includes controls for Z Elevation, and Wedge, Ceiling and Sphere Elevation modes as well as an object size control, mirroring controls in the plug-in
Update available at no charge
V-Control Pro 2 is available now for only $49.99/year from the Neyrinck store.