Mark us at Ask.Audio as excited by this news. At NAMM 2017 Novation will show off Launchpad Arcade, a DAW-less way to use one Launchpad MK2 to control 64 Launchpad XLs! As well as showing off the (relatively) new Peak synthesizer which made our Best of 2017: Hardware Synths list there will be other hardware synths on show. They are not specific about whether these "new" synths are being launched at NAMM or not. However, Novation did launch both Peak and Circuit Mono Station at Superbooth last April, so we think they might wait until May to announce new ones...
Here's what Novation say about their upcoming NAMM 2018 presence:
Los Angeles, CA, January 4, 2018 – Novation, a leading brand of electronic music tools, has prepared a special interactive experience for visitors to its exhibit area (booth 11002) at the NAMM Show, taking place January 25-28, 2018, in Anaheim, CA. This year, Novation aims to move NAMM visitors through its world of products by showcasing multiple workflows. From working in-the-box, with the brand's iPad apps and popular Launchpad and Launchkey MIDI controllers, to its out-of-the-box solutions (including synths, groove boxes and modular setups), the booth will offer an immersive look into what Novation offers seasoned pros and beginners alike.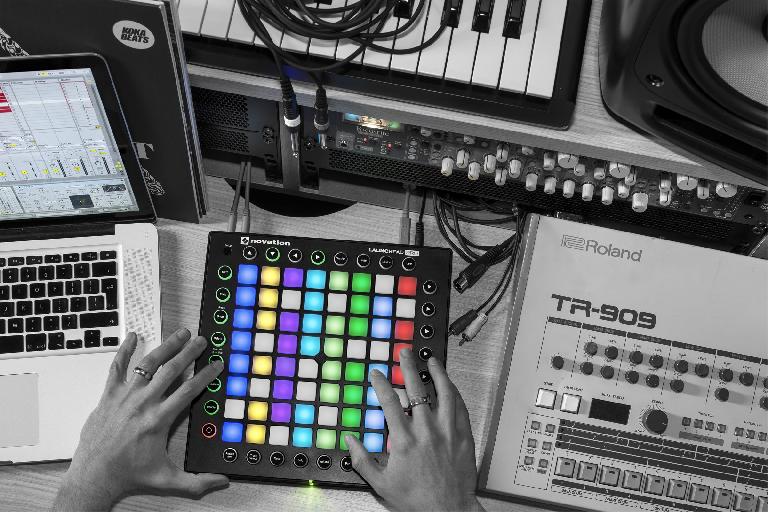 The booth is segmented into three areas, which together tell the story of the Novation brand:
The left side is dedicated to promoting the Novation brand mantra, "Making Music Easy to Make." Here visitors can experience Novation's Launchpad and Launchkey controllers with Ableton Live and also apps from Ampify, Novation's sister brand. Ampify is responsible for some of the most popular music creation and remixing apps on Apple's App Store (Launchpad for iOS has over seven million downloads, and Blocs Wave for iOS has won a number of prestigious awards). Combining Ampify Apps with Novation Launchpad hardware makes it easier than ever for users to start making music quickly.
In the center of the booth, for the first time in the U.S., will be "Launchpad XL" – 64 Launchpad Pros being controlled by one master Launchpad Mk2 – a completely interactive experience. A real-life Launchpad comprises 64 square pads; at NAMM, visitors will be able to play a device where each single pad controls one full-sized Launchpad. Come see and play it for yourself – there is no better way to get started with grid-based music than on a huge scale!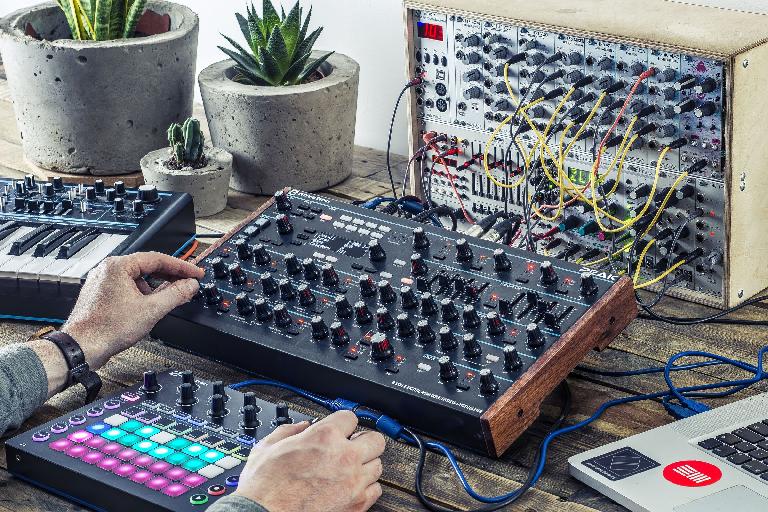 The Launchpad experience in the center area will be utilizing a modified version of the recently announced "Launchpad Arcade", allowing users to interact with the Launchpad instantly, without the need for a traditional DAW. They will choose to play with either a clip launch session or make a life-size light show.
Moving to the right of the booth, for the more advanced music creators or synth players, Novation will have its newest synths available for demo: Peak, Circuit and Circuit Mono Station. Here visitors will experience powerful synth sounds, which stem from Novation's deep history. (After all, they're the force behind Bass Station and Supernova). Novation's design consultant is none other than Chris Huggett, the man who designed the OSCar and WASP synths. Novation has over 23 years of innovation and expertise, and the modern Novation synth range at NAMM is the result.
About Launchpad Arcade:
Accessible for free, and by using the Google Chrome browser, Launchpad Arcade is a place where you can get straight into making music with Launchpad's familiar clip-based user interface. You can perform tracks from an extensive loop library, and you can even play lightshows, too — if you already have a Launchpad device. All you need is a computer and an internet connection to get going. Launchpad Arcade is ready for players at all levels. Whether you have zero music-making experience, or you're an intermediate or advanced user, the quick setup guide will fast-track you to the action.