Picking up where Novation's popular Circuit Macro Editor left off, Circuit Synth Editor enables control over sounds by editing Circuit's two synths. It delivers an easy-to-use editor, perfect for getting under the hood of the whole Circuit synth engine. Circuit Synth Editor is fully integrated into the Components content manager for fast, stable performance. It's available now at components.novationmusic.com.
Here's the key features:
View output waveforms
Using the drop-down menu, it's possible to choose the oscillator wave type from the Classic wave types and Wavetable types. Having selected a wavetable type, it's then possible to select the waves within the table using the Index control, and select the amount of interpolation between the waves using the Interpolate control. The graphic display of the waveform changes to reflect the output waveform, taking into account the Index and Interpolate controls.
In-depth LFO editing
Controls for LFOs 1 and 2 are presented when the LFO tab is selected. There's a visual representation of the LFO type, as well as a drop-down box to select the LFO type. Controls for Rate and Delay are grouped, and common settings are arranged to the right. The large 1 and 2 on the left-hand side select between LFOs 1 and 2. All other controls on the tab update when these large numbers are selected.
Edit and view envelopes
The three separate envelope controls for each of the two synths can be accessed. When in the Envelope view, Attack, Decay, Sustain and Release can be changed for each of the three envelopes. There's also a slider to change velocity for the first two envelopes, and delay start time for the third envelope.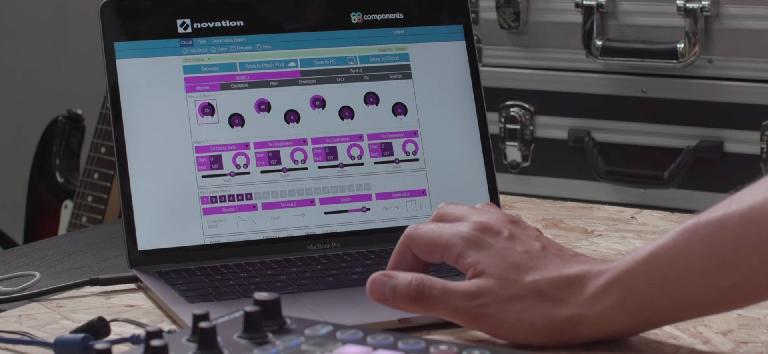 Access the filter controls
By selecting the Filter tab, it's possible to affect the frequency and resonance at the same time. Key Track, seven Drive options, oscillator bypass, and six filter types can also be accessed.
Initialise patches
Clicking the Browser button in the editor provides a drop-down menu, the top item of which is Init Patch. Selecting this option will reset all parameters in the current synth patch back to a set of defaults per the Init Patch settings in Circuit.
Easy modulation routing
All 20 modulation slots of the synth engine can be accessed, and the Modulation Matrix is persistent on all tabs of the synth editor. Users are able to select up to two modulation sources for each slot, define the depth of the modulation being sent to the destination, and define where the modulation signal will be sent. Modulation paths can also be selected from drop-down menus to set source and destinations.
Quick learning curve
Each of the main tabs in the editor has a question mark that appears when the mouse hovers over the tab. Clicking this '?' will bring up a help view providing further information on the content of the tabbed page.