Following Novalia's success earlier this year with DJ QBert's interactive printed DJ Decks, they have just launched their Printed Touch Creator Kit on Kickstarter. Using their innovative touch sensitive technology, the Printed Touch Creator Kit allows anyone to easily make beautiful surfaces interactive using a paper thin sticker pre printed with conductive ink.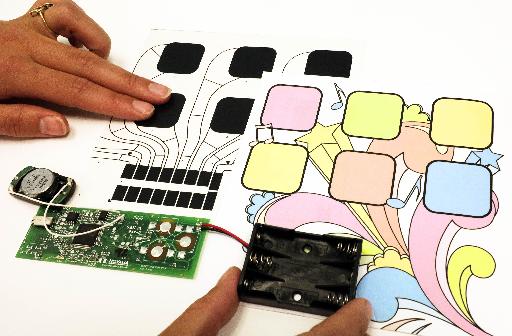 The Printed Touch Creator Kit puts the magic of conductive ink at your fingertips. It is for creators everywhere: creatives, designers, artists, makers and hackers. It is for adults and kids, brands, agencies and innovators.
Novalia believe that the aesthetics of your project should shine through rather than looking like a science experiment. As such, their innovative kit requires no programming, no messy ink and no need to solder wires. It allows you to develop your ideas and easily bring concepts to life.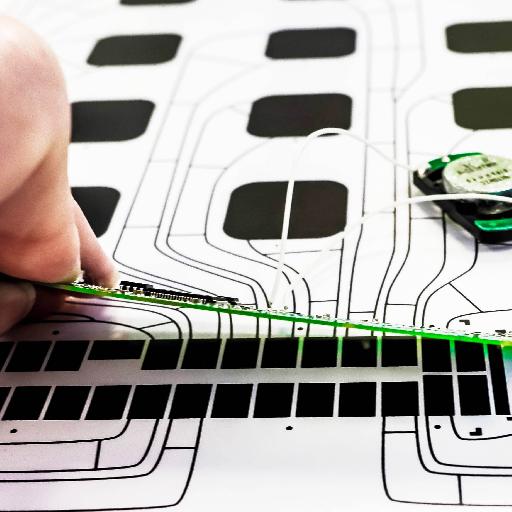 Using Novalia's Creator Kit, you can easily add touch activated sound to almost anything, from the size of a postcard to the size of a bus shelter, and try out adding interactivity to:
Posters, books, walls, packaging, the floor, windows, doors, plant pots, coffee mugs, boxes, greetings cards, paintings, photographs, tables and chairs, guitars, jewellery and clothes, to name a few!
How Does It Work?
You are supplied with a sticker (from postcard to bus shelter size) that has pre printed conductive ink capacitive touch sensors on one side.The stickers are self adhesive on both front and back so you can stick them to any non conductive surface and easily add graphics of your choice onto the front, or just draw on any image you wish.

Press the supplied control module onto the sticker in the connection area along with the pre-wired battery pack and pre-wired surface sound actuator (the thing that turns a surface into a speaker).

Using Novalia's simple software tool for Mac and Windows, select sounds of your choice and associate them with any touch point you wish on the sticker. You can also choose the sensitivity of each individual touch point and the action (play, stop, volume etc.). By saving a file onto a micro SD card and inserting it into the control module you have now custom programmed the print; it is that simple.

Touch the hotspots and hear your project come to life!

About Novalia
Novalia is a Cambridge based conductive ink startup founded by Dr. Kate Stone. Novalia's technology adds interactivity to printed items, such as posters, books and product packaging. Interactivity is created through touching the surface of the print to make something happen, such as turning the paper or poster into a speaker to talk or play music.
Talking about the technology behind the product, Novalia's Dr Kate Stone comments:
'We believe the future will look more like the past than the present, where beautiful old school things we love and are nostalgic about will not die as many have said. We hope to breathe life into things like books and album covers, keeping the creativity in physical products alive. We work at the interface of the digital and physical, taking the essence of the digital world and putting that digital DNA into beautiful physical objects which have intuitive touch, connectivity and data beneath the surface and are manufactured by processes such as regular print.'