Enquanto a maioria das músicas é composta por conjuntos de barras com o mesmo comprimento, você pode querer anotar um pedaço que não usa barras convencional a todos ou tem um ritmo livre. O boato de que não é possível notate ritmo livre no Sibelius persiste, mas ela é falsa. Você pode e nem sequer é difícil.

Antes de começar, vamos rapidamente pensar sobre o que podemos querer fazer:

Notate a melody in free rhythm, without barlines

Use bars of different length, but without changing the time signature every few notes

Notate a bar that is longer than one line

Notate noteheads without stems

Notate notes without connected beams

Isso deve lhe dar tudo que você precisa anotar 99% da sua música diariamente. Você também pode anotar intrincada canto gregoriano, até o uso de fontes especiais, mas na maioria dos casos essa "notação faux-plainsong será suficiente.
# 1 - Notate em ritmo livre
Se você tem um conjunto predefinido de notas que você quer anotar em ritmo livre dentro de uma peça, você pode simplesmente criar um bar que é o tempo que você precisa: Olhe para a imagem, existem duas barras de 04/04 cheios de notas. Agora queremos introduzir algumas notas que não utilizam a fórmula de compasso 4 / 4, mas são para ser jogado gratuitamente. Vamos assumir que essas notas são combinadas 15 / 8 longas. O que vamos fazer é brevemente mudar para uma assinatura 15 / 8 e depois voltar para 04/04.

Certifique-se que não há nada selecionado em sua pontuação por bater Esc. Clique em Assinatura horário na guia Anotações do T fita ou e pressione enter 15 / 8 como na imagem abaixo.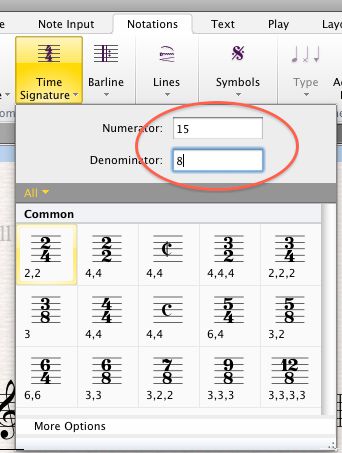 Pressione Enter e clique imediatamente após a última nota dos dois bares cheios. Em seguida, digite suas notas para o ritmo livre. Quando você tiver feito isso, volte para 04/04, inserindo o compasso como você fez com o 15 / 8. Você pontuação deve ficar assim:

Tudo que você precisa fazer agora é se livrar do compasso 15 / 8 e deixar claro que esta seção é para ser jogado gratuitamente. Clique sobre a assinatura 15 / 8 para selecioná-lo e pressione a tecla Backspace. Escolha 'Não' na caixa de diálogo que aparece.

A assinatura 15 / 8 terá desaparecido, mas a medida ainda estará lá, assim como a após o 04/04 do bar. Para tornar absolutamente claro que esta seção é para ser jogado como o ritmo livre, você pode agora adicionar um barras de compasso dupla após a segunda barra: Vá para Anotações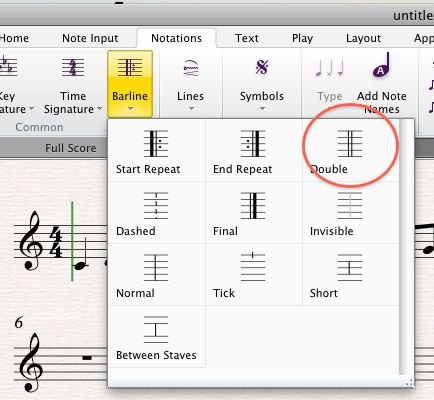 Adicionar um pouco de texto Technique (Cmd / Ctrl-T) para a primeira nota do bar irregular eo ritmo tipo "livre ou algo semelhante Sua pontuação será parecido com este.:
# 2 - Use as barras de diferentes comprimentos
Se você tem muitos bares de diferentes comprimentos, muitos para sempre criar uma assinatura de tempo, exclua-o, e assim por diante. Mas há uma solução fácil: Crie uma nova pontuação. Para este exemplo, vamos utilizar o papel do manuscrito Treble staff, e deixar tudo como está, com a exceção de duas coisas: definir o compasso para 126 quartos, como na imagem e com a assinatura chave para abrir a chave / atonal. Clique em "Criar". Quando a pontuação foi carregado, você pode digitar suas notas, como de costume, basta manter a introduzir até que você quiser definir uma barras de compasso. Ir para Nota de Entrada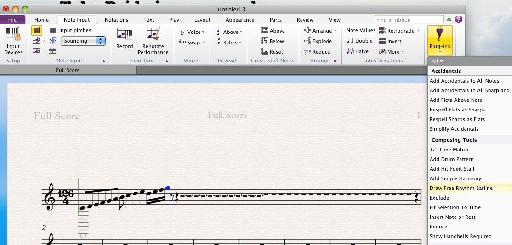 Notas de entrada de novo e repita o procedimento até terminar. Em seguida, clique em todas as assinaturas tempo, botão direito do mouse e selecione 'Hide' ou 'Show' para mostrar / esconder. Feito!
# 3 - Notate um bar mais do que uma linha
Se você precisa anotar uma frase que é longa demais para caber em uma única linha, faça o seguinte: Use o mesmo método em 2), mas definir um ritmo livre barras de compasso quando você quer uma quebra de linha. Se Sibelius não continuar com o bar próximo na linha seguinte, você pode clicar no barras de compasso e pressione Return para forçar uma quebra de linha. Continue a introduzir notas e criar barlines até que você esteja feito. Uma coisa que você precisa tomar cuidado são os de barlines no final de uma linha. Se um bar estende-se por duas ou mais linhas, não deve haver barlines no final de uma linha. Fazendo-os desaparecer é fácil: Regras Engraving Open - barlines e definir o tipo de padrão para barras de compasso invisível.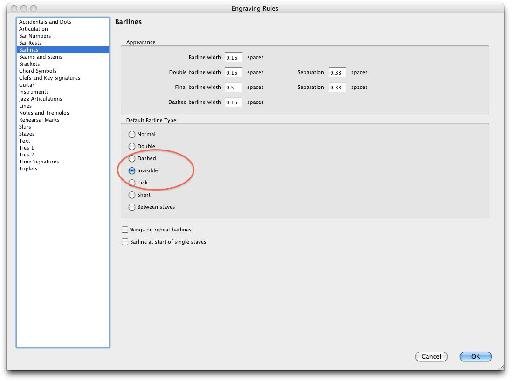 Você pode
# 4 - noteheads Notate sem hastes
Se você deseja ocultar as hastes em todos os noteheads (para plainsong), selecione todas as notas e selecione Anotações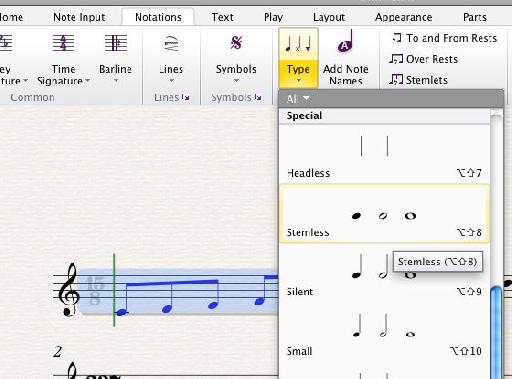 Este é também o lugar onde você seleciona noteheads especial.
# 5 - Noteheads sem vigas conectadas
Às vezes você quer ter hastes, mas precisa de todas as notas a serem separados e não usar radiante. Selecione novamente todas as notas, mudar para o layout do teclado terceiro e selecione 'Não Beams ". Feito.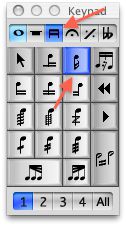 Espero que este tutorial te ajudou obter o seu ritmo livre feito de forma rápida e indolor.