Norns Is A Limitless Music Machine From The Makers Of Monome
Norns is a music box from the maker of Monome that refuses to be put in a box. It can be a sampler, synth, effect processor, MIDI controller, drone machine, robot drummer and so much more.
From the makers of the original Monome comes a new music making machine with sleek lines, minimal controls, a display and a plethora of possibilities.
Thanks to Create Digital Music for unearthing this gem which has the Monome community, understandably, on the edge of their seats.
In his own style, Brian (the creator) fuses ideas and poetry to explain the vast capabilities of what Norns can do. There will be a daily update in this thread for Norns until 3 May 2018... (the same say Superbooth18 kicks off!)
We'll get to the poem and more straight after this video demo of Norns in action:
Wait... what's going on in the video? Brian explains:
"it's an evolution of mlr, a grid-based sample-cutting application from the beginning of monome. (8)
virtual tape loops are mapped to grid rows where playback position is displayed and key presses cut to the location.

playback speed (with reverse) is mapped to the grid in addition to record punch in and overdub.

keypresses can be recorded and played back in patterns to automate gestures.

within the cutting interface smaller sub-loops can be selected and looped.

there's a lot more. (9)
the metallophone is sampled, cut up, and speed modulated. a pattern is used to automate cutting. the op-1 is a sound source only, the drone chord sampled. later the huge bass note is sampled. norns (mlr) is doing all of the processing, sequencing, sampling. (and yes it's running on its own power.)"
Here is the poem Brian wrote to first introduce Norns to the world:
changes.
travels.
knows something.
adores grids.
cuts sound.
shapes, filters, folds.
keeps rhythm, tells time.
summons waves.
tapes digitally.
speaks lua.
pixels.
controls voltages.
can MIDI.
radios OSC.
gamepads.
tracks, tabulates, calculates.
sings robot melodies.
shows picture.
makes music.
brings light.
loves birds.
waits patiently.
past, present, future.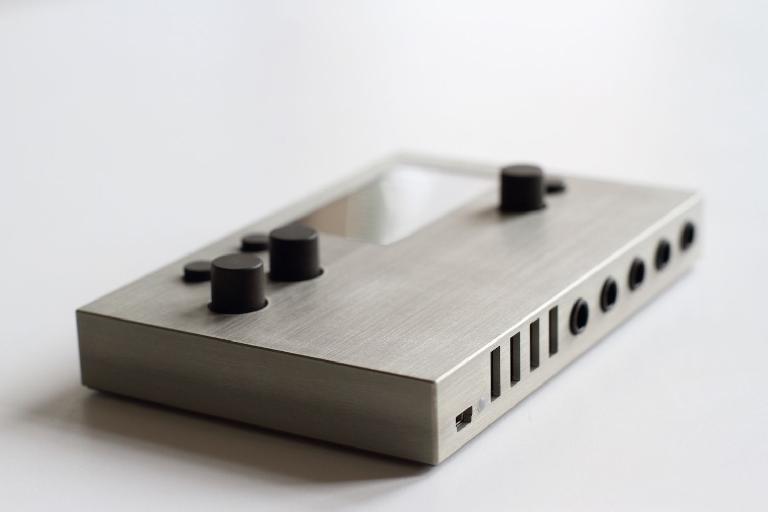 The next day Brian did a bit more searching and digging to try and describe Norns:
norns is _______
the difficulty of the question inspired yesterday's introductory text. or poem, if you will.
norns is an idea.
a thread i/you/we have been following for a a long time. the grid was/is part of this. the idea is:
part of the language of music is instrument building. electronic music in particular has brought toolmaking and composition and performance all into a blurry/fantastic collision. and making instruments is more within reach than ever. (1)
norns?
it's just computers, right? (2) but what matters is how we interact with these objects. and having control over how these objects work and what they do and do not do. (3)
norns is a platform for sound processing and synthesis. code connects sonic ideas to process ideas to interaction ideas. but that doesn't sound so new, didn't we do that already? to catch up:
aleph 27, sound computer, 2013. designed with ezra buchla. the roots are here. open-source programmable dsp and control with the possibility to be hacked at a very low level. tricky development platform. (4) highly featured and expensive, we made 100 units.
teletype 19, algorithmic ecosystem, 2015. a module that you type scripts into with a simple syntax to do musical operations. (5) at first it seemed like an absurd proposition but over time more musicians realized how nice it is to make little scores with text like CV 1 RAND 10. the results are immediate, the process is fun.
norns, ______, 2018. it runs scripts that talk to dsp engines. (6) the scripts are easy to understand, the dsp is powerful. code is edited in a web browser. code is shareable. instruments are code.
Perhaps less esoteric and more music-based is this explanation for a typical use case scenario:
you want to control the filter cutoff in the feedback loop of your delay line, which currently doesn't have a knob.
get a computer, open the editor, add a line of code, re-run the script with a single button.
whoa it works. that's cool. but it would be better if the range was confined to the mids.
add a couple of numbers to the code, re-run. oh no, a typo, but it was displayed and easily fixed.
sometimes i'm plagued by indecision, why not have a key randomize the knob value?
i don't even want to touch it.
add a few lines to set up a new metronome which throws numbers at the filter cutoff.
how about some lag to smooth out the jumps?
add a line to the synth init.
ok i want a granulator instead but i don't want to write code right now.
browse the community scripts.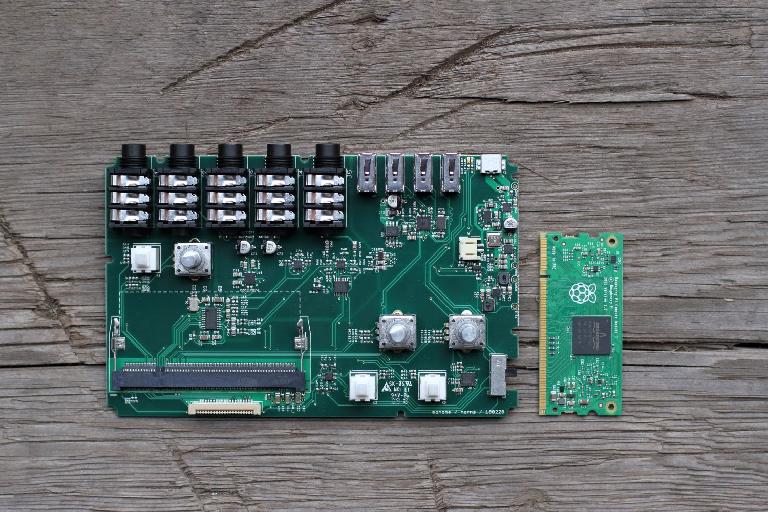 It looks like all will be revealed at Superbooth 2018 in Berlin in just a few days time.
Here's the spec sheet of Norns:
specifications
audio.
1/4". 2 output. 2 input with analog gain stage. all line level. (1)
1/4" headphone with gain.
interface.
128 x 64 OLED, 16-level bright white huge pixels.
3 rotary encoders, standard resolution.
3 keys.
rear status LED indicating power and disk access.
interconnect.
4 x USB ports for devices.
serial tty via USB-mini.
power.
power/charge via USB-mini (high output USB power supply included).
internal lipo battery 2250mAh.
processsing.
compute module 3 SoC. quad core 1.2ghz, 1gb RAM, 4gb eMMC (faster and more reliable than an sd card).
cs4270 i2s audio codec (low latency).
os.
linux with realtime kernel. (2)
It's not long to so until Superbooth 2018 opens its doors and you'll be able to find out more about Norns and how it might fit into yoru music making workflow.