Nord Keyboards Introduces Nord Piano 4
Nord Keyboards have announced the new Nord Piano 4 improving on its three previous incarnations with enhanced polyphony, better keybed sensor and virtual hammer technology. Here's what's new.
Nord Keyboards and UK distributor Sound Technology Ltd are pleased to announce the Nord Piano 4. The fourth generation of Nord's award-winning Piano series combines greatly expanded voice polyphony, a premium Triple Sensor keybed and our acclaimed Virtual Hammer Action Technology for the ultimate piano experience.
The Nord Piano 4 also includes brilliant new performance features like Seamless Transitions, dedicated Piano Filters and Split Point Crossfades delivering a live focused keyboard with exceptional piano feel.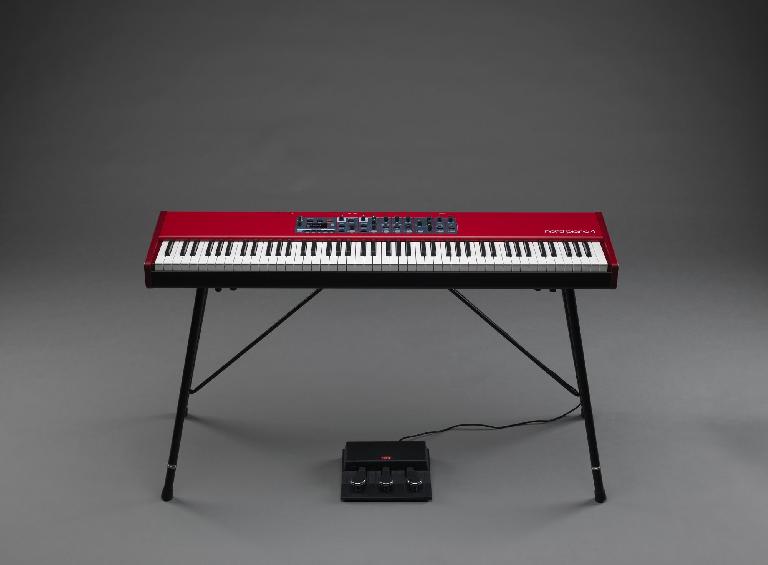 PERFORMANCE
Seamless transitions
The Nord Piano 4 features seamless transitions when changing sounds or programs while playing.
Layer and advanced Split functionality
The Nord Piano 4 features two sound sections that can be combined in a layer or split over the keyboard. It features 7 Split Points and the new Split Point Crossfade functionality, introduced in the Stage 3, for smooth transitions between the two split zones.
Refined Organize Mode
The new Organise mode includes Copy/Paste and Move functionality for quickly rearranging your Programs. All Programs, Pianos and Synth Samples can be easily navigated using the new List View offering alphabetical, numerical and category sorting options. An optional new Numeric Pad Mode gives you instant access to Programs by entering the Program number.
Performance Highlights
Seamless Transitions for smooth program changes NEW
7 Split Points with optional Split Point crossfades NEW
Refined Organise Mode for quickly rearranging programs NEW
Numeric Pad Mode for direct Program access NEW
PIANO SECTION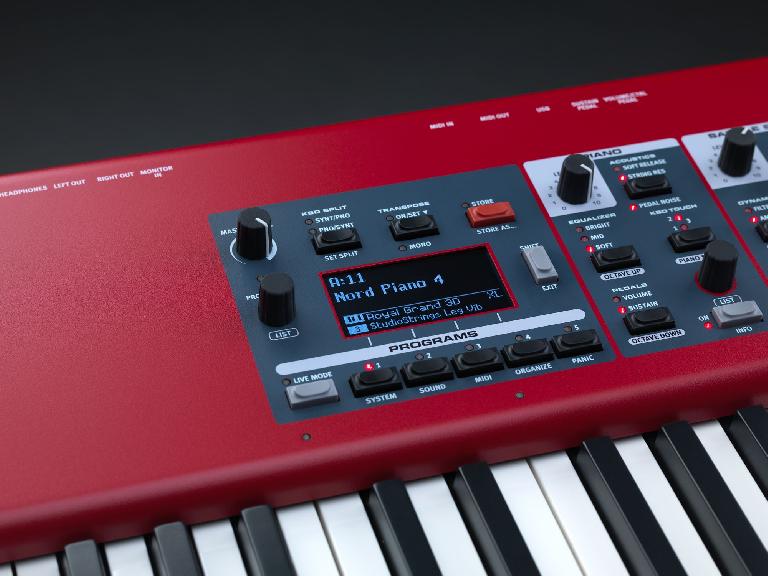 The enhanced Piano section features a broad selection of our unique acoustic, electric and digital pianos from the exclusive Nord Piano Library, greatly expanded voice polyphony and creative new Piano Filters.
Outstanding Piano Experience
The Nord Piano 4 factory bank contains our latest Grands, Uprights, Electric Pianos and Digital Pianos from the exclusive Nord Piano Library - all handpicked for their unique characters! Nord's state-of-the-art sampling techniques capture the extraordinary nuances and real character of the source instruments with breathtaking realism. Our exclusive Nord Piano Library is constantly updated with new unique world class sounds, and always free of charge.
Virtual Hammer Action Technology
Our exclusive Virtual Hammer Action Technology, introduced with Nord Piano 3, simulates the hammer movements in a Grand Piano delivering outstanding authenticity and dynamic response. The premium Triple Sensor keybed allows key movements to be determined with stunning precision. The result is a keyboard action that handles dynamic playing with amazing control at any velocity level.
Advanced String Resonance and Dynamic Pedal Noise
Our unique Advanced String Resonance reproduces the intricate interplay of piano strings resonating when other notes are played on our Upright and Grand piano sounds. The included Nord Triple Pedal enables our Dynamic Pedal Noise feature that dynamically simulates the mechanical sounds of lifting and releasing the damper mechanism taking the piano realism to a new level.
Creative Piano Filters
The Piano Section now features creative piano filters for accentuating softness, mid or brilliance.
Piano Section Highlights
Greatly expanded polyphony (120 voices) NEW
Creative Piano Filters NEW
Virtual Hammer Action Technology
Factory Bank including our latest Grands, Uprights, Electric and Digital Pianos
All sounds are replaceable
SAMPLE SYNTH SECTION
The updated Sample Synth Section features expanded memory for the Nord Sample Library 3.0 and vastly extended polyphony.
The Sample Synth Section contains a great selection of high quality sounds from the Nord Sample Library 3.0 including the exclusively licensed sounds of the legendary Mellotron and Chamberlin. All sounds can be quickly replaced using the Nord Sound Manager.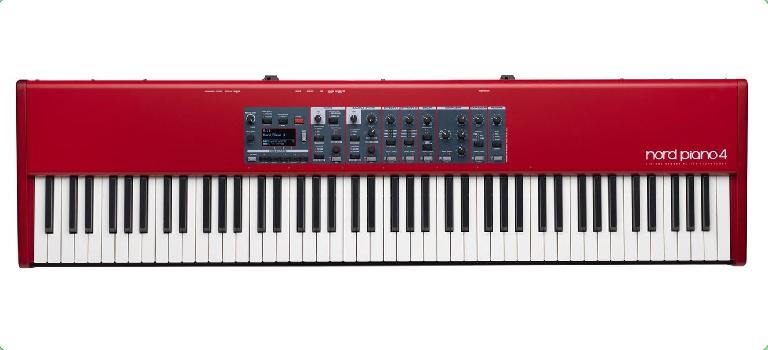 The Sample Synth is equipped with essential controls for attack, decay/release and dynamics (filter/velocity). A unique Nord feature allows you to create your own samples using the free Nord Sample Editor software for Windows and Mac.
Sample Section Highlights
512 MB Memory (doubled from Piano 3) NEW
Greatly extended Polyphony NEW
All sounds are replaceable
EFFECT SECTION
The Effect section features a great selection of instantly tweakable high quality stereo effects modelled after classic stomp boxes. All effects can be assigned freely to the Piano or Sample Synth section.
The Nord Piano 4 Effect section includes Tremolo, Phaser, Chorus, Pan, Wah, RM, Flanger, Vibe, EQ, Delay and Reverb with a new Bright Mode.
MODELS
Nord Piano 4 features an 88-note Triple Sensor keybed (A-C) with grand weighted action.
AVAILABILITY

The Nord Piano 4 is scheduled for shipping in Summer 2018 with pricing to be announced. The Nord Piano 4 is handmade in Sweden by Clavia DMI AB.
All specifications are subject to change without further notice.
Nord is distributed in the UK/ROI by Sound Technology Ltd. For more information please call 01462 480000 or visit www.soundtech.co.uk/nord