Nord Introduces New Nord Stage 3 Synth
Designed as the "ultimate instrument for the performing musician" Nord today introduces the Nord Stage 3 synthesizer with OLED display, new A1 synth engine, sample playback and so much more.
"The fifth generation of our successful Stage Series, the Nord Stage 3 features our latest award-winning technologies including the Nord Lead A1 Synth Engine with sample playback, acclaimed Nord C2D Organ Engine, a greatly enhanced Piano Section, and extensive hands-on Effects - all in one exceptional performance keyboard."

PERFORMANCE
Live-focused improvements
Two super-clear OLED displays for on-stage clarity, Seamless Transitions when changing programs/sounds, extended Split functionality, and the addition of the new Song List Mode makes the Nord Stage 3 more intuitive and flexible than ever for the live performer.
Massive sonic flexibility
The Nord Stage 3 has three sound generating sections; Piano, Organ and Synthesiser, all of which can be used simultaneously. Furthermore, the Nord Stage 3 has 2 separate slots allowing you to have 2 Pianos, 2 Organs and 2 Synths plus Effects at the same time for massive sonic flexibility.
Performance Highlights NEW
OLED displays for Program and Synth sections
Seamless Transitions for smooth program changes
Advanced Split functionality with optional crossfade
Song Mode for set list functionality
Physical Drawbars for Compact model
Support for program change via pedal

PIANO SECTION
The greatly enhanced Piano Section features doubled memory (2 GB) for our exclusive Nord Piano Library, expanded voice polyphony and creative new Piano Filters.
Factory Bank
The Nord Stage 3 features an outstanding selection of Grands, Uprights, Electric Pianos, Digital Pianos, Clavinet and Harpsichord from our exclusive Nord Piano Library - all handpicked for their unique characters.
The Nord Stage 3 Piano Section also features a brand new "Layer" category with rich dynamic layered patches.
The Nord Piano Experience
Nord's state-of-the-art sampling techniques capture the extraordinary nuances and real character of the source instruments. Our unique 'Advanced String Resonance' and Dynamic Pedal Noise features deliver breathtaking realism and an unsurpassed level of expressiveness.
Piano Section Highlights NEW
2 GB Memory (doubled from Stage 2 EX)
Greatly expanded polyphony (120 voices)
New Layer category
Creative Piano Filters
SYNTH SECTION
The Nord Stage 3 features the acclaimed Nord Lead A1 Synth Engine, combined with Sample Playback and a dedicated OLED display.
Powerful Smart Oscillator
The Lead A1 synth engine is renowned for its analog-modelling warmth, and utilises brilliant Smart Oscillator Configurations to deliver stunning results with little programming. Single oscillator setups including Shape, FM, Ring Mod, Detune and Sync. Dual oscillator modes include Noise, Sine, Saw, Triangle and Square Mix. The Synth section also includes a brand new Oscillator category with massive "Super Waves".
Sample Synth
The Nord Stage 3 Synth Section has powerful sample playback capabilities and comes with a wide selection of samples from our Nord Sample Library. All samples can be tweaked creatively inside the A1 Synth Engine and it is even possible to create and transfer your own samples using the Nord Sample Editor.
Synth Section Highlights NEW
Lead A1 Synth Engine with Sample Playback
Dedicated OLED display for Oscillator configurations
480 MB memory for Sample Library
New Super Wave category and new classic waveforms
Classic Transistor Ladder Filter emulation, flexible LP+BP Filter and Filter Drive
Extended Morph functionality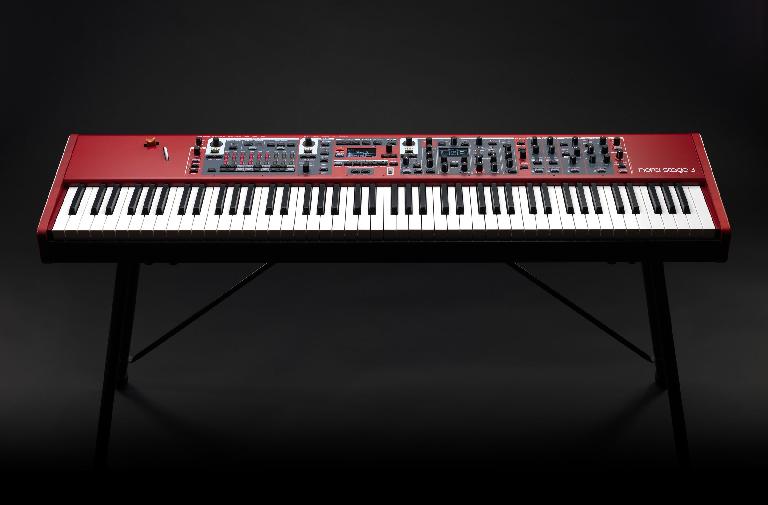 ORGAN SECTION
The Nord Stage 3 features our latest award-winning C2D Organ simulations of B3 Tonewheel and Transistor Organs, plus two brand new Principal Pipe Organs.
Separate Organs and Rotary per Slot
It is now possible to use two different Organ models simultaneously, allowing you to creatively blend a B3 with a Vox/Farfisa or a Principal Pipe organ. The updated vintage Model 122 Rotary Speaker simulation is also available for each slot independently.
Physical Drawbars for Compact model
The Nord Stage 3 Compact features our physical drawbars, and semi-weighted waterfall keybed. This model also supports the Nord Half-moon Switch.
Organ Section Highlights NEW
Nord C2D B3 Tone Wheel simulation
Model 122 Rotary Speaker simulation
2 new Principal Pipe organs
Physical Drawbars for Compact model
Separate Rotary Speaker setting per slot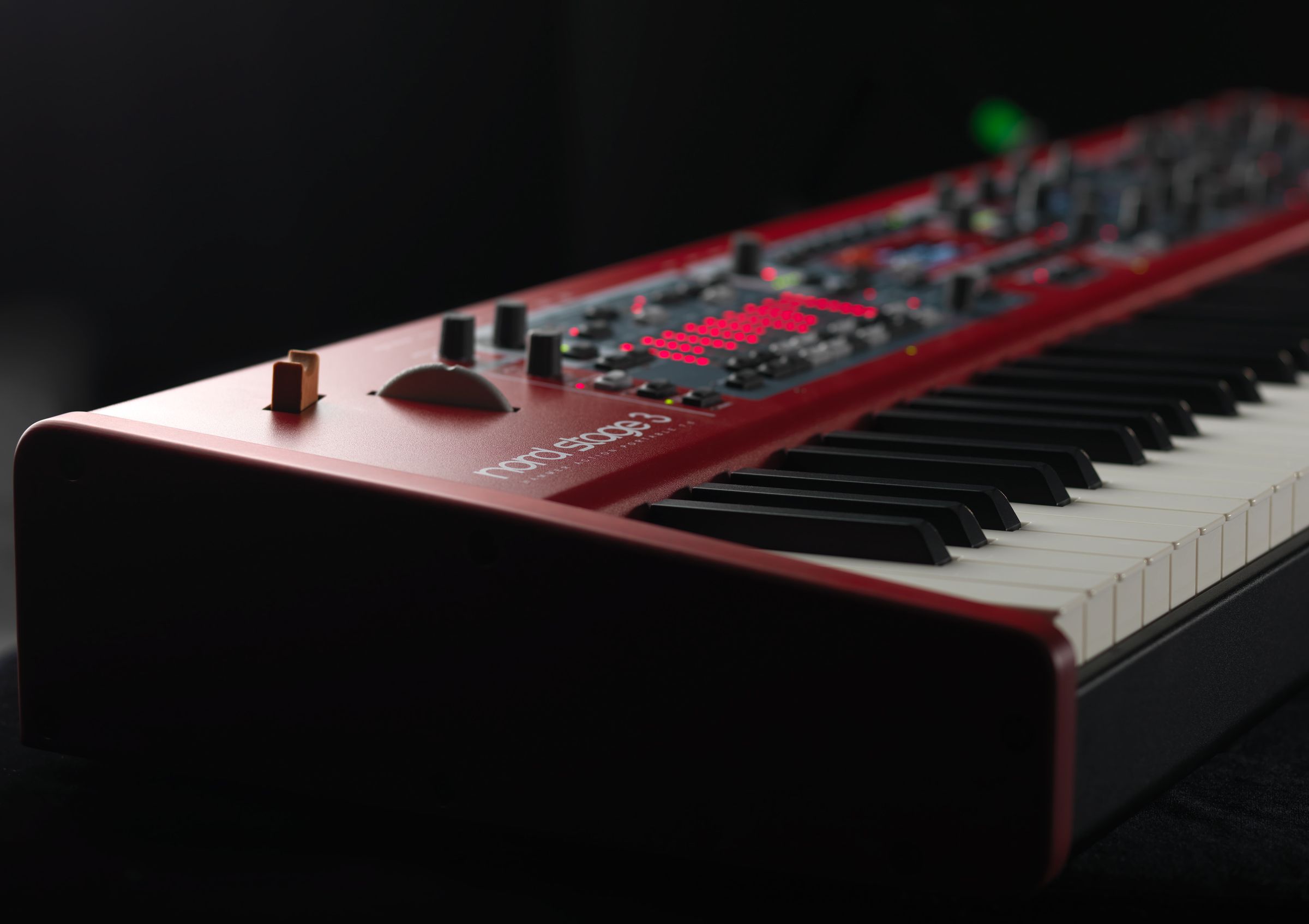 EFFECT SECTION
The Nord Stage 3 Effect section features more morphable parameters, an enhanced Delay effect, separate Reverb and Compressor for each slot, and a brand new Filter Effect.
The powerful Nord Stage 3 Effect Section features a wide range of instantly tweakable high quality effects including Tremolo, Phaser, Chorus, Pan, Wah, RM, Flanger and Vibe, all modelled after classic stomp boxes.
Effect Section Highlights NEW
Delay with added Feedback filters (HP/LP/BP) and dedicated Analog Mode
Filter Mode with Resonance (HP/LP)
Separate Compressor per slot including new Fast Mode
Separate Reverb per Slot including new Bright Mode
Extended Morph functionality
THREE MODELS
The Nord Stage 3 comes in three models:
Nord Stage 3 88 features our top-of-the-line 88-note fully weighted Hammer Action Keybed (A-C)
Nord Stage 3 HP76 features an extremely lightweight 76-note Hammer Action Portable keybed (E-G)
Nord Stage 3 Compact features a 73-note Semi Weighted Waterfall keybed (E-E) with Physical Drawbars NEW
Pricing and Availability
The Nord Stage 3 is expected to be available in July 2017 with pricing to be announced. The Nord Stage 3 Series is handmade in Sweden by Clavia DMI AB.
Nord is distributed in UK and ROI by Sound Technology Ltd. For more information please call 01462 480000 or visit www.soundtech.co.uk/nord