Just released on Kickstarter, nOb is a very accurate endless knob controller that can be used to control virtually any software-based parameter whether it be a music, video or productivity application.
Created in Dusseldorf, Germany, nOb has a hand-crafted, hardwood mahogany case (which can be opened for those who wish to modify and hack the device), a giant solid aluminum knob with 2,400 ticks per revolution, and 4 touch-sensitive toggle switches which set the mode of operation, so you can choose how nOb interacts with the application parameter you're controlling.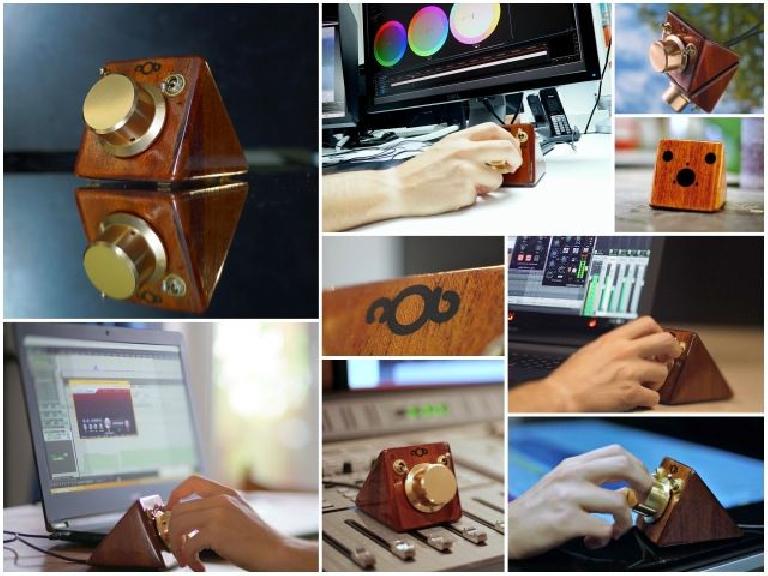 Oh, and there's some nifty double-taps which can perform functions such as undo-ing the last drag/movement you've just made. Imagine using that when mixing with faders or adjusting an EQ! It's not common for most DAWs, and certainly not for plug-ins, to have an undo function that works so intelligently.
Watch the video below to get an even better idea of what this beautiful, and very smart knob controller is capable of. Hats off to the developers as nOb really is very clever, and could become a great companion for any producer or mixing engineer.
nOb features an open serial protocol interface which will allow developers to use it in virtually any application as it can support MIDI and OSC.
Additionally, nOb is plug & play for Mac, PC, Linux & Android. No setup required. We'd love to get hands-on with nOb and really test this out.
If you're quick you can pledge just €114 Euro (at the time of writing there are 38 backer positions remaining for this deal).
Find out more about nOb on their Kickstarter page...