So, you have watched through the excellent Art of Drum Programming tutorial by Bill Burgess and now you want to get started using Battery right away making the most of the powerful effects section with your kits? I don't blame you, Battery is great after all.
In this article you will learn how to personalise things a bit further by creating your own custom convolution reverbs using Battery's own drum samples as well as your own files, as with most things Native Instruments, it's really straightforward to do when you know how.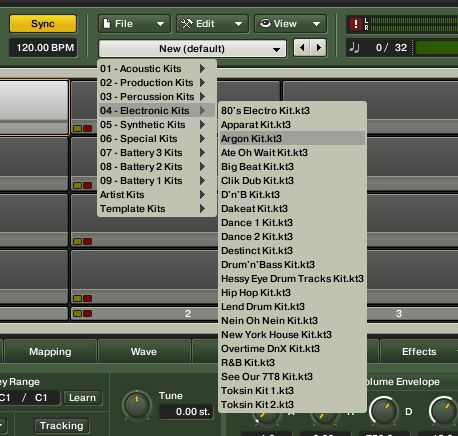 Argon Kit has been included since the very beginning with Battery 1, percussive and classic electronic sounds make up the majority of this kit.
The kit I'm using for this example is the Argon Kit, which you can find in the Electronic Kits menu and I'm going to send the 909 Kick to the Reverb for the audio examples.
Here's the dry 909 Kick:
Custom Reverb using Battery samples
This is really easy to do, first of all identify a nice sounding cell you want to use - for this example I'm going to use Toback Snare as it's got a nice tail to it which should result in a really nice effect. Once you know which cell you are going to use, head to the Edit Pane and select the Master tab, go to the Reverb section and turn it on if you need to then click the Impulse tab. Now all you need to do is simply drag the Toback Snare cell into the convolution display, you will know you have done it correctly as the display will now be showing the name of the sample.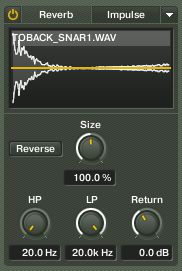 Convolution display showing Toback Snare cell has been loaded correctly.
It really is as easy as that! Here's what the 909 Kick sounds like with the Toback Convolution (I've added a bit of saturation to the kick as well):

Saturation settings.
That sounds great!
Is it possible to use other files as convolution? You bet it is, read on to find out how'