If you're in the market for a new portable DJ controller, or you're new to the world of DJing and want something easy but full-featured to get you started, where do you turn to? Pioneer's latest addition to their range of DJing controllers, DDJ-WeGO, could be just what you need.
It's a compact, portable DJ console and Pioneer feel it'll fit into a rucksack. We'll let you know when we get our hands on one! The DDJ-WeGO comes bundled with a new version VirtualDJ LE which can be upgraded for free to VirtualDJ 8 LE1 when it is released. As yet there's no word on whether it'll be Serato and/or Traktor compatible.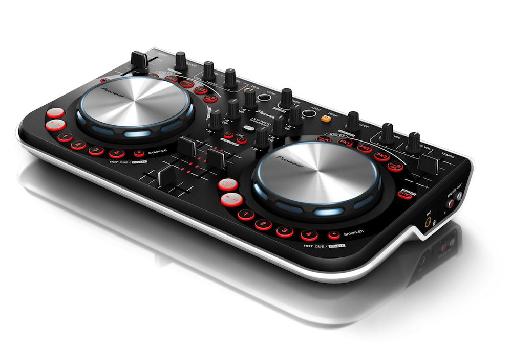 The Pioneer DDJ-WeGO will be available in a range of five colors.
It also features pulse lights for easy beat-matching, LED channel faders, sound effects, Jog FX for scratching and spinning, beat sync, looping and four-deck mixing functionality, and will retail for just £249 GBP / €299 from October 2012 onwards.
Read the full press release below for further details:
Pioneer presents the all-new portable DDJ-WeGO '" a compact DJ mixing console that fits into a rucksack
30th August 2012:
Mixing music on the go just got easier as Pioneer launch the compact DDJ-WeGO, a portable mixing console that presents a fun DJ experience allowing you to transform any occasion, wherever you are. With the DDJ-WeGO's compact and light design, anyone with a passion for dance music can play their favourite tracks and mix tunes wherever they are with Pioneer's, easy-to-use DJ console.
Aspiring DJs playing their favourite music through DJ software on their laptops can now use the DDJ-WeGO's buttons and controls to manipulate the sound and get a taste of how the professionals do it. The popular DJ software package VirtualDJ LE is included so the controller can be used straight out of the box, and DDJ-WeGO customers will also be eligible for a free upgrade to VirtualDJ 8 LE1 upon release. The DDJ-WeGO will be compatible with a variety of popular DJ software packages to suit any style including Algoriddim's djay.
The DDJ-WeGO's ergonomic controls and user-friendly interface make it easy for aspiring DJs to learn the ropes. The console's Pulse Control lights guide beginners through their performances by clearly displaying when beats are matched, effects are activated, and which decks are in use. The DDJ-WeGO's ease of use means it won't be long before anyone new to DJing picks up the skills to perform and share their sets with friends.
The DDJ-WeGO's compact and easily transportable design means there is no excuse not to have the latest music whatever the occasion. Despite its size and portability there's no compromise on quality or features. The DDJ-WeGO's robust exterior houses a range of advanced features inherited from Pioneer's professional, industry-leading products '" such as Beat Sync, sound effects and loops '" waiting to be discovered. For the more intrepid DJ, the DDJ-WeGO even boasts the capacity for four-deck mixing.
The DDJ-WeGO is not only easy to use and transport but set-up is equally as simple. Just plug the DDJ-WeGO into a laptop and start up the software.
With five striking colours to choose from, aspiring DJs can pick a DDJ-WeGO that really reflects their personality. They can even customise the console's jog wheel lights for an even more personalised set-up.
Lightweight and compact, the portable console fits alongside the essentials in your rucksack.
The DDJ-WeGO will be available from October 2012 at an SRP of 249 GBP/299 EUR, including VAT. For further information please visit www.pioneer.co.uk