All digital musicians know this feeling: the quickening of the breath, widening of the eyes, and the denial that your bank balance is veering into that red zone. Yes, I am talking about the terrible, yet immensely satisfying, results of gear lust.
So, be warned. If you're room's already full of music hardware and you can't justify acquiring any more, don't read on. (Who am I kidding? Musicians can always do with more hardware, software and tutorials!)
Regardless. Be warned, the following press release from Livid Instruments may well tip you over the edge and cause you to reach for your wallet/purse… Here's what's on offer in their 7 day sale for the popular Block: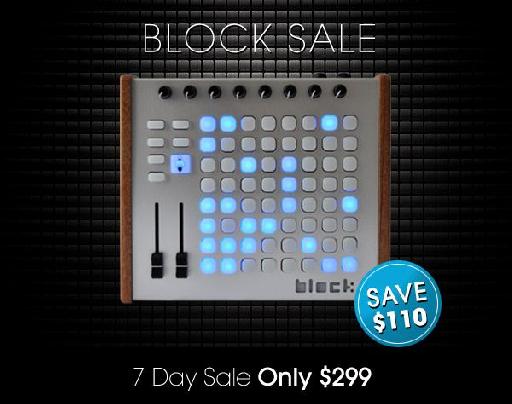 This week only save $110 on a Block. Initially designed as Ohm's little sister, the block has grown into a complete hardware solution of its own. With a growing list of supported software packages like Ableton Live, Propellerhead's Reason and Record, MLRV2, and more, Block is the perfect portable controller solution for DJs, producers, and VJs alike.
With expansion jacks for additional control, you can customize your setup with one of our XPC controllers, or use a foot pedal with the 1/4" jacks for hands free operation. Hand crafted from fine woods and lightweight aluminum right in our Austin, TX shop, Block stands out in market overcrowded with cheaply made, low quality controllers.