Big Sound Pro Audio has been named as the Void Acoustics distributor for the Pacific North West. Headquartered in Vancouver (Canada), Big Sound Pro Audio exclusively sells Void sound systems for Festival, Club, Restaurant, Bar, Home Theatre, and Yacht instals.
About Void Acoustics: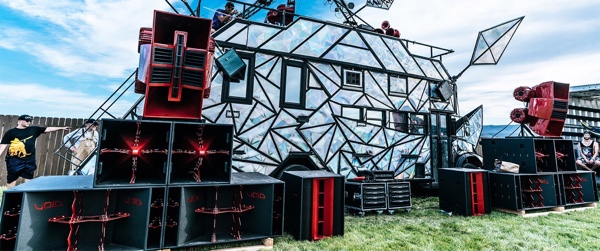 Void Acoustics has been making waves with its innovative designs and incredible sound quality. Specifically designed for EDM music, Void Systems are quickly becoming the standard for prestige clubs & festivals around the world. (Note: Void does have a Live PA system, called the Arcline Series, but are best known for their EDM systems including the Air Motion, Incubus, and Nexus series).
Headquartered in the UK, it's no secret that Void sound systems have been the go-to rigs for large clubs & festivals around Europe for over a decade now. Void rigs in all the major Ibiza clubs have exposed DJs, punters & club owners alike to the awe-inspiring sound that emits from what is definitely the industry's most aesthetically pleasing, trippy AF to look at horns and bins.

While Void is well represented in Europe, it remains largely unheard of in the Pacific North West. Big Sound Pro Audio has stepped in to fill this void and will be championing these systems on behalf of Void Acoustics.
About Big Sound Pro Audio:
We are very pleased to let you know that Big Sound Pro Audio is a company by our very own Founder, Martin Sitter!
Martin created Ask.Audio, Ask.Video, macProVideo, and our parent company, NonLinear Educating Inc. But this isn't where he started, Martin was also seminal in founding the Canadian West Coast rave scene in the '90s as both a DJ and a Promoter. His resume includes the legendary "Fluid" night at "The Limit" in Victoria, as well as dozens of large warehouse and arena raves of the time (Island Oasis, Together, Subconscious) and record releases on labels including Phat Phunk & Peng Records.
With a distinguished career in EDM at the time, at the turn of the century Martin was recruited by Apple Computers to be their Pro Apps Lead Educator and the original courseware author of the Apple Pro Training Series books for Logic Pro, DVD Studio Pro, and SoundTrack Pro. This is a person that has dedicated his life to electronic music, so it's no wonder he's now also hustling Void Acoustics systems.

To quote Martin: "People around here don't understand what Void is. But that's going to change. Void is a revolution in amplified sound and I'm making it my mission to get these systems installed widely in my area, so everyone can experience and enjoy what Void Acoustics has to offer."
Visit Big Sound Pro Audio for more details: