New Teenage Engineering OP-Z Overlays From Oversynth
These 15 new overlays will add a different sense of colour and design from beautiful landscapes through to simpler layouts to your Teenage Engineering OP-Z.
Oversynth.com has introduced a collection of fifteen adhesive-backed overlays for the Teenage Engineering OP-Z. Each top-panel overlay is a 9-piece kit that includes one main sticker for the OP-Z body and a pair of smaller stickers for each of the four parameter dials.
Designs include a wide variety of different labeling and visual themes. The "Caption" series of designs feature stylish color combinations with descriptions for all tracks and shortcut labels for each of the step components and punch-in effects. For those who prefer a more visually simple interface, there are also designs that feature the OP-Z's graphical symbols above stunning photographic imagery. Do you enjoy making music while staring into an outer space nebula, a brilliantly colored sunset, or a snowy mountain scene? If so, then check out the "Nebula", "Sunbleached Expanse" and "Snow-PZ" designs.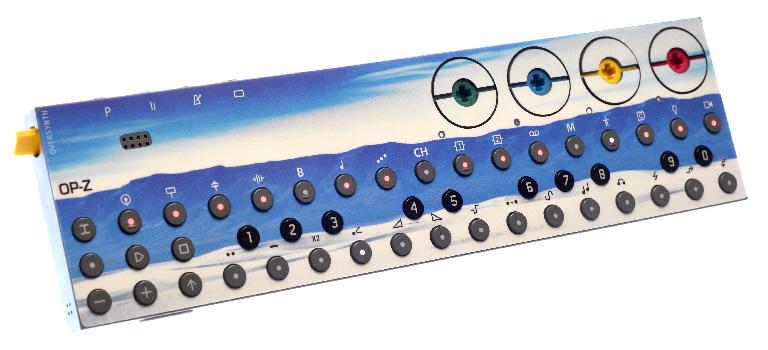 There is also a special "Underlay" design that fits on the OP-Z's bottom panel with an OS 1.2.20 cheat-sheet with reminders for the essential OP-Z parameters and multi-button combination functions.

The overlays are professionally printed on a commercial digital press and then finished with a glossy lamination to protect the image from the constant finger presses and rubbing that goes along with using the OP-Z. The medium-tack adhesive is strong enough to hold the overlay in place, but it also allows it to be removed if desired. When properly installed the overlay will not interfere with any of the OP-Z's functions. Instructions for installing the overlays can be found on each of the product pages, as well as in this video:
Each OP-Z overlay is priced at $28 US Dollars, with free worldwide shipping for low volumes. Additionally, discount pricing is available on purchases of multiple OP-Z products (such as an overlay and the underlay cheat-sheet for example). See product pages for details.