Oversynth has released a collection of nine new overlays and matching cheat-sheet stickers for the Elektron Model:Cycles FM Groovebox. Several of the overlay designs are completely new, while others are intended to compliment the artwork found on overlays for the Model:Samples.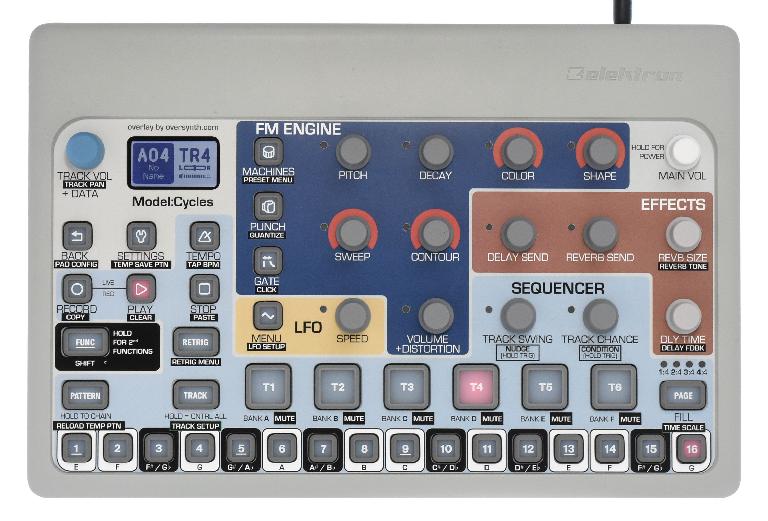 The Model:Cycles overlays make excellent use of color to indicate the synthesizer sections (FM Engine, LFO, Effects, Sequencer, etc.), while the primary and secondary (shift) functions for each control are clearly labeled using large, reverse-colored lettering. The overlays are commercially printed on a recyclable polyester sheet material and have a matte finish for easy viewing on stage or in the studio.
The optional glossy laminated cheat-sheet stickers show the functions of the Sweep, Contour, Color, and Shape controls for each of the Model:Cycles' six Machines (Kick, Snare, Metal, Perc, Tone, and Chord). The stickers are color-matched to the artwork on the overlays, and they attach to the Model:Cycles' border area above the overlay.
Oversynth has also released several new overlay designs for the Elektron Model:Samples that include the addition of musical note labels and black and white piano keyboard markings around the Trig keys.
In addition to the new overlays, Oversynth has also released new sample packs for the Model:Samples and Model:Cycles. The "DFAMation" sample pack for Model:Samples contains over 240 1-shot drum and percussion samples recorded from the Moog DFAM, while the "OverCycles" sound pack contains 16 sequence patterns and 96 original sound patches arranged in 16 kits.
The new overlays and sample packs are available now from Oversynth's online store: https://www.oversynth.com