Synchro Arts have announced a permanent price reduction of over 50% for VocALign Project 3. What's more, the trial and full licenses use simple, iLok computer-based authorization, so a USB key is no longer required.
Since 1995, VocALign has been known as the unique, 'must have' time alignment tool in any audio professional's workflow. It provides vast time-saving and quality benefits when tightening double-tracked vocals and backing harmonies, aligning instrument tracks or sound effects, and syncing ADR or foreign language dubbing.
Jeff Bloom, Managing Director of Synchro Arts, explains the new offering:
"For many years, we've been asked to make VocALign accessible to a much wider range of audio producers and editors. This new release, VocALign Project 3.3, is our response to these requests. We've lowered the price - yet still provide the same power and operations, and added simpler computer-based licensing."
As before, one VocALign Project 3.3 license will authorize all of the following versions: Audio Suite, AAX, AU and VST3 plug-ins as well as a stand-alone version.
Wide range and history of applications
VocALign's early life included use in music production ranging from Shania Twain and Steely Dan to Black Eyed Peas. It was also syncing ADR in popular TV shows such as Friends and Seinfeld, and in blockbuster films including Harry Potter, The Matrix and Lord of the Rings.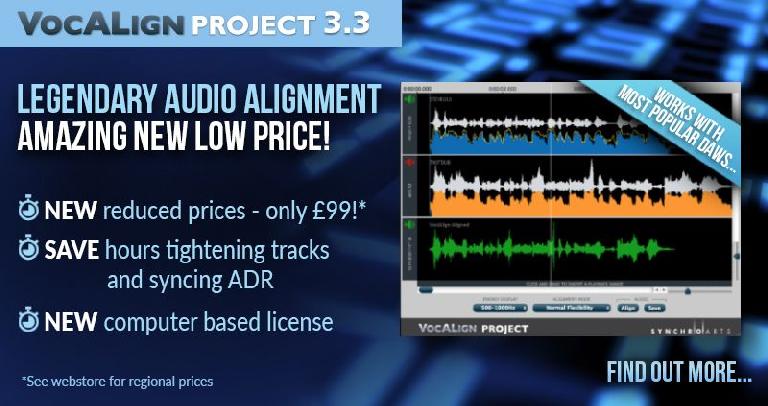 Top producers and engineers continue to praise VocALign:
"VocALign is an extreme time saver. For the times when I have 48 background vocals tracks in a session, VocALign demolishes the time it takes to align and clean them up. Unbelievable."
Kevin Churko – Producer, Sound Engineer, Songwriter and Musician:
(Ozzy Osborne, Papa Roach, Shania Twain)
"VocALign is, without doubt, the unparalleled and pre-eminent tool for tight audio alignment and replacement of any sound that you throw at it. The fact that it's been around so long shows that it just WORKS and is unrivalled at what it does."
Khaliq Glover aka Khaliq-O-Vision - Grammy Winning Engineer/Author/Producer: (Michael Jackson, Donna Summer, Justin Timberlake, Barry Manilow, Angie Stone)
"I use VocALign to tighten harmonies and doubled vocals, and frankly I couldn't live without it. It would take days of strenuous tracking to get harmonies that tight." Val Garay - Grammy Award Winning Producer:
(Marvin Gaye, Elton John, Dolly Parton and films including Steven Spielberg's 'Little Giants')
Trials, Downloads and Purchasing
To help new users get up to speed, we have created new DAW-based Quick Start pages for the most popular DAWs. Click here and simply select a DAW. You'll be shown information on workflows, tips, downloads and 14-day trial licenses for the right version of VocALign Project (or our other products) for that DAW.
Full licenses can be purchased from Synchro Arts' dealers or on-line from www.synchroarts.com/store.
NEW Recommended Retail Price (RRP) not including taxes are: $149 in North, Central and South America
€129 in Europe
£99 in UK and elsewhere