September, 2014'"The volca sample is a sample sequencer that lets you edit and sequence up to 100 sample sounds in real time for powerful live performances. It's a powerful addition to any existing volca setup, or simply on its own. The new volca lets you recapture the excitement of the first generation of samplers, in which any sound --- vocals, spoken words, ambient sound, or glitches --- becomes material for your creations!

*Sample input only possible via special iOS app
Features at a Glance
Intuitive, ultra-powerful volca sequencer
A fun to use sequencer with superb improvisatory potential

Motion sequencer records and plays back up to 11 parameters

Active Step and Step Jump functions let you insert or remove steps

Swing function lets you generate grooves

Sculpt samples with the Analog Isolator
Powerful and great-sounding Analog Isolator

Reverb effect

New functions of the volca sample
Record, manage, and download samples from volca sample's dedicated iOS app

Song mode allows more dynamic performances

Reverse function plays sampled sounds backwards

Convenient functions as found on the entire volca series
Familiar and intuitive panel layout with numerous parameters to edit sounds and sequences

Synchronized playback with other volca units, electribe, or DAW.

MIDI In for sample trigger, sync and parameter changes from any MIDI device

Compact size, battery-powered operation, and built-in speaker for enjoyment anywhere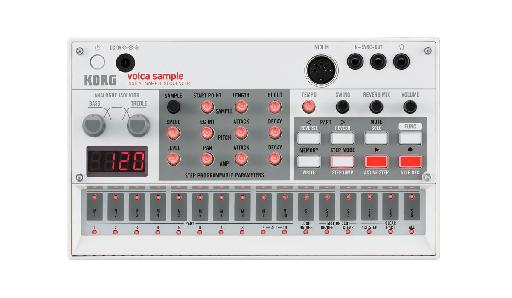 Top down view of the Korg Volca Sample.
See more at: http://www.korg.com/us/products/dj/volca_sample/index.php