Nektar Inc. Burbank/ California Nov. 4th, 2014 (ictw) '" Nektar announce the immediate availability of the Impact iX49 and iX61 controller keyboards. Nektar products are synonymous with DAW integration and the Impact iX49 and Impact iX61 are no exception. Their deceptively minimalist appearance hides powerful functionality not even found on more comprehensive controllers.

The Impact iX keyboards offer standard USB keyboard controller functionality as well as Nektar DAW integration with no less than 11 DAWs. The full-size keyboards feature pitch bend, modulation wheel and a foot switch jack for connecting a sustain pedal.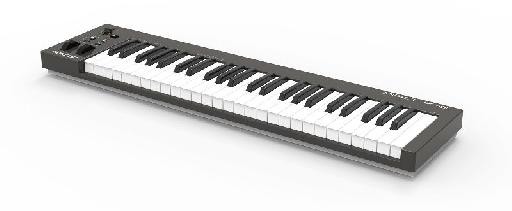 Being USB class compliant the keyboards can be plugged easily into the computer or iPad, no drivers required. This makes it possible to start composing using existing MIDI software or the included Presonus Studio One Artist DAW instantly.
The unique Nektar DAW Integration
Nektar's DAW integration makes setup easy and straight forward. The growing list of DAWs supported by Nektar are: Bitwig Studio, Cubase, Digital Performer, FL Studio, GarageBand, Logic, Nuendo, Reaper, Reason, Sonar and Studio One.
iX Controllers Basics
At first glance, the Impact iX is a standard USB keyboard controller with either a 49 or 61 note full-size keyboard, pitch bend, modulation wheel and foot switch. Octave buttons are available any time to shift the keyboard up or down -3/+4 octaves with multi-colored LED indicators showing the exact status. Transpose buttons allow to shift the keyboard +/- 12 semi tones and an assignable fader provides control over any MIDI parameter. But there is more to the Impact iX than meets the eye.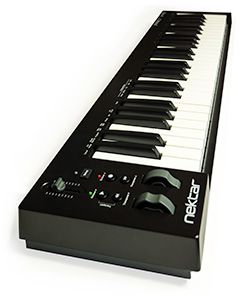 Loads of Features '" Right on the button
The acclaimed Nektar DAW integration is carefully crafted to always provide the best experience with Nektar hardware. And having to reach for the mouse constantly does not help creativity even if the overall needs are basic. Nektar therefore added some of the most important features to the Impact iX including Transpose button assignment for Track or Patch change, volume control for the currently selected track and a special transport mode for Octave and Transpose buttons which allow to control Play, Stop, Record and Rewind. Impact iX ticks all the right boxes.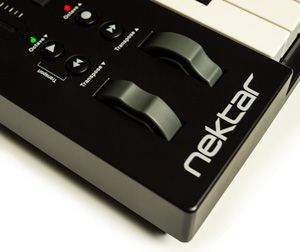 Close up of the controls on the Nektar Impact iX 61.
Transpose is extremely useful but different situations require different functionality. So it's great to be able to change the MIDI channel or send MIDI Program messages too. The 2 transpose buttons are quickly configured to any of these functions with settings stored over power cycling. Better still, pressing a key combination changes the Octave and Transpose buttons function to send out MMC transport functions to activate start, stop and record directly from the keyboard.
*Feature currently implemented for Bitwig Studio, Cubase, Reaper, Reason and Sonar
CONNECTORS & iPAD CONNECTIVITY
Impact iX keyboards are USB class compliant and therefore don't require a driver to operate. So installation and connection is as easy as plugging the keyboard in to a USB port on your computer.
The Impact iX keyboard also instantly works with iPads using the iPads optional USB camera connection kit. A 1/4" input jack allows to add a foot switch pedal for sustain or sending MIDI messages.
DAW included - STUDIO ONE™ ARTIST
Studio One™ Artist is a powerful recording and production platform that is incredibly easy to learn, it offers unlimited tracks and plug-ins and delivers features not normally found in entry-level DAWs.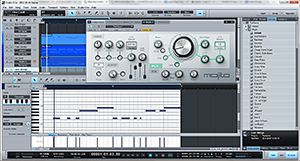 PreSonus Studio One Artist is included with these controller keyboards!
Powerful editing tools are accessible without the need to wade through menus. Loading and saving audio clips, MIDI files, effects, and VIs happens simply by drag-and-drop. This applies also for loading Instrument, effects plug-ins or drum loops.
For the mix down of tracks more than 20 high-quality Native Effects are available. Best of all, Studio One Artist is included with the Impact iX USB keyboard!
SPECIFICATIONS
49/ 61 note velocity sensitive full size keyboard

Pitch Bend and modulation wheels

Octave buttons

Transpose buttons

Transport mode switches Octaves and Transpose buttons to send out MIDI MMC messages (compatible with Pro Tools)

Foot switch input jack

USB powered, Class Compliant (no driver needed)

Connects to iPad (via USB adaptor kit, not included)

Includes Presonus Studio One Artist

Nektar DAW Integration
Navigation of DAW tracks

Change instrument patches

Control track volume

Transport control (Play/Stop/Record/Rewind/Forward)

Nektar DAW integration for 11 DAWs including Bitwig Studio, Cubase, Digital Performer, FL Studio, GarageBand, Logic, Nuendo, Reaper, Reason, Sonar and Studio One.

Pricing and availability:
iX49 and iX 61 are available at music retailers world wide for:
iX49: USD 109.99 / Euro 99.99 / GBP79.99 with an expected street price of USD 99.99 / Euro89.99 / GBP 69.99
iX 61 USD 129.99 / Euro 109.99 / GBP89.99 with an expected street price of USD 119.99 / Euro 99.99 / GBP 79.99