Berlin, April 30, 2014 – Native Instruments today released the latest version of the world's most popular pro DJ app – TRAKTOR DJ 1.4 for iPad and iPhone. Along with new effects and usability improvements, this free update introduces seamless upload integration for mixes with Mixcloud – the leading Internet radio platform built for DJs. To celebrate this collaboration, Native Instruments is holding a special DJ mix competition to win a trip to Ibiza.

After winning the App Store's 2013 editor's "App of the Year", TRAKTOR DJ 1.4 now offers in-app integration with Mixcloud. This exciting new feature allows DJs to upload their mixes directly to Mixcloud without having to export and manually upload the file – all from within the app. Mixcloud offers unlimited free hosting space for DJ mixes making the Traktor DJ and Mixcloud pairing the obvious choice for DJs on the go.
Three new unlockable effects have also been added to TRAKTOR DJ's creative features. Iceverb, Transpose Stretch, and Reverse Grain can be accessed for free when a notification window prompts the user to unlock. Playlist and subfolder editing have been improved for better in-app track management in addition to a variety of smaller stability and usability improvements.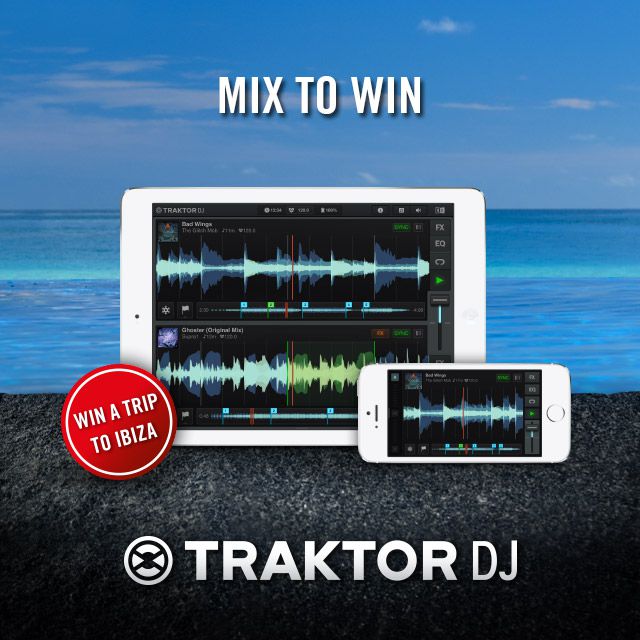 The new partnership with Mixcloud brings together TRAKTOR DJ for iPad and iPhone with the largest community of DJs on the web. In celebration, Native Instruments is offering DJs the chance to win a paid weekend getaway in Ibiza. Until May 31, 2014, mixes recorded and uploaded to Mixcloud using TRAKTOR DJ will automatically be entered in the contest. Acid house legend A Guy Called Gerald will guest-judge the mixes and select the lucky winner.
Pricing and availability
TRAKTOR DJ 1.4 is now available for download in the App Store for $9.99 / 8,99 € / £6.99 / ¥1,000 for iPad and $1.99 / 1,79 € / £ 1.49 / ¥200 for iPhone. Current users can update their version for free.
DJs can find out more about TRAKTOR DJ at:
www.native-instruments.com/traktordj
Additional information on the Mixcloud DJ competition ist available at: