Native Instruments Releases MASCHINE JAM Production & Performance System
NI have officially released Maschine JAM today!. You may have already seen our first-look overview of Maschine JAM and/or Native Instruments' own videos. Here's all the info you need to know.
Berlin, September 29, 2016 – Native Instruments today released MASCHINE JAM – the unique music production system for quick, intuitive track arranging and advanced performance. MASCHINE JAM offers music makers a versatile workflow designed to swiftly capture and develop musical ideas using hands-on, multi-track step sequencing and touch-sensitive controls. With the included MASCHINE 2.5 software, MASCHINE JAM is an integrated production system, and works seamlessly with KOMPLETE, third-party plug-ins, and all popular DAWs. It can also enhance workflow when combined with other MASCHINE hardware or a KOMPLETE KONTROL S-Series keyboard. MASCHINE JAM is now available at the NI Online Shop and retailers worldwide.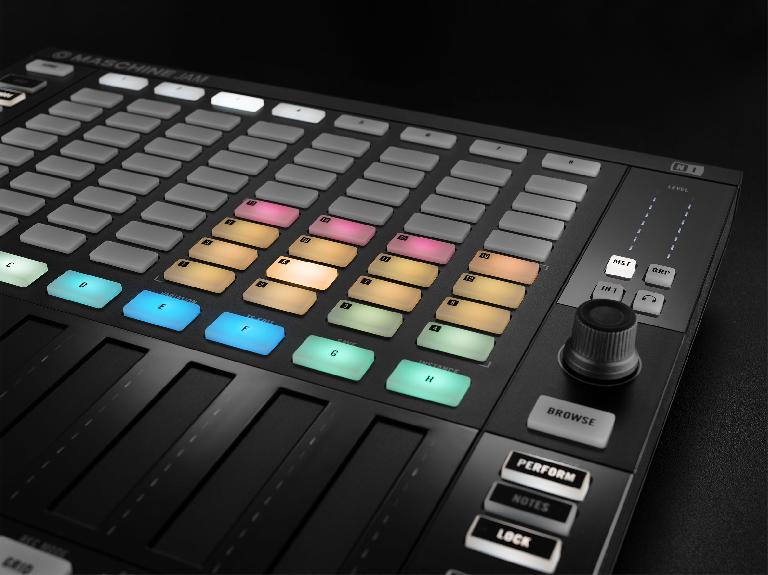 Designed for exploring musical ideas, MASCHINE JAM's workflow centers on an 8x8 multicolor click-pad matrix made for advanced sequencing, experimenting with pattern and scene arrangements, and playing melodies. MASCHINE JAM also introduces innovative new ways to perform thanks to its unique functions, eight dual-touch Smart Strips, and the included MASCHINE 2.5 software and KOMPLETE 11 SELECT* bundle. Distinctive features like Notes Mode allow for strumming melodies and chords with the Smart Strips, while the Lock function stores parameter snapshots that can be instantly recalled at any point during performance, or used for gradual 'morphed' transitions between settings for example. The Smart Strips truly shine with gestured, tactile control of MASCHINE software's eight new Perform FX units – detailed multi-effects that add expressive motion, space, dynamics, and more.
To showcase the creative possibilities MASCHINE JAM provides, a new video features MASCHINE wizard OddKidOut instantly building and performing an original track with the new MASCHINE instrument. In the video, OddKidOut steps into an LA warehouse transformed into a multimedia installation that visually reacts to his music. OddKid not only creates and performs on MASCHINE JAM, but also integrates his original MASCHINE controller into the performance to demonstrate the perfect sync and complementary workflow between MASCHINE hardware.
And as an introductory bonus for existing MASCHINE owners, two free MASCHINE Expansions chosen from a selection of 20** will be awarded on registration of a MASCHINE JAM controller. This limited-time offer is available exclusively to registered MASCHINE 2 software owners as a gift for expanding their MASCHINE setup.
Here's a walk through of the BETA versio of Maschine JAM we published a few weeks back:
Here's a performance video by OutKidOut using Maschine JAM:
Pricing and Availability
MASCHINE JAM is now available for $399 / 399 € / ¥ 49,800 / £319 / AU$ 549 at the NI Online Shop and at local retailers.
The free MASCHINE Expansions introductory offer is only available at the NI Online Shop until December 31, 2016 for existing MASCHINE 2 software owners after registration of MASCHINE JAM hardware.