Berlino, 16 Giugno 2014 Native Instruments ha lanciato oggi la loro estate annuale delle vendite sonori speciali. Fino al 30 giugno 2014, i proprietari di prodotto si possono risparmiare il 50% sugli aggiornamenti, upgrade e crossgrade tra cui più complete suite di produzione di NI KOMPLETE 9 e KOMPLETE 9 ULTIMATE. Speciale di quest'anno vede anche l'aggiornamento del software MASCHINE 2 in vendita per la prima volta. Ci sono anche più opportunità che mai per aggiornare o Crossgrade a KOMPLETE 9. Inoltre, gli attuali proprietari di KOMPLETE Instruments ed effetti possono aggiornare alla versione più recente del loro software per un prezzo molto speciale. L'ESTATE DEL SUONO corse speciali da oggi fino al 30 giugno 2014.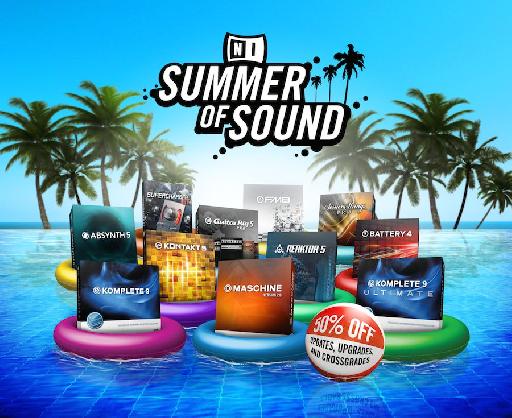 SUMMER OF SOUND offre numerosi percorsi per i produttori per ottenere KOMPLETE 9 e KOMPLETE 9 ULTIMATE a forti sconti. I proprietari di MASCHINE STUDIO e MASCHINE possono crossgrade alla KOMPLETE 9 per $ 199,50 o KOMPLETE 9 ULTIMATE per $ 374,50 con un risparmio del 50%. Per la prima volta in assoluto, i proprietari MASCHINE MIKRO possono anche crossgrade a KOMPLETE 9 per lo stesso sconto del 50%. Maschine e MASCHINE MIKRO proprietari che dont proprio software MASCHINE 2 anche ottenere un prezzo speciale sul aggiornamento disponibile per la prima volta dalla sua uscita a 49,50 dollari.

I proprietari di versioni precedenti di KOMPLETE e KOMPLETE ULTIMATE anche ottenere sconti del 50% su tutti gli aggiornamenti, offrire ai produttori l'occasione ideale per equipaggiare i loro studi alle ultime KOMPLETE strumenti e gli effetti strumenti di produzione. Ora, attuale ABSYNTH, BATTERIA, FM8, MASSIVE, GUITAR RIG PRO, CORDE AZIONE, SCIOPERI AZIONE, DANNI, EVOLVE, PREMIUM TUBE SERIES, REVERB CLASSICS BUNDLE, SOLID SERIE MIX, compressori vintage, SESSION CORNI PRO, e STRINGS SESSIONE proprietari PRO può tutti Crossgrade a KOMPLETE 9 per $ 199,50 / 199,50 / 169,50 / 22.900.

Inoltre, SUMMER OF SOUND consente a chiunque di non utilizzare le ultime versioni di KONTAKT, REAKTOR, BATTERIA, GUITAR RIG PRO, ABSYNTH, o FM8, SESSION STRINGS e SUPERCHARGER la possibilità di eseguire l'aggiornamento all'ultima versione del loro software a metà prezzo.
Questa offerta speciale è valida fino al 30 giugno 2014, presso il NI Online Shop.
E-voucher non possono essere utilizzati in combinazione con le offerte speciali.
Ulteriori informazioni sulla ESTATE DEL SUONO vendite speciali
è disponibile all'indirizzo: www.native-instruments.com/summerofsound