Here's something cool - a new handheld synth and sequencer, on Kickstarter now, that has smashed through its funding target. Priced at just 97 Euros, it's certainly a tempting proposition.With four voices, a sequencer and MIDI, audio and CV in and out it certainly packs a lot into its compact frame. Here's what its creator, Oliver Wittchow, had to say about it.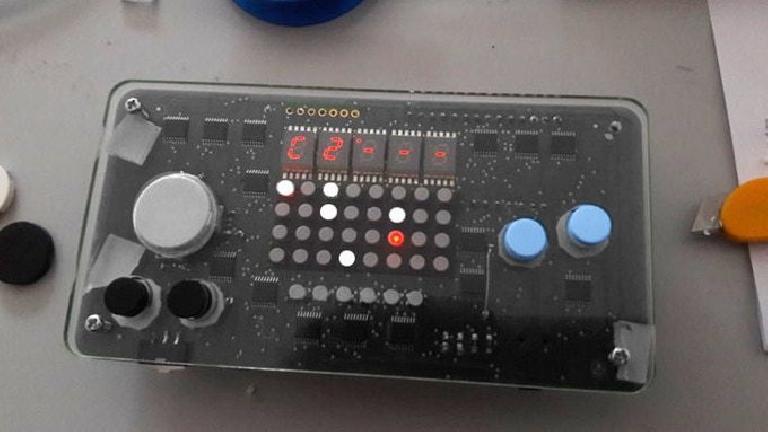 "After years of existence as cartridge for portable game consoles and smartphone app, nanoloop finally makes it into a dedicated hardware. Combining the casual game pad interface with beautiful LED dots and digits, this device forms the ideal platform for the proven nanoloop software and its iconic 4x4 matrix sequencer.
While the first version of nanoloop (still available as "nanoloop one") relies on the Game Boy's internal tone generators, subsequent variations have their very own sound:

Nanoloop two implements an FM-based software synthesizer on the Game Boy Advance's 16 MHz CPU and the latest version nanoloop mono embeds a complete synth with true analog filters inside the cartridge.

The new nanoloop device merges these two approaches and combines FM with analog for maximum flexibility."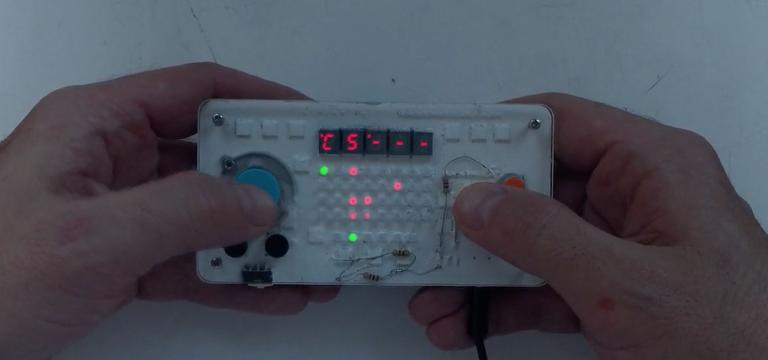 Specifications
Synthesizer
4 channels
dual square wave with true analog filter (mono)
4-voice polyphonic FM (stereo)
monophonic FM (stereo)
noise & clicks (stereo)
Sequencer
4x4 matrix
per-step control for all parameters
pattern transpose for all parameters
"meta step": play note only every 2nd or 4th loop
variable pattern length per channel
individual channel tempo
ping pong and random modes
shift pattern in four directions
randomise all parameters
Display
8x4 bi-color LED dot matrix
5 LED digits
8 menu icons
various color combinations available
Interface
silicone rubber buttons with plastic caps:
d-pad + 4 buttons
volume dial
Connections
3.5 mm mini jack stereo headphone/line out
3.5 mm mini jack input for CV an MIDI sync
3.5 mm mini jack output for CV an MIDI sync
Power
2 x AAA batteries, micro USB (power only)
physical power switch -> zero "standby" power
battery life: 50+ h
Memory
99 banks à 4x8 patterns each
song 999 patterns length
backup / restore via audio cable
micro-SD slot for near infinite projects (SD-card not included)
Sync
MIDI sync in & out
analog 1/24, 1/16, 1/8 in & out