We caught up with our frineds at Pittsburgh Modular, to check out and get a demo of their new standalone semi-modular analog synthesizer, Microvolt.
Here's our overview video of the Microvolt from NAMM 2018:
Here's some info coutsey of Gear4Music about the Pittsburgh Modular Microvolt:
"It has 39 patch sockets for circuit adjustments, but comes ready-to-play should you want to get straight on with the job of creating music.
"The Microvolt 3900 has an analogue oscillator, pre-tuned to work well with MIDI controllers. It also features a state-variable 'binary' filter with 2 resonance modes. The mixer section gives you the ability to blend between waveforms (with external inputs too) for a wide range of sound sculpting potential. The 3900 also boasts a Dynamic VCA; comprised of a VCA and low-pass gate, complete with two operating modes.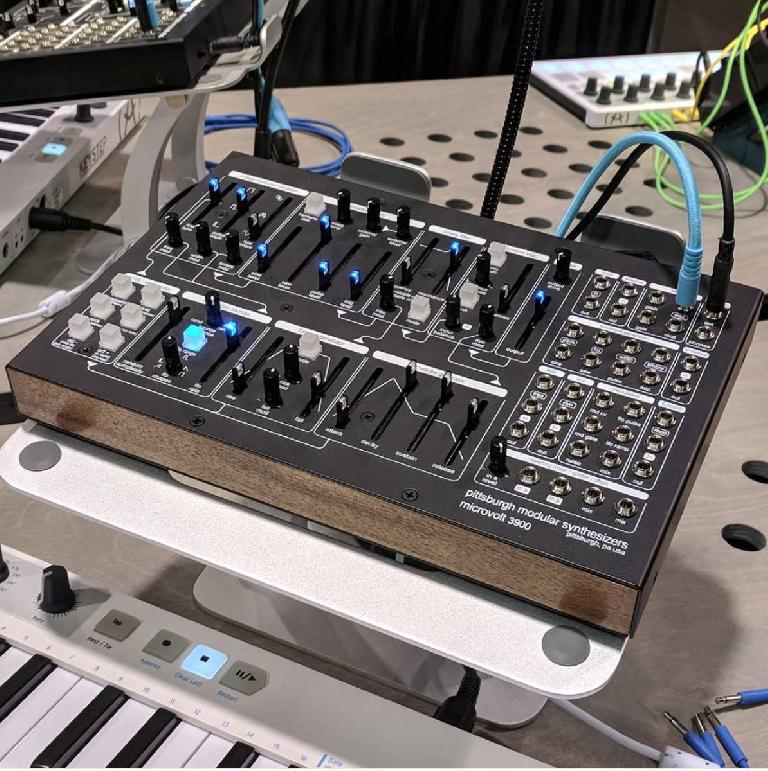 "A full ASDR envelope sits next to a hold function generator which can self-cycle, alongside a dual LFO with sample and hold. The Wave Folding capability of the 3900 makes for some interesting sounds with added harmonics, while the range of unique features will make this unit worth considering as a unique alternative.
"The Pittsburgh Modular 3900 is ideal for east-coast synthesis, combining elements of the west-coast sound for added flexibility. The use of sliders makes this a very interactive unit and you'll feel a direct connection with your sound-shaping. We really like the blue LED lights; not only do they serve the practical purpose of helping you out in low-lit environments, they also just look cool!
"This new model expands the Pittsburgh Modular collection, and by including a range of modular circuits, lets you access a wide range of sounds from a single unit. It is a compact modular product with a large potential for sound creation and we can't wait to hear more of it this year."
Stay tuned to Ask.Audio for more info on the Microvolt and a review coming soon.