Yamaha's Montage platform runs on some of the company's flagship workstation keyboards and provides an in-depth way to program and work with sounds, patches and performances. The free 1.5 update brings a bunch of new features, as Blake from Yamaha explained to us when we caught up with him at NAMM 2017.
Montage 1.5 new features
Further exploration of Motion Sequences, dynamic Super Knob control and new creative uses using the Envelope Follower and Vocoder.

New Rotary Speaker Effect with New Organ Performances.

New Dynamic Processors and Presence.

Expanded Motion Control capabilities.

Super Knob Enable/Disable on Assignable Knobs.

MIDI Scene Control - The MONTAGE "Scene" feature is a powerful way to add interactive dimension to a Performance. Scene changes can add Arpeggios, Motion Sequences, Mute Parts and more.

Improved Auto Beat Sync - Accuracy Auto Beat Sync is a very cool feature that derives tempo from audio. In other words, MONTAGE "listens" to the beat like a musician. This could be a live drum kit, drum loop, rhythm guitar or any source with solid, rhythmic time.

New Backup File - The Backup File lets you load and save your entire MONTAGE content to a single file.

Performance View - You can now get a detailed view of key range for Parts and see individual Part Element/Operator states from the main Performance/Home screen.

Live Set Improvements - Selected Performances are now highlighted in Orange and you can change the size of the font within the Live Set for much greater visibility.

Parameter with Part - When adding Parts to a Performance, you can choose to inherit settings from the Part.

Monitor Volume for USB Input - OS v1.5 adds USB audio monitor control. This is useful for quickly adjusting the incoming audio level from a DAW or iOS device. It's also handy when listening to music on the computer.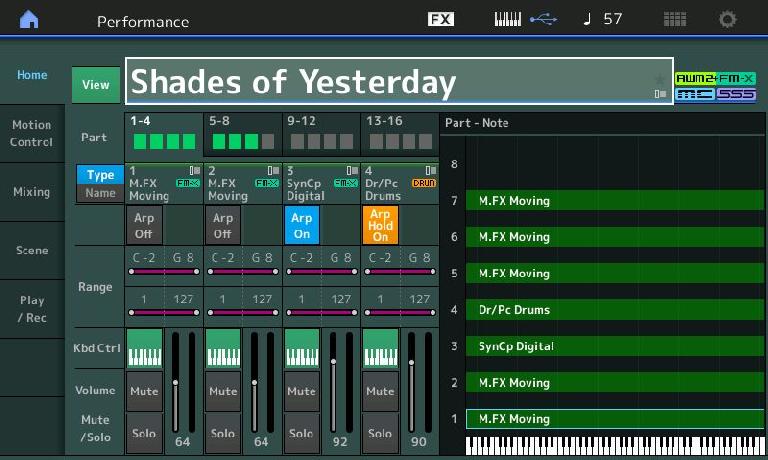 The free update will be available from early February and will be downloadable from Yamaha's website.
Read more about it here.