Anaheim, Califórnia, 22 de janeiro de 2015 - Apogee Electronics, líder na indústria de áudio digital tecnologia de gravação desde 1985, tem o prazer de apresentar o Groove um novo DAC USB e fone de ouvido amplificador portátil para ouvir música no seu Mac ou PC. Construído sobre apogeus 30 anos de história da tecnologia de áudio digital premiado para criação de música, Groove desbloqueia a melhor qualidade possível de qualquer fone de ouvido ou alto-falantes amplificados que você tem, o que lhe permite ouvir a música que você ama com incrível clareza realista.
Nós falamos com Brad Delava de Apogee na NAMM que nos contou mais sobre o Groove:
Apogeus tecnologia de áudio digital foi a confiança de profissionais de gravação de artistas, produtores e engenheiros de todo o mundo para criar inúmeros Grammy e Oscar gravações vencedoras desde 1985. Pela primeira vez, Groove coloca esta mesma tecnologia em um, durável, fácil de usar interface compacta para os consumidores, proporcionando uma experiência ouvir música de qualidade inigualável, como foi originalmente capturado no estúdio de gravação.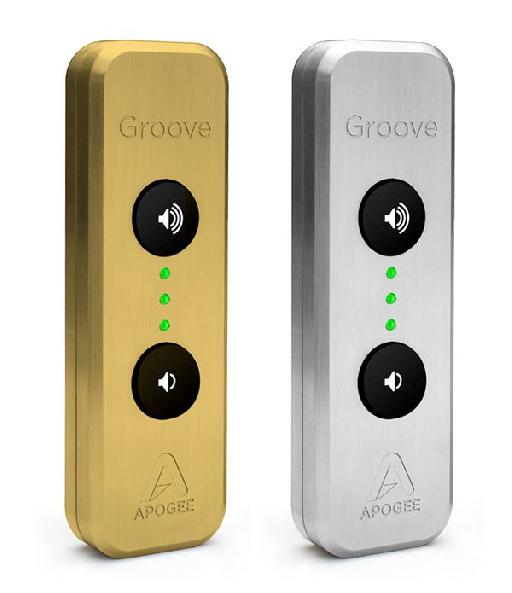 O Groove edição limitada para apogeus de 30 anos Aniversário

Grooves projeto de circuito inovador proporciona uma distribuição uniforme da potência de saída em todo o espectro de frequências audíveis, corrigindo imperfeições impedância freqüentemente encontrados em fones de ouvido de nível de entrada e ligar até o mais exigente dos auscultadores de alta impedância. A instalação é fácil - basta ligar o Groove para o seu Mac ou PC com o cabo USB 2.0 incluído e conecte seus fones de ouvido ou alto-falantes em saída analógica Grooves. O resultado é bom, calor analógico detalhado que irá impressionar até mesmo os audiófilos mais exigentes.
Para comemorar apogeus 30 anos de excelência de áudio digital, um modelo de aniversário edição limitada do Groove também estará disponível. The Groove 30 Anniversary Edition contará com um corpo de alumínio personalizado usinado, melhorias de desempenho e estará disponível em prata e ouro.
Apogee o Groove and Groove 30th Anniversary Edition estará disponível Primavera 2015. Visita apogeedigital.com para obter mais informações e se inscrever para atualizações do produto.
USB 2.0 para conexão micro para Mac e PC

Até / áudio 192 kHz 24 bit

1/8 "Saída Analógica para conectar fones de ouvido ou alto-falantes

ESS Sabre DAC

Clocking Asynchronous

Nível de saída de Max: 225MW em 30 Ohm

LEDs Multi-cores para status e nível de indicação

Botões do painel superior para ajustar o nível de saída e de silenciamento
Compacto e portátil (95 milímetros H x 30mm x 16mm W T)

Limitada Anniversary Edition apresenta corpo de alumínio e 32 bits DAC

Qualidade de construção e design premium - Construído nos EUA

Preço: TBA

Disponibilidade: Primavera 2015
Web: