Announced before NAMM 2015 begun, one of the hottest new products of the show is Akai Pro's Advance Series Controllers. Many are saying it is similar to Native Instruments' Komplete Kontrol in terms of concept. And, with Komplete Kontrol being such a success in terms of creating a seamless hardware-software controller platform for the Komplete ecosystem, arguably the only drawback is that it can't be used with 3rd-party instruments and effects'¦ yet. Of course, this may change in the future (or may not). However, Akai Professional's Advance Series Controllers do allow for any plug-in instrument to be controlled by its hardware. Custom mapping is possible and much more besides.
We spoke with Jennifer from Akai Professional who kindly gave us a demo of how the software-hardware integration works on the Advance series.
There's still some improvements we'd love to see. For example, the ability to map multiple plug-in parameters to an individual rotary knob. Perhaps in the future plug-ins will ship with templates for the Advance series controllers, or users can create and share their own?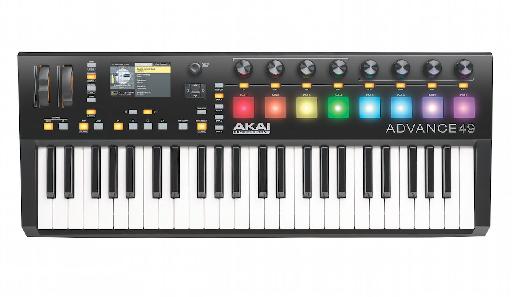 The Akai Pro Advance Series 49 Controller.
Certainly, if you're after a MIDI controller with intelligent software plug-in mapping abilities, then now is a good time to be alive.