iZotope, Inc., a leading audio technology company, and GRAMMY®-nominated composer and technologist, BT, have combined creative forces to bring you a drum sculpting and beat sequencing environment that blurs the line between rhythm and melody.

"We are a company that loves to make innovative products, taking the best of the past and forging into the future. We were able to collaborate with BT's forward-thinking vision on BreakTweaker, and we're proud to offer something incredibly unique and brand-new to the world of drum machines," says iZotope Product Manager, Jack Cote.

Powered by three distinct modules, the Sequencer, the Generator, and a futuristic MicroEdit Engine, BreakTweaker is a creative rhythmic instrument that can be used with any DAW and MIDI controller. Perfect for anyone looking to create truly original and dynamic beats, it's a new platform for rhythmic composition.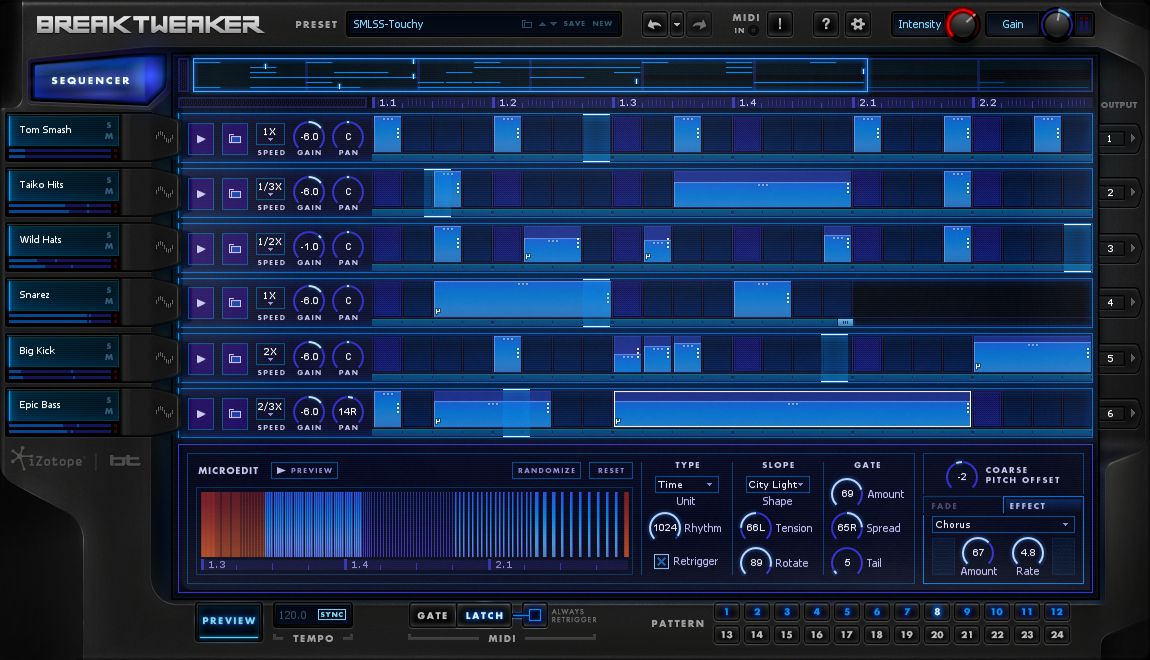 Key Features
Manipulate audio at a molecular level: control pitch, rhythm, and texture at the finest resolution available

Escape traditional drum grids: create complex polyrhythmic beats with unique isorhythm and playback speed settings

Get over 2 GB of professional, royalty-free content: explore presets, drum samples, and wavetables designed by today's top musicians and DJs, including BT

Craft your own drum sounds: blend drum samples with robust synthesis features to generate compelling hybrid sounds

Take control of your beats: Easily trigger and sequence complex patterns and samples using any MIDI controller

Designed by BT
Following their joint release of the live re-mixing plug-in, Stutter Edit, BT and iZotope are now back again with BreakTweaker. Featuring BT's patented micro edit technology based on pioneering rhythmic sound design research, BreakTweaker aims to change the way we think about rhythm and pitch.
"I've always been intrigued by the way humans perceive rhythm, particularly the threshold point of where the ear perceives rhythm as pitch," describes BT, "The idea of exploring and exploiting this threshold inspired BreakTweaker, a tool where I could finally realize rhythmic possibilities that I once imagined but had never before been able to hear."

For more information, visit the BreakTweaker website: www.izotope.com/breaktweaker and watch the AskVideo BreakTweaker course videos: https://www.askvideo.com/course/izotope-breaktweaker-explored

iZotope will also be showcasing BreakTweaker at the 2014 NAMM Show in Anaheim, CA. Visit iZotope's NAMM Booth #6920 (Hall A) for live demos.

Pricing and Availability
BreakTweaker is now available for $199 USD through February 19, 2014 (reg. $249 MSRP).
BreakTweaker Expanded is now available for $249 USD through February 19, 2014 (reg. $299 MSRP) and includes three add-on Expansions: Vintage Machines, Cinematic Textures, and Kicks & Snares by Beatport Sounds.
BreakTweaker Expanded is also available as part of iZotope's Creative Bundle for $599 USD, which also includes Stutter Edit, Iris (plus seven Iris Sound Libraries), and Trash 2 (plus two Trash Expansions).
Web: http://www.izotope.com/products/audio/breaktweaker/index.asp
Learn BreakTweaker from AskVideo.com
The other exciting news about BreakTweaker, is that once you purchase it you don't have to scratch your head when trying to get to grips with it. AskVideo.com are first to market (again!) with video training for iZotope's BreakTweaker, so you can concentrate on making the most out of this incredibly flexible & creative plug-in.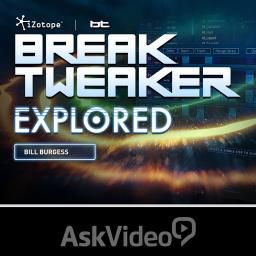 Watch the videos here:
https://www.askvideo.com/course/izotope-breaktweaker-explored