Cumberland, RI, USAMarch 11, 2014. Akai Professional (akaipro.com), um líder inovador de performance musical e produção de equipamentos, anuncia três novos controladores Ableton Live The APC40 mkII, APC-chave 25, e mini-APC. Em 2009, Akai Professional em parceria com os criadores do Ableton Live, um ambiente de desempenho e software de produção poderoso, e introduziu o controlador original Desempenho Ableton. Com a estréia do APC40, Akai Pro elevou os padrões para o projeto do controlador e revolucionou Ableton Live software e integração de hardware. Akai Pro agora revela o reinventados APC40 mkII juntamente com dois compacto Ableton Live controllersAPC chave 25, e APC mini.

Akai Prós principal controlador Ableton Live, o novo APC40 mkII, incorpora cinco anos de feedback do usuário em seu projeto para a funcionalidade estendida, inúmeras capacidades musicais e melhor fluxo de trabalho. O APC40 mkII possui um LED RGB 5x8 matriz de lançamento de clipe, atribuível crossfader A / B, oito botões rotativos, 8 faders de canal, e um botão de envio para acesso rápido a enviar ônibus. Incluído com o APC40 mkII é um conjunto de software, amostras e loops para a produção de música eletrônica out-of-the-box: pacotes artista Toolroom lançamento, pacotes de amostra Prime Loops, híbrido 3 por tecnologia AIR Música, e SONiVOX torção dar aos usuários sem fim possibilidades de produção de música com amostras mão-selecionados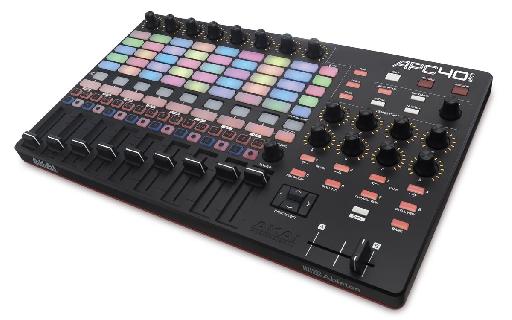 Akai APC40 MKII
APC chave 25 é o primeiro controlador concebido para Ableton que está equipado com um teclado de alto desempenho. Unindo o poder de um painel de lançamento de clipe com uma interface de teclado, os APC Chave 25 casais de controle em tempo real da Ableton Live com ferramentas de composição tradicionais. O controlador inclui 25 synth-action mini-chaves, uma matriz 5x8 clip-lançamento com tri-color feedback visual, 8 botões de controle, poder, USB e plug-and-play conectividade. A APC chave 25 vem mapeado para Ableton, mas também pode ser utilizado como um controlador MIDI para todos os fins.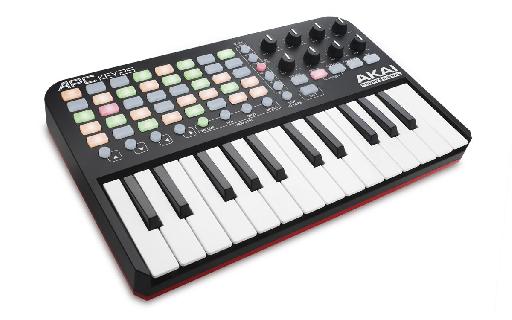 Akai APC Chave 25
APC mini é a solução mais portátil controlador all-in-one com Ableton Akai Pro qualidade de construção. Projetado para o músico móvel ou produtor, mini-APC concentra as características essenciais do APC40 mkII em um design que economiza espaço. Uma grade expandida 8x8 multicolor clip-lançamento, 8 faders de canal, e um chassi compacto fornecer hands-on controle sobre Ableton Live com uma pequena pegada sem precedentes. O mini APC é também alimentado USB e suporta plug-and-play.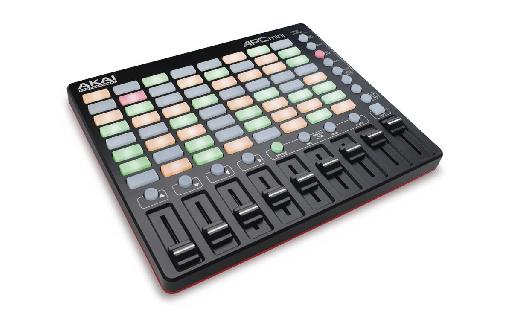 Akai APC Mini
APC Série Destaques:
Ableton Live integra integrationseamlessly 1 a 1 com o Ableton Live

USB-powered e adaptador de energia classe compliantno necessário

Ableton Live Liteindustry-líder de software de criação de música a partir de AbletonTM incluído

APC40 mkII Destaques:
Clipe LED RGB 5x8 matrixlaunches clips com feedback visual

8 faders de canal, 1 master fader e 8 dispositivo controlsmap para Ableton Live diretamente

Layout de botão layoutrevised intuitiva com in-line controla para fluxo de trabalho mais inteligente

A / B crossfadercan ser atribuído on the fly para mistura dinâmica

Enviar ButtonPress e mantenha Enviar e usar os Pista Selects para escolher uma das 8 envia

Produção musical contentToolroom pacotes artista lançamento, Prime Loops pacotes de amostra,

Híbrido 3 por tecnologia AIR Música
APC 25 Principais Destaques:
Ableton Live with controlador keyboard25 chaves mini-synth-action

Clipe Tricolor matrixlaunches clips e multicolor iluminação exibe o status clipe
8 knobshands-on-controle controle atribuível de qualquer parâmetro Ableton Live

Octave Up, Octave Down e Sustainexpands gama do teclado e de expressão

Embalagens contentToolroom Produção musical artista lançamento, híbrido 3 por AIR Música Tecnologia
APC mini-Destaques:
Tri-color grade clipe matrix8x8 lança clips e iluminação multicolor exibe o status clipe

8 faders de canal
Projeto constructionportable Compact para os artistas e produtores de móveis

Pacotes de lançamento da produção musical de artistas contentToolroom
Akai Professional Product Manager Dan Gill observa:
"The APC40 was the original performance controller designed for Ableton Live and has become an essential instrument for Ableton Live users. Now we are able to deliver three new APC instruments for musicians, composers, and mobile performers that allow comprehensive, hands-on control of Ableton Live in any performance or production environment."
O APC40 mkII, APC chave 25, e APC Mini estará disponível no Verão de 2014, distribuídos em todo o mundo com os seguintes preços de rua: APC40 mkII (399,99 dólares USD), APC Chave 25 ($ 129,99 USD) e APC mini ($ 99,99 USD).
Akai Professional vai apresentar o APC40 mkII, APC chave 25, e APC Mini na Musikmesse, Hall 5.1, Estande B45, 12-15 março, em Frankfurt, Alemanha. Para mais informações, visite: akaipro.com/messe2014 .