Cumberland, RI, USAMarch 11, 2014. Akai Professional (akaipro.com), innovatore leader di performance di musica e la produzione di attrezzature, annuncia tre nuovi controller di Ableton live APC40 mkII, APC chiave 25, e APC mini. Nel 2009, Akai Professional ha collaborato con i creatori di Ableton Live, un potente ambiente di prestazioni e produzione software, e ha introdotto l'originale Ableton prestazioni del controller. Con il debutto della APC40, Akai Pro alzato gli standard per la progettazione controller e rivoluzionato software Ableton Live e integrazione hardware. Akai Pro ora svela il reimagined APC40 mkII insieme a due compatte Ableton Live controllersAPC Key 25, e APC mini.

Akai Pro ammiraglia Ableton Live controller, il nuovo APC40 mkII, comprende cinque anni di feedback degli utenti nel suo design per la funzionalità estesa, innumerevoli funzionalità musicali, e il miglioramento del flusso di lavoro. L'APC40 mkII dispone di un LED RGB 5x8 matrix-clip di lancio, assegnabile A / B crossfader, 8 potenziometri rotativi, 8 fader di canale, e un pulsante di invio per l'accesso rapido per inviare bus. Incluso con il APC40 mkII è una suite di software, campioni e loop per la produzione di musica elettronica out-of-the-box: pacchi di lancio artista attrezzeria, confezioni campione Prime Loops, Hybrid 3 da AIR Music Technology, e SONiVOX Twist dare agli utenti infinite possibilità di produzione musicale con i campioni selezionati a mano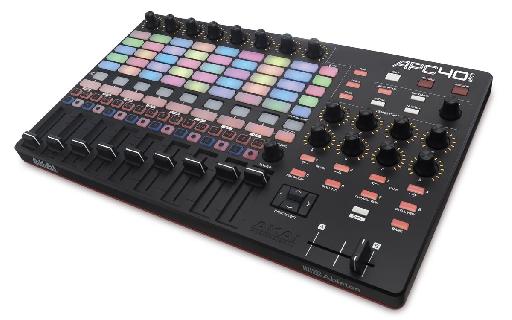 Akai APC40 MKII
APC Key 25 è il primo controller progettato per Ableton Live che è dotato di una tastiera ad alte prestazioni. Unendo la potenza di un pannello-clip lancio con un'interfaccia tastiera, i APC Key 25 coppie di controllo in tempo reale di Ableton Live con strumenti di composizione tradizionali. Il controller include 25 tasti mini-synth-action, una matrice 5x8 clip-lancio con tri-color feedback visivo, 8 manopole di controllo, alimentazione USB e connettività plug-and-play. L'APC Key 25 viene mappato Ableton, ma può anche essere utilizzato come controller MIDI per tutti gli usi.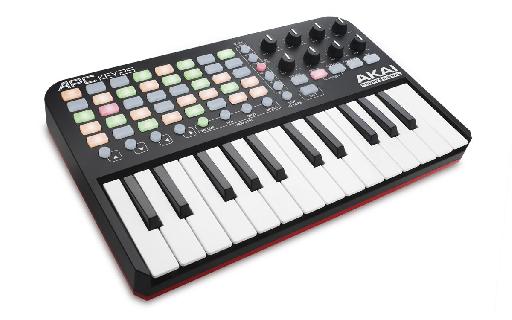 Akai APC Key 25
APC mini è la soluzione di controllo più portatile all-in-one con Ableton Akai Pro qualità costruttiva. Progettato per il musicista mobile o il produttore, APC mini concentra le caratteristiche essenziali del APC40 mkII in un design salva-spazio. Un 8x8 multicolore griglia espansa clip-lancio, 8 fader di canale, e un telaio compatto forniscono hands-on di controllo su Ableton Live con il minimo ingombro senza precedenti. L'APC mini è anche USB-powered e supporta plug-and-play.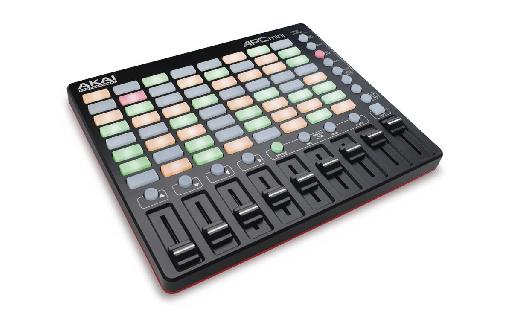 Akai APC Mini
APC Serie Highlights:
Ableton Live si integra integrationseamlessly 1-1 con Ableton Live

USB-powered e adattatore di alimentazione classe compliantno richiesto

Ableton Live Liteindustry leader di software di creazione musicale da AbletonTM incluso

APC40 mkII Highlights:
Clip LED RGB 5x8 matrixlaunches clip con un feedback visivo

8 fader di canale, 1 master fader, e 8 del dispositivo controlsmap per Ableton Live direttamente

Intuitivo disposizione manopola layoutrevised con in linea controlli per il workflow intelligente

A / B crossfadercan essere assegnato al volo per la miscelazione dinamica

Invia ButtonPress e tenere premuto Invio e utilizzare i Selects pista per scegliere una delle 8 manda

Musica contentToolroom produzione di confezioni di lancio dell'artista, Prime Loops confezioni campione,

Hybrid 3 da AIR Music Technology
APC chiave 25 Highlights:
Ableton Live controller con keyboard25 mini tasti synth-action

Clip Tri-color matrixlaunches clip e display illuminazione multicolor stato di ritaglio
8 knobshands-on-control controllo assegnabile di qualsiasi parametro di Ableton Live

Octave Up, Octave Down e Sustainexpands gamma della tastiera e di espressione

Confezioni di lancio artista contentToolroom produzione musicale, Hybrid 3 da AIR Musica Tecnologia
APC mini Highlights:
Tri-colore della griglia di clip matrix8x8 lancia la clip e visualizza illuminazione multicolor stato di ritaglio

8 fader di canale
Design compatto per constructionportable esecutori mobili e produttori

Confezioni di lancio della produzione musicale contentToolroom artista
Akai Professional Product Manager Dan Gill Note:
"The APC40 was the original performance controller designed for Ableton Live and has become an essential instrument for Ableton Live users. Now we are able to deliver three new APC instruments for musicians, composers, and mobile performers that allow comprehensive, hands-on control of Ableton Live in any performance or production environment."
L'APC40 mkII, APC Key 25, e APC mini sarà disponibile in estate 2014, distribuito in tutto il mondo con i seguenti prezzi di strada: APC40 mkII ($ 399,99 USD), APC Key 25 ($ 129.99 USD), e APC mini ($ 99.99 USD).
Akai Professional svelerà la APC40 mkII, APC Key 25, e APC Mini al Musikmesse, padiglione 5.1, stand B45, 12-15 Marzo a Francoforte, in Germania. Per ulteriori informazioni, visitare: akaipro.com/messe2014 .