Cumberland, RI, USAMarch 11, 2014. Akai Professional (akaipro.com), un innovateur dans le domaine de l'équipement de la performance de la musique et de la production, annonce trois nouveaux contrôleurs Ableton Live le APC40 mkII, APC clés 25, et des mini APC. En 2009, Akai Professional partenariat avec les créateurs de Ableton Live, un environnement de performance et des logiciels de production puissante, et a introduit le contrôleur d'origine Ableton Performance. Avec le lancement de l'APC40, Akai Pro a soulevé les normes de conception de contrôleur et a révolutionné le logiciel Ableton Live intégration du matériel. Akai Pro dévoile maintenant la APC40 mkII réinventé avec deux compact Ableton Live controllersAPC Key 25, et mini-APC.

Contrôleur direct Akai Plus phare d'Ableton, le nouveau APC40 mkII, intègre cinq ans de la rétroaction des utilisateurs dans la conception de fonctionnalités étendues, d'innombrables capacités musicales, et flux de travail amélioré. Le APC40 mkII dispose d'un RGB LED 5x8 matrice du clip de lancement, assignable A / B crossfader, 8 boutons rotatifs, 8 faders de voie, et un bouton d'envoi pour un accès rapide à envoyer bus. Inclus avec l'APC40 mkII est une suite de logiciels, des échantillons, et des boucles pour la production hors-the-box de la musique électronique: les packs de lancement Toolroom artiste, sample packs Prime Loops, Hybrid 3 par AIR Music Technology, et SONiVOX Twist donner aux utilisateurs sans fin possibilités de production de la musique avec des échantillons sélectionnés à la main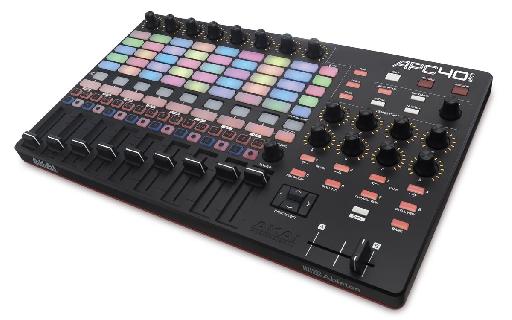 Akai APC40 MKII
APC clé 25 est le premier contrôleur conçu pour Ableton Live qui est équipé d'un clavier de haute performance. Unir la puissance d'un panneau de clip-lancement avec une interface clavier, les APC clé 25 couples de contrôle en temps réel de Ableton Live avec des outils de composition traditionnelles. Le contrôleur comprend 25 touches synthé-action du mini, un 5x8 matrice clip-lancement avec tricolore retour visuel, 8 boutons de commande, puissance d'USB et la connectivité plug-and-play. La clé APC 25 vient en correspondance avec Ableton, mais peut également être utilisé comme un contrôleur MIDI polyvalent.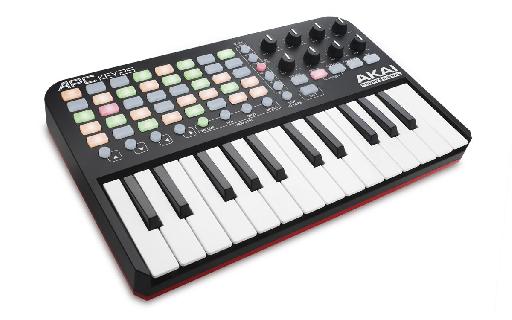 Akai APC 25 Key
APC mini est la solution de contrôleur le plus portable tout-en-un avec Ableton Akai qualité de construction Pro. Conçu pour le musicien mobile ou producteur, APC mini-concentre les caractéristiques essentielles de l'APC40 mkII dans un design compact. Un 8x8 multicolore réseau élargi clip-lancement, 8 faders de voie, et un châssis compact fournissent mains sur le contrôle de Ableton Live avec un faible encombrement sans précédent. Le mini APC est également alimenté par USB et supporte les plug-and-play.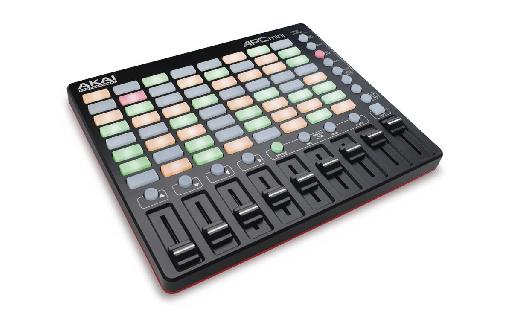 Akai APC Mini
APC série Faits saillants:
Ableton Live intègre integrationseamlessly 1 à 1 avec Ableton Live

USB-alimenté et l'adaptateur secteur de compliantno de classe nécessaire

Ableton Live Liteindustry-leader des logiciels de création musicale de AbletonTM inclus

APC40 mkII Faits saillants:
Clip LED RGB 5x8 matrixlaunches clips avec un retour visuel

8 faders de voie, 1 fader et 8 dispositif controlsmap à Ableton Live directement

Disposition intuitive de bouton layoutrevised avec en ligne contrôle du flux de travail intelligent

A / B crossfadercan être affecté à la volée pour un mélange dynamique

Envoyer ButtonPress et maintenez Envoyer et utiliser les Sélectionne la piste de choisir l'une des 8 départs

Packs de lancement de la production de la musique de l'artiste contentToolroom, Prime Loops __gVirt_NP_NNS_NNPS<__ paquets d'échantillons,

Hybrid 3 par AIR Music Technology
APC clés 25 Faits saillants:
Contrôleur Ableton Live avec keyboard25 clés mini synthé-actions

Clip tricolore matrixlaunches clips et multicolores éclairage affiche l'état du clip
8 commande assignable knobshands-sur-le contrôle de n'importe quel paramètre Ableton Live

Octave Up, Octave Down et Sustainexpands gamme de clavier et d'expression

Packs contentToolroom de production de musique de lancement artiste, Hybrid 3 par AIR Musique Technologie
APC mini-Faits saillants:
Tri-couleur de clip matrix8x8 grille lance clips et éclairage multicolore affiche l'état du clip

8 faders de voie
Conception constructionportable compact pour les artistes interprètes et les producteurs mobiles

packs de lancement de la production de musique artiste contentToolroom
Akai Professional Product Manager Dan Gill note:
"The APC40 was the original performance controller designed for Ableton Live and has become an essential instrument for Ableton Live users. Now we are able to deliver three new APC instruments for musicians, composers, and mobile performers that allow comprehensive, hands-on control of Ableton Live in any performance or production environment."
Le APC40 mkII, APC Key 25, et APC mini-seront disponibles à l'été 2014, distribué dans le monde entier avec les prix de rue suivants: APC40 mkII ($ 399,99 USD), APC clé 25 ($ 129,99 USD), et APC mini ($ 99,99 USD).
Akai Professional dévoilera le APC40 mkII, APC Key 25, et APC Mini au Musikmesse, Hall 5.1, stand B45, Mars 12-15 Francfort, en Allemagne. Pour plus d'informations, visitez: akaipro.com/messe2014 .