Cumberland, Rhode Island, USAMarch 11, 2014. Akai Professional (akaipro.com), un innovador líder de equipos de interpretación musical y la producción, anuncia tres nuevos controladores Ableton vivo el APC40 mkII, APC clave 25, y APC Mini. En 2009, Akai Professional se asoció con los creadores de Ableton Live, un entorno de rendimiento y producción de software de gran alcance, y se introdujo el controlador original de Performance Ableton. Con el debut de la APC40, Akai Pro eleva los estándares para el diseño del controlador y revolucionó el software Ableton Live y la integración de hardware. Akai Pro ahora desvela el reimagined APC40 mkII junto con dos compacta Ableton Live controllersAPC Clave 25, y APC Mini.

Akai Pros insignia Ableton controlador Live, el nuevo APC40 mkII, incorpora cinco años de retroalimentación de los usuarios en su diseño para la funcionalidad extendida, innumerables capacidades musicales, y un mejor flujo de trabajo. El APC40 mkII ofrece un 5x8 RGB LED de matriz clip-lanzamiento, asignables crossfader A / B, 8 controles giratorios, 8 faders de canal, y un botón de envío para un acceso rápido para enviar los autobuses. Se incluye con el APC40 mkII es una suite de software, muestras y bucles para la producción de música electrónica fuera de la caja: los paquetes de artista Toolroom lanzamiento, Prime Loops de muestra packs, Hybrid 3 por la tecnología AIR Música y SONiVOX torcedura dar a los usuarios infinitas posibilidades de producción musical con muestras seleccionadas a mano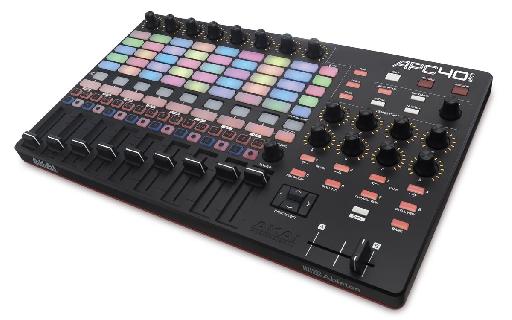 Akai APC40 MKII
APC Clave 25 es el primer controlador diseñado para Ableton Live, que está equipado con un teclado de alto rendimiento. Uniendo el poder de un panel de clip-lanzar con una interfaz de teclado, los APC Clave 25 parejas de control en tiempo real de Ableton Live con herramientas de composición tradicionales. El controlador incluye 25 teclas de synth-acción mini, un 5x8 matriz de clip-lanzamiento con tricolor retroalimentación visual, 8 botones de control, potencia y conectividad USB plug-and-play. La clave de APC 25 viene asigna a Ableton, pero también se puede utilizar como un controlador MIDI para todo uso.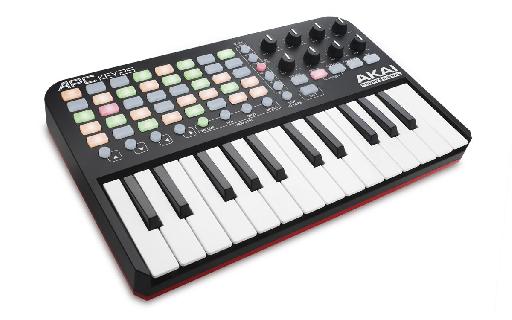 Akai APC 25 Clave
Mini APC es la solución controlador más portátil todo-en-uno con Ableton Akai Pro calidad de construcción. Diseñado para el músico móvil o productor, mini APC concentra las características esenciales de la APC40 mkII en un diseño que ahorra espacio. Una rejilla expandida multicolor 8x8 clip-lanzamiento, 8 faders de canal, y un chasis compacto proporcionan práctica en el control de Ableton Live con una pequeña huella sin precedentes. El mini APC es también alimentado por USB y es compatible con plug-and-play.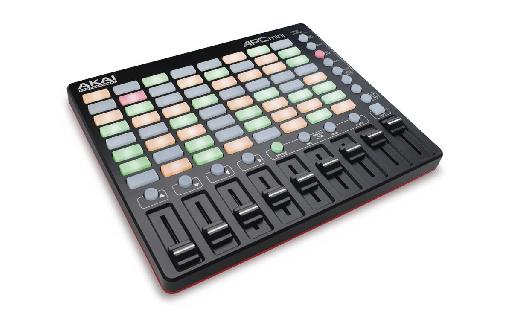 Akai APC Mini
APC Series Highlights:
Ableton Live integra integrationseamlessly 1 a 1 con Ableton Live

Alimentado-USB y requiere adaptador de corriente de clase compliantno

Software de creación musical Ableton Live Liteindustry líder de AbletonTM incluido

APC40 mkII destacados:
Clip de LED 5x8 RGB matrixlaunches clips con retroalimentación visual

8 faders de canal, 1 fader master y 8 dispositivo controlsmap para Ableton Live directamente

Diseño perilla layoutrevised intuitiva con en línea controla el flujo de trabajo inteligente

A / B crossfadercan asignarse sobre la marcha de mezcla dinámica

Enviar ButtonPress y mantenga Enviar y utilice los Selecciona la pista que elegir uno de 8 envíos

Producción musical contentToolroom paquetes artista de lanzamiento, Prime Loops paquetes de muestra,

Híbrido 3 por la tecnología AIR Music
Para el APC 25 Destacados:
Ableton controlador de Vivo con keyboard25 teclas mini-synth-acción

Clip tricolor matrixlaunches clips y multicolor iluminación pantallas estado de recorte
8 knobshands-on-mando de control asignable de cualquier parámetro Ableton Live

Octave Up, Octave Down y Sustainexpands gama y expresión teclado

Packs contentToolroom Producción musical artista de lanzamiento, Hybrid 3 por AIR Música Tecnología
APC Mini destacados:
Tri-color de la cuadrícula de clip matrix8x8 lanza clips y las pantallas de iluminación multicolor estado de recorte

8 faders de canal
Diseño constructionportable compacto para los artistas móviles y productores

Packs de lanzamiento de la producción musical de artistas contentToolroom
Akai Professional Product Manager Dan Gill señala:
"The APC40 was the original performance controller designed for Ableton Live and has become an essential instrument for Ableton Live users. Now we are able to deliver three new APC instruments for musicians, composers, and mobile performers that allow comprehensive, hands-on control of Ableton Live in any performance or production environment."
El APC40 mkII, APC Clave 25, y APC Mini estará disponible en verano de 2014, distribuida por todo el mundo con los siguientes precios de la calle: APC40 mkII ($ 399.99 USD), APC Clave 25 ($ 129.99 USD), y APC mini ($ 99.99 USD).
Akai Professional presentará el APC40 mkII, APC Clave 25, y APC Mini en Musikmesse, Hall 5.1, stand B45, 12 a 15 marzo en Frankfurt, Alemania. Para obtener más información, visite: akaipro.com/messe2014 .