Cumberland, RI, USAMarch 11 2014. Akai Professional (akaipro.com), ein führender Anbieter von Musik-und Produktionsanlagen, kündigt drei neue Ableton Live Controller der APC40 mkII, Key APC 25 und APC mini. Im Jahr 2009, eine Partnerschaft Akai Professional mit den Machern von Ableton Live, eine starke Leistung und Produktion Software-Umgebung, und führte den ursprünglichen Ableton Performance Controller. Mit dem Debüt des APC40, hob Akai Pro die Standards für die Controller-Design und revolutionierte Ableton Live Software-und Hardware-Integration. Akai Pro stellt nun die reimagined APC40 mkII zusammen mit zwei kompakten Ableton Live controllersAPC Key 25 und APC mini.

Akai Pro Flaggschiff Ableton Live Controller, der neue APC40 mkII, enthält fünf Jahren der Nutzer-Feedback in seinen Entwurf für erweiterte Funktionalität, unzähligen musikalischen Fähigkeiten und verbesserte Workflows. Der APC40 mkII verfügt über eine 5x8 RGB-LED-Clip-Start-Matrix, zuweisbaren A / B Crossfader, 8 Drehregler, 8-Kanal-Fader und einen Sendetaste für den schnellen Zugriff zu den Bussen zu senden. Mit der APC40 mkII enthalten ist eine Software-Suite, Samples und Loops für out-of-the-Box-Produktion elektronischer Musik: Toolroom Künstler Startpackungen, Prime Loops Musterpackungen, Hybrid 3 von AIR Music Technology und SONiVOX Twist haben die Nutzer endlose Musik-Produktionsmöglichkeiten mit hand ausgewählten Proben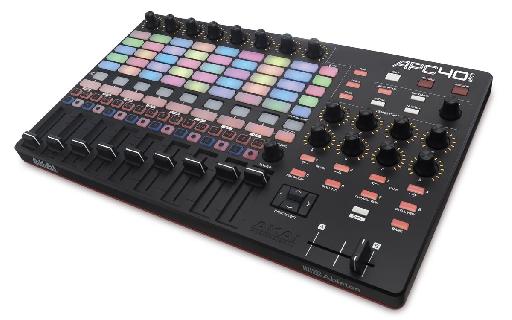 Akai APC40 MKII
APC Key 25 ist der erste Controller für Ableton Live entwickelt, die mit einem High-Performance-Tastatur ausgestattet ist. Vereint die Kraft eines Clips-Start-Panel mit einer Tastaturschnittstelle, die APC-Key 25 Paare Echtzeitsteuerung von Ableton Live mit traditionellen Kompositionswerkzeuge. Die Steuerung enthält 25 Synth-Action-Mini-Tasten, eine 5x8 Clip-Launch-Matrix mit tri-color visuelles Feedback, 8 Bedienknöpfe, USB-Stromversorgung und Plug-and-Play-Konnektivität. Die APC-Key 25 kommt auf Ableton abgebildet werden, sondern kann auch als ein Allzweck-MIDI-Controller verwendet werden.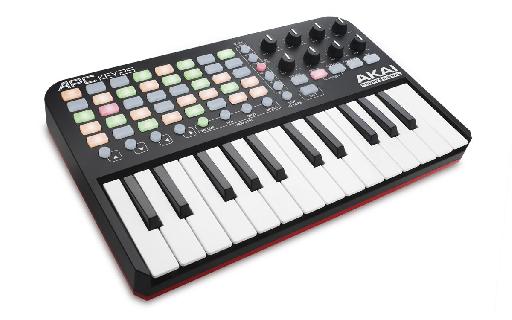 Akai APC 25 Key
APC mini ist die tragbare All-in-one-Lösung mit Ableton Controller Akai Pro Qualität bauen. Für den mobilen Musiker oder Produzent Engineered, APC Mini konzentriert die wesentlichen Merkmale der APC40 mkII in einem platzsparenden Design. Eine erweiterte 8x8 multicolor Clip-Startgitter, 8-Kanal-Fader und ein kompaktes Chassis bieten eine beispiellose Hands-on-Kontrolle über Ableton Live mit einer kleinen Stellfläche. Die APC-Mini ist auch USB-powered und unterstützt Plug-and-Play.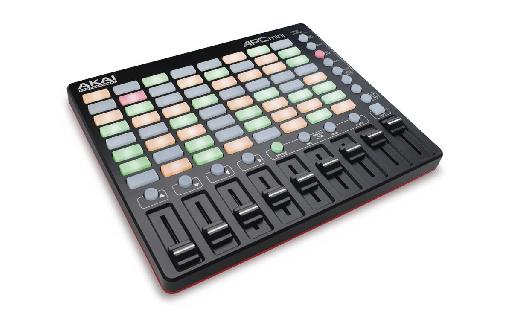 Akai APC Mini
APC-Serie Highlights:
Ableton Live integriert integrationseamlessly 1 zu 1 mit Ableton Live

USB-Stromversorgung und Klassen compliantno Netzteil erforderlich

Ableton Live Liteindustry führenden Musiksoftware von AbletonTM enthalten

APC40 mkII Highlights:
5x8 RGB LED Clip matrixlaunches Clips mit visuellem Feedback

8-Kanal-Fader, 1 Master Fader und 8 Gerät controlsmap zu Ableton Live direkt

Intuitive layoutrevised Knopf-Layout mit In-Line-Regler für intelligenter Workflow

A / B crossfadercan on the fly für dynamische Misch zugeordnet werden

Senden Button und halten senden und nutzen die Spur zu wählen, wählt eines von 8 sendet

Musikproduktion contentToolroom Künstler Start-Packs, Prime Loops Musterpackungen,

Hybrid 3 von AIR Music Technology
APC Key 25 Highlights:
Ableton Live Controller mit keyboard25 Synth-Action-Mini-Tasten

Tri-color Clip matrixlaunches Clips und Multicolor-Beleuchtung zeigt Clipstatus
8 zuweisbare Steuer knobshands-on-Kontrolle über alle Parameter Ableton Live

Octave Up, Octave Down-und Sustainexpands Tastaturbereich und Ausdruck

Musikproduktion contentToolroom Künstler Start-Packs, Hybrid 3 von AIR Musik Technologie
APC Mini-Highlights:
Tri-color Clip matrix8x8 Netz startet Clips und Multicolor-Beleuchtung zeigt Clipstatus

8-Kanal-Fader
Kompaktes Design für mobile constructionportable ausübende Künstler und Hersteller

Musikproduktion contentToolroom Künstler Start-Packs
Akai Professional Produktmanager Dan Gill stellt fest:
"The APC40 was the original performance controller designed for Ableton Live and has become an essential instrument for Ableton Live users. Now we are able to deliver three new APC instruments for musicians, composers, and mobile performers that allow comprehensive, hands-on control of Ableton Live in any performance or production environment."
Der APC40 mkII, APC Key 25 und APC mini verfügbar sein wird im Sommer 2014 weltweit mit den folgenden Straßenpreise verteilt: APC40 mkII ($ 399,99 USD), APC Key 25 ($ 129,99 USD) und APC Mini ($ 99.99 USD).
Akai Professional APC40 wird den mkII, Key APC 25 und APC Mini auf der Musikmesse, Halle 5.1, Stand B45, von 12. bis 15. März in Frankfurt am Main, Deutschland zu enthüllen. Für weitere Informationen, besuchen Sie: akaipro.com/messe2014 .