For a mix to be well balanced and easy on the ear, there are a few vital ingredients it must contain, amongst these are separation and space. We can go some way to achieving these goals with sound use of equalization and solid relative mix but sometimes these alone are not enough.
Reverb is a key tool for developing a convincing contrast between the different elements in our projects and should be a permanent resident in the mixologists toolbox. Here we'll take a look at what reverb is and the different processors we can use to generate it...
Going Into Space
If you have just started experimenting with reverb and ambience plug-ins, you may not be fully aware of what is going on under the hood, so to speak. It's pretty clear that applying a reverb makes things sound bigger and wider but how does it happen, that's the question!
Basically put, reverberation is something that happens to a sound in any space. Of course the amount and type of reverberation that occurs strongly depends on the space in which you are in, but you will always hear some kind of reflection from the surfaces and space around you.
In a real space, the reverb effect that your brain receives is based on a pretty large number of variables, but these can be broken down into a more manageable group based on the most common controls you are likely to see on a run-of-the-mill reverb plug-in.
The most critical element to any space, real or processed, is its size. This will have a huge impact on the effect you hear. Larger spaces will ultimately lead to greater decay times and more expansive effects. Smaller spaces on the other hand will therefore produce shorter tighter reverberation effects.
The material of the room is another crucial element in the creation of reverb patches. A room consisting largely of hard surfaces such as marble for example will create a much more reflective sound with highly exaggerated high frequencies. A room made up of softer materials such as wood of textiles will produce less reflections and a much warmer sound.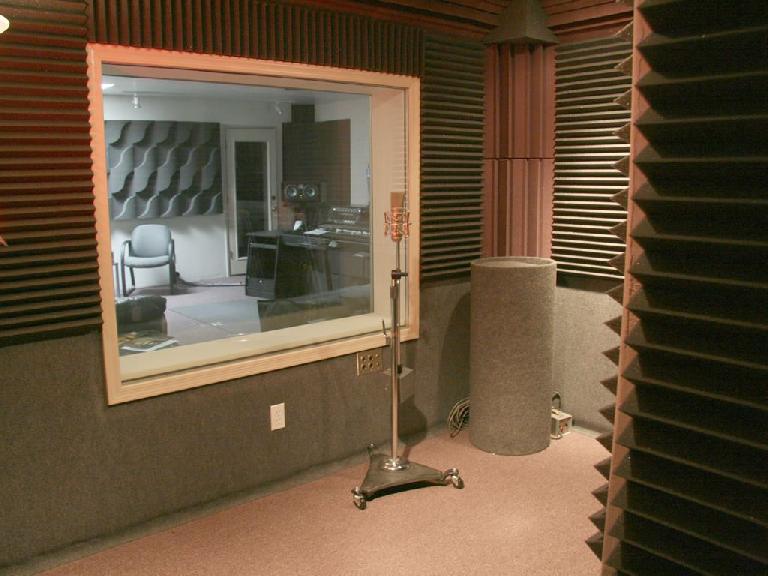 (Pic 1b) A smaller room packed with acoustic treatment and materials designed for absorption, will produce a warm ambience with a short decay.
It's a good idea to think about these reverb basics before you even load your processor of choice. With a specific space in mind, you are much more likely to get the effect you want. So do you want to recreate the interior ambience of a car or the lush reverb created in a concert hall?
Algorithmic vs. Convolution
Once you have a basic understanding of how specific spaces are reproduced by reverb units you are then faced with the task of choosing the right plug-in for the job. In many cases simply picking the stock reverb plug-in from your DAW is good enough, but it can pay to know how each processor works.
To start with, there are two main kinds of reverb plug-in available. Algorithmic reverbs and convolution based processors. They'll both get the job done, so if you are just starting out, don't get too hung up on the differences.
Essentially, Algorithmic reverbs have been around longer than their convolution based counterparts and rely purely on number crunching and CPU intensive processing to recreate a virtual space. Companies such as Lexicon have specialized in this sort of process for many years so the tech is solid.
(Pic 2) The Lexicon PCM collection is a great example of a high quality, software based algorithmic reverb.
Algorithmic reverbs do have a specific sound and unless you use a unit from a trusted manufacturer, you could be in danger of introducing some artifacts into your music. If you want to go down the classic algorithmic route, I would suggest getting hold of the best unit you can. Currently some of the best reverbs in this class are the Lexicon PCM and LXP packages.
The Lexicon PCM plug-in producing a lush hall reverb effect:
If you would prefer to give your CPU a break and use something a little more cutting edge, you can opt for a convolution reverb. These clever processors use recordings called impulse responses to impart the exact sound of a specific space to your audio.
The convolution based Space Designer producing a similar hall effect:
As these convolutions verbs essentially use samples to create their sound, the editing possibilities can be slightly limited. You can tweak your sound to some extent, decay, EQ and filtering are usually available, but intricate changes are best left to the plug-ins in the algorithmic camp.
Reverb Flavors
With your reverb plug-in chosen, you can start to think about the actual space you want it to create and perhaps even the style of processor you want to emulate. Over the years their have been plenty of different ways of creating reverb, we have looked at the two main methods used in the digital domain already.
You are likely to see spring reverbs, plate reverbs, vintage reverb and even echoes when scrolling through the presets of many reverb plug-ins. These represent different hardware units and will give you varying colors even with similar effects.
Above all else, it's a good idea to focus sharply on the type of space you want to place your sound in. In order of size, you'll generally have the choice that looks something like this... Concert Hall, Hall, Large Room, Plates, Live Room, Chamber and Ambience. Now these names may vary somewhat depending on the device you are using, but this is a good guideline for what you can expect to find.
With this road map, you should be able to scroll through most reverb unit's preset library and find what you are looking for. Remember that huge glossy reverbs are great, but realistically, you only want these on a few choice instruments or effects in your mix.
It's generally a good idea to work with the smaller reverbs and build up a convincing spatial picture using room and plate reverbs. Let's think about that now and the different tricks we can use not only to create a nicely contrasting mix but also how we can build realistic virtual spaces.
Attaining Realism and Contrast
When building a mix, the aim of the game is to get a pleasing balance that allows every element to shine and that is going to be involving for the listener. Obviously, a great relative mix, good stereo separation and solid EQ technique are hugely important here, but a real sense of space is also just as important.
The best way to create space and separation between sounds using reverb is to use contrasting patches across the mix. This will set sounds at varying distances from the listener creating the illusion of depth.
For instance, let's think about a typical band's recording session and the different elements that might be recorded. Generally there will be lead vocals, at least a few guitar parts, bass and a drum part consisting of several tracks.
Even these are mixed perfectly in their 'dry' state, the mix will appear two dimensional and probably slightly flat. By adding a bright plate reverb to the vocals, a couple of varying live room-based effects to the guitars and some room reverb to the snare drum the mix should instantly sound wider and more impressive sound.
A basic mix with no reverb applied to the key instruments sounds a little '2D':
By adding various different reverbs to the main elements more depth is achieved:
Although this stereo width is a bonus, the contrasting and varied reverb patches should also give each part its own identity, setting it apart from the next. Not only will the treated parts be more defined but they will also differ greatly from the other dry parts creating another layer of contrasting audio.
Discover more about mixing in these top-notch video courses in the Ask.Audio Academy.