Other Articles in this series:
Part 1, Delay & Echo: https://ask.audio/articles/music-production-techniques-part-1-delay-and-echo
Part 2, Modulation Effects: https://ask.audio/articles/music-production-techniques-part-2-modulation-effects
Part 3, Distortion: https://ask.audio/articles/music-production-techniques-part-3-distortion
Part 4, Equalizers & Filters: https://ask.audio/articles/music-production-techniques-part-4-equalizers-and-filters
Part 5, Expanders, Exciters And Enhancers: https://ask.audio/articles/music-production-techniques-part-5-expanders-exciters-and-enhancers
Here we'll take a look at the most common dynamics processor the compressor. We'll look at what compression is, how it can help your mix your projects and the different forms compressors take. The information here should give you the confidence you need to tackle compression head on.
Being Dynamic...
Dynamics in music are essential. Without them our tracks would simply be noise. It's how we, as humans, distinguish the difference between sounds and appreciate detail in any sonic data. Simply put, a piece of music that is a joy to listen to should contain varied and rich dynamic content.
Whether it's the difference between a lightly picked guitar and the heaviest thrash metal sound, or a brushed hi-hat or a pounding crash cymbal, these elements can define different sections of a track and even steer the emotion of the listener.
A track (or piece of audio) that contains these loud and quiet sections is said to have a large dynamic range. In contrast audio that has little difference between its peaks and troughs will have a low, or small dynamic range. Some would argue that much of today's commercial music suffers from lack of dynamic range, this however is a subject I'll not be tackling here!
Although our music should contain a certain level of dynamic audio, sometimes we need to control the dynamic range of our recordings and performances. This is where dynamics processing comes in and compression is perhaps the most commonly used tool there is.
Essentially, a compressor is capable of reducing the dynamic range of our audio and therefore minimizing the difference between any loud and quiet sections. This is ideal during a mixing session as it produces audio that is easier to mix and ultimately more pleasant to listen to.
Compression In The Mix
With the exception of equalization, compression is probably the most commonly utilized mix tools there is. This is simply due to the fact it's such an essential process and it really does make mixing your projects a whole lot easier.
Let's picture for a minute a situation where you are recording a vocalist. The session is going really well and you are over the moon with the singer's performance. The singer in question has a great range but also tends to articulate by using massive changes in volume. Vocalists also have a habit of changing their distance from the microphone.
All this adds up to a hugely dynamic performance, ranging from sections that are almost whispered to out and out shouting. Luckily you set your levels correctly so there is plenty of headroom and no clipping.
When it comes to mixing a signal like this you will undoubtedly run into some issues. If you set the vocal channel's level so that the loudest section is at the correct volume, the quietest parts will be swamped.
Compressing a vocal will allow the entire performance to be heard clearly:
Similarly if the channel is set to cater for the quietest portions, the loud sections will clip your master output and become overbearing in the mix. This is the conundrum of mixing a signal with plenty of dynamic range.
You could tackle this by using automation but luckily compression will handle the task with relative ease and often in a much more transparent fashion. Once you have your compressor of choice inserted onto the wayward channel, it's simply a case of getting the settings right.
Knobs, Dials And Meters
As with any signal processor knowing the theory is only half the battle, the rest of the work lies in getting the right settings for your specific piece of audio. Thankfully most compressors sport pretty simple interfaces with relatively few controls. There are however key parameters you should expect to see on most compressors.
Threshold is a great example of a parameter you will see on nearly every stock compressor in your DAW. This controls the point at which gain reduction occurs and simply allows you to decide which parts of your audio trigger the compression process.
Usually one would set the threshold so that the peaks or more extreme dynamic events are captured and therefore reduced in volume. This will more often than not achieve the required result and reduce the dynamic range just enough to make the audio more usable.
Ratio is probably the next parameter you'll need to access. This controls how much compression is applied to your signal once your pre-set threshold is reached or exceeded. Ratio is usually displayed in figures such as 2:1 or 10:1. The theory here is simple: If a ratio of 5:1 is used and the signal is 5 dB over the threshold, the final output will only be 1 dB over the threshold, with a total gain reduction of 4 dB.
Attack and Release are parameters used to control how fast (or slow) gain reduction occurs in the compression circuit. Fast attack times will result in the gain reduction occurring almost immediately after the threshold is reached, whereas slower times will result in the gain reduction 'easing in' and a more relaxed and often more transparent result.
Release times govern how long it takes for the compressor to return to the state it was in before gain reduction occurred. Again fast times will mean an aggressive 'return to state' and slower times a more relaxed, transparent effect.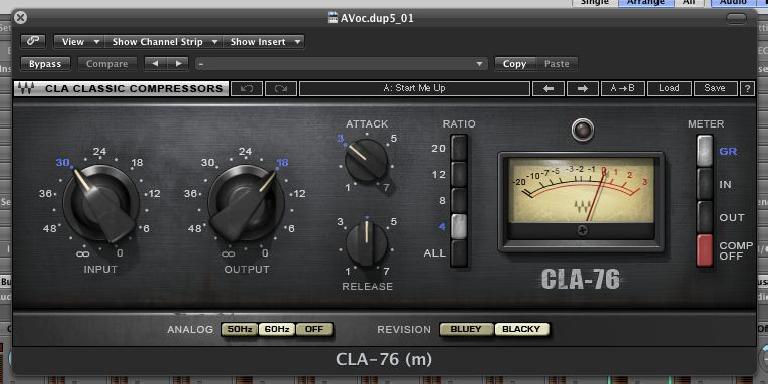 (Pic 3c) Waves recreation of the classic 1176 features easy-to-use incremental attack and release controls.
Other controls you are likely to see will include makeup gain, knee controls, wet/dry mixes, metering options and even modeling modes. Although most of these will pop up, it really depends on which model you are using. Get the basics nailed down and the concept of what compression actually is and it should all fall nicely into place.
Mastering And Buss Compression
When using compression for mastering, or treating an entire group of instruments, you can rely on the same theory we have already covered previously. The only real differences here are your choice of processor and the fact you will probably want to retain absolute clarity and transparency.
Most compressors designed for mastering sport features that are specifically designed for the task. For instance you may see extremely simple feature sets, high fidelity metering or even incremental controls that are stepped at specific values.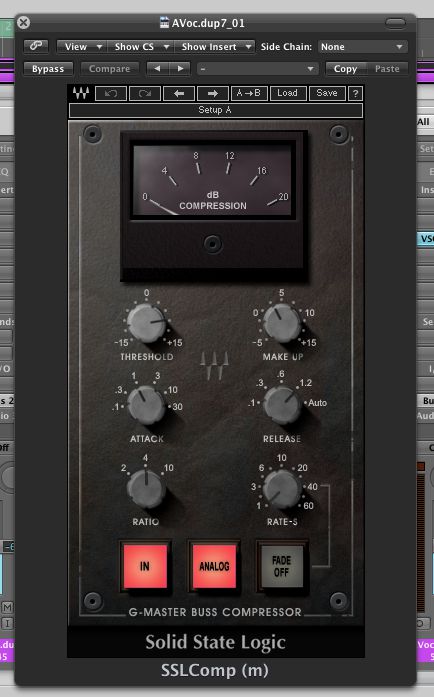 (Pic 4) The excellent Waves SSL Master Bus compressor.
All of these things add up to a processor that should produce transparent, pleasing results. Even with this said, it's extremely important that when applying compression in these critical situations that you use a certain amount of caution.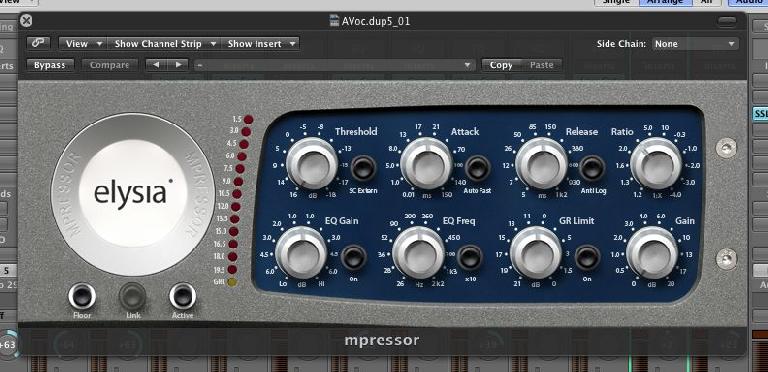 (Pic 4b) Other companies such as Elysia have produced excellent mastering grade software compressors.
During mixdown, you can afford to apply quite high doses of compression before it has a detrimental effect on the whole mix. In mastering (and group) compression smaller amounts of gain reduction should be used to ensure no noticeable artifacts are imprinted on to the audio.
Achieving this transparency simply involves using lower ratios than you might elsewhere. Combine this with slow attack and release times (and of course the right mastering grade compressor) and you should find that the results you produce are more than acceptable.
Hopefully this has given you a little more insight into not just compression, but the basic concept of dynamic range and what it means for you. Next up we'll be taking a look at another essential tool for your mixdown... Reverb.