If you like your audio edgy, gritty and full of attitude, then you simply can't live without distortion. But what is distortion and when is the right time to use it? Here I'll delve into the different effects types that can be classed as distortion and some that are very closely related.
Distortion Is Distortion
Before we get into the different flavors of distortion, it's important to understand one thing... And that's that in reality the vast majority of these effects do the same thing: they alter the waveform of your original, un-processed audio. This is the meaning of distortion and when using the effect this is really the aim of the game.
Although the different effects we'll look at do sometimes use different methods and algorithms to produce their final sound they are all doing very similar jobs. The real trick is knowing what style of distortion you are working with.
Generally speaking distortions work by compressing or 'clipping' the peaks of your audio by adding large amounts of gain, in turn this produces varying effects but usually adds extra harmonics and reduces dynamic range.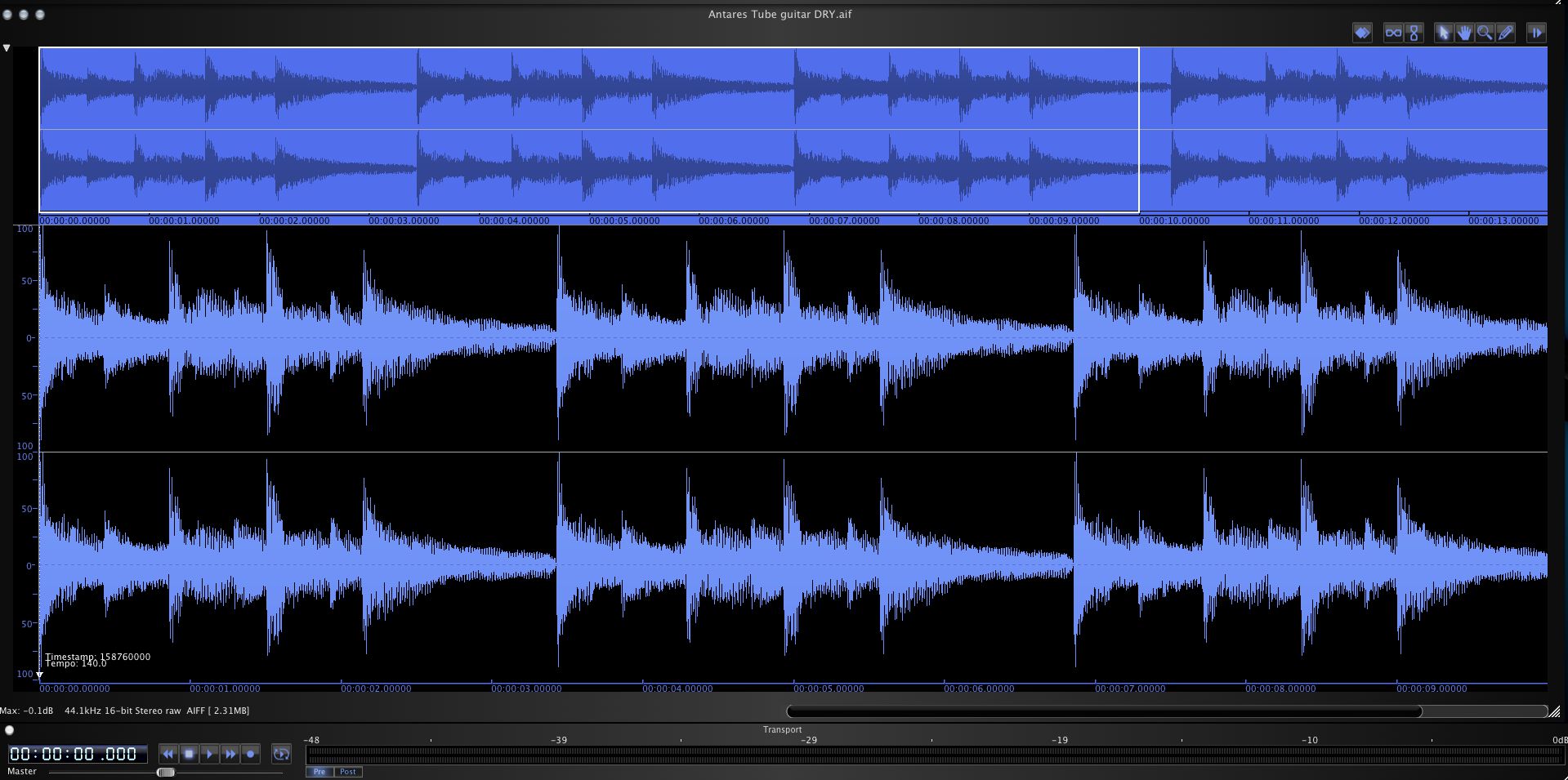 Pic 1: Some audio 'Pre Distortion'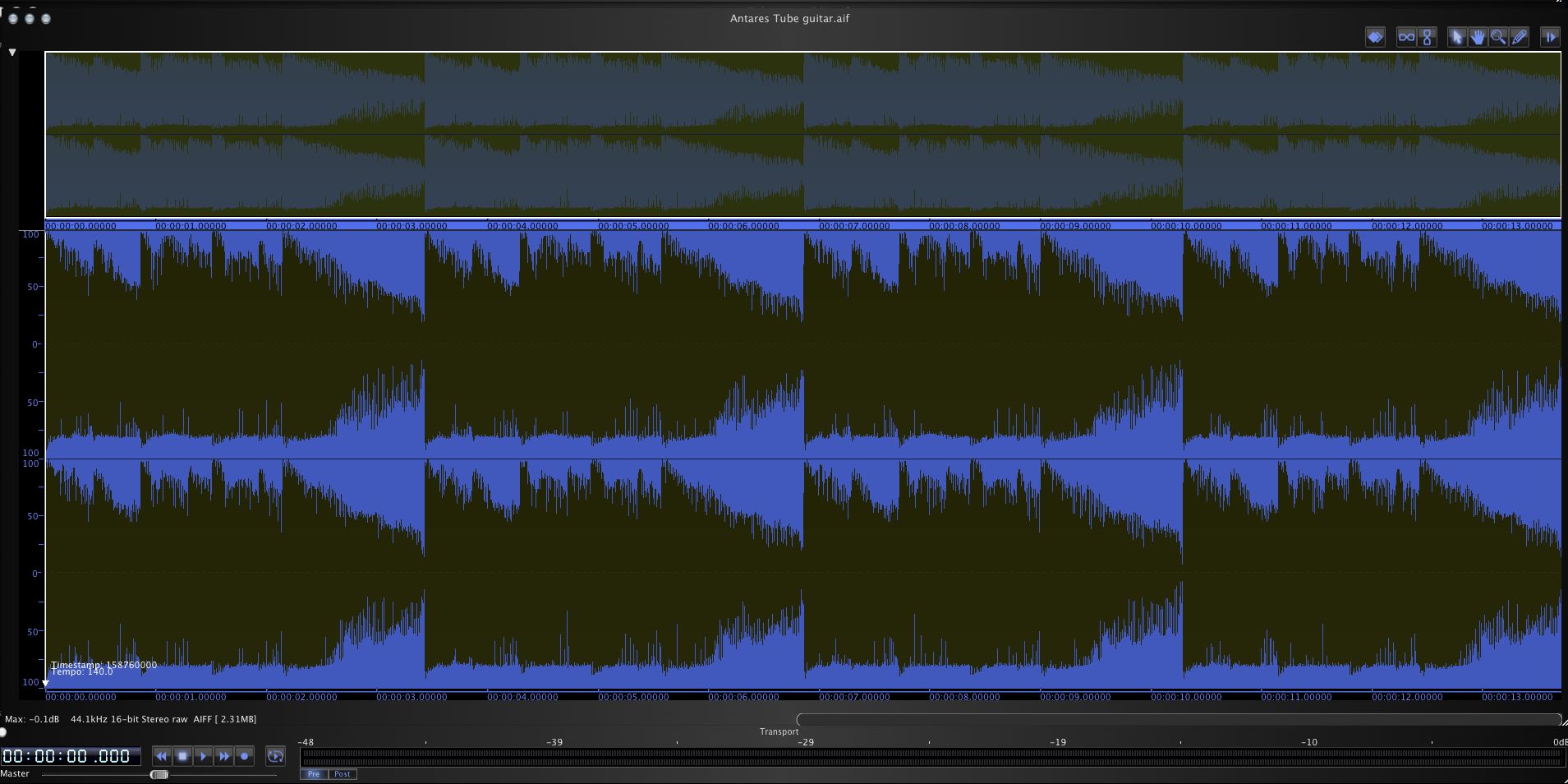 Pic 1b: The same audio with distortion applied, clearly showing the reduced dynamic range
I think the most useful thing to do is familiarize yourself with the many different names manufacturers (and other musicians) give different distortion effects, this way you'll know exactly what you are dealing with!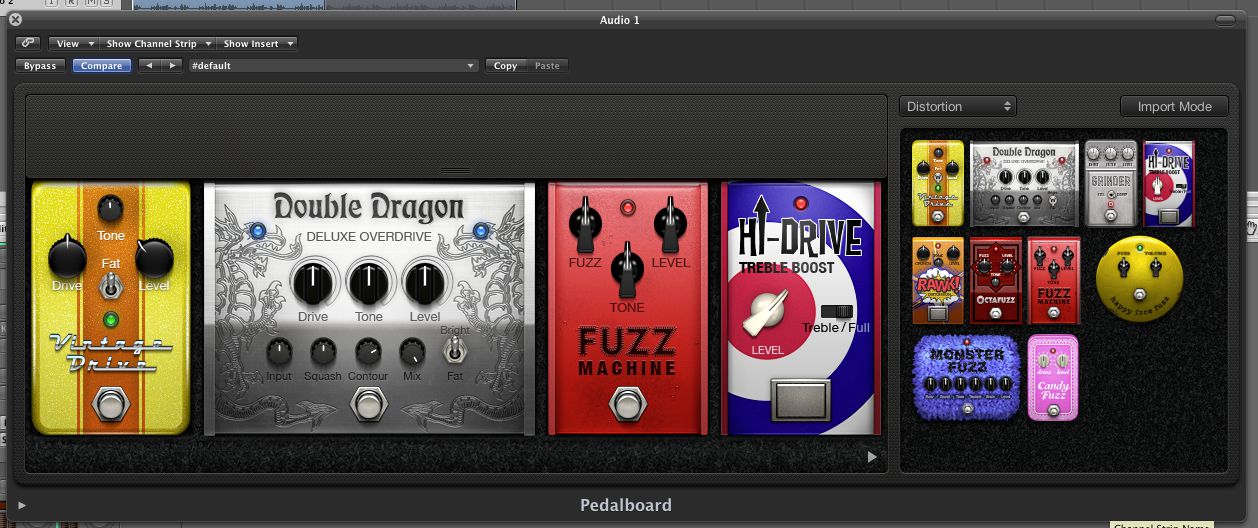 Pic 1c: The various distortions from Logic's pedal board
Let's take a look at the different varieties you can expect to come across and I'll attempt to move in order of intensity here...
Saturation And Clipping
Perhaps the most subtle forms of distortion are saturation and clipping. Both of these involve a signal being pushed just beyond 0 dB in an analog circuit. The result is a 'soft clipping' with peaks being gently rounded.
If a signal is clipped in this manner, you can expect a slightly saturated sound with subtle overtones and harmonics being added to the signal. Many of the plug-ins that produce this sort of effect are modeled on tape machines as soft clipping and saturation are typical of tape based systems.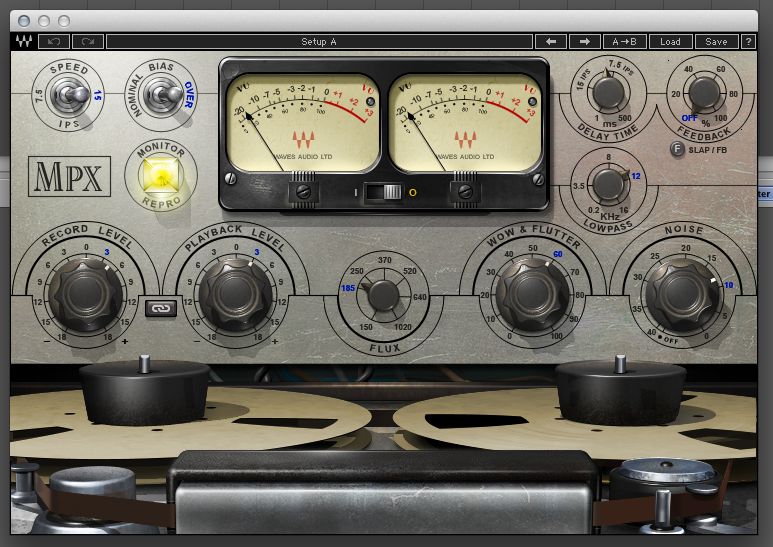 Pic 2: The Waves Kramer MPX plug-in does a great job of emulating tape saturation
As with most distortion effects you can expect to experience some level of compression and reduction in dynamic range. This will appear as a raise in perceived volume level. Combined with the warmth this process can introduce, it's a great way of making recordings sound more analog in nature.
(Audio 2) A drum loop with no processing:
(Audio 2b) The same loop with tape saturation applied:
Tubes And Transistors
Another method for warming up your audio with mild to medium distortion effects is the use of tube or transistor emulations. These reproduce a vacuum tube or solid state transistor amp circuit and produce slightly heavier amounts of saturation than tape-based emulations.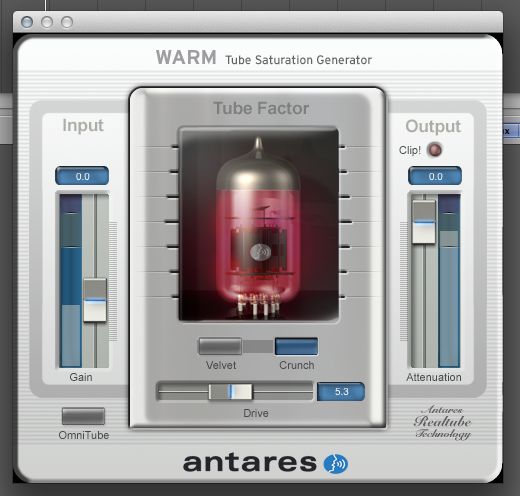 Pic 3: The Antares Tube emulation I used in my audio example below
(Audio 3) A dry guitar loop:
(Audio 3b) The same guitar fed through the Antares tube:
Although you can get hold of plug-ins that reproduce these specific effects, Scream 4 in Reason 6 is a great way to hear the difference between these distortions. This effects unit will produce just about every type of distortion I'm writing about here and as you can see it is being used in many of the examples.

Pic 3b: Reason's Scream4 is a great way to audition different types of distortion
I find that tube-based distortions and saturators are great if you want something to be fairly crunchy and warm without quite breaking out into actual overdrive. These effects are great for adding attitude and a very upfront quality to vocals, drums and synths.
Overdrive, Distortion And Fuzz
Stepping things up slightly we come to the next level in intensity. Distortion, overdrive and fuzz effects are synonymous with guitar rigs and pedals and often viewed as traditional effects.
Overdrive effects tend to be considered the most subtle of the three and are only a slight step up from saturation and clippers. The drive levels are often higher and you may see presence controls that allow the user to re-introduce some of the high frequencies that are often lost during processing.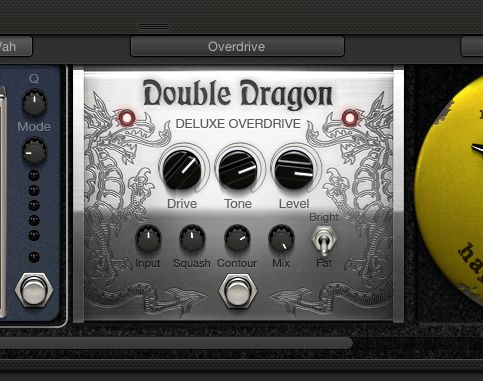 Pic 4: One of Logic's pedalboard based overdrives
(Audio 4) A simple melodic synth line with only delay:
(Audio 4b) The whole loop fed through an overdrive unit:
Distortion is even more intense and offers pretty large amounts of extra sustain, harmonics and you should expect the signal to be completely transformed at this point. This effect is often used for heavy rock guitar and solos.
Fuzz is similar to distortion as far as gain level goes but often uses something called a frequency multiplier to produce something very similar to a synthetic square wave in nature. This gives the distortion an almost synth like effect and can be found in classic 'Fuzz box' pedals.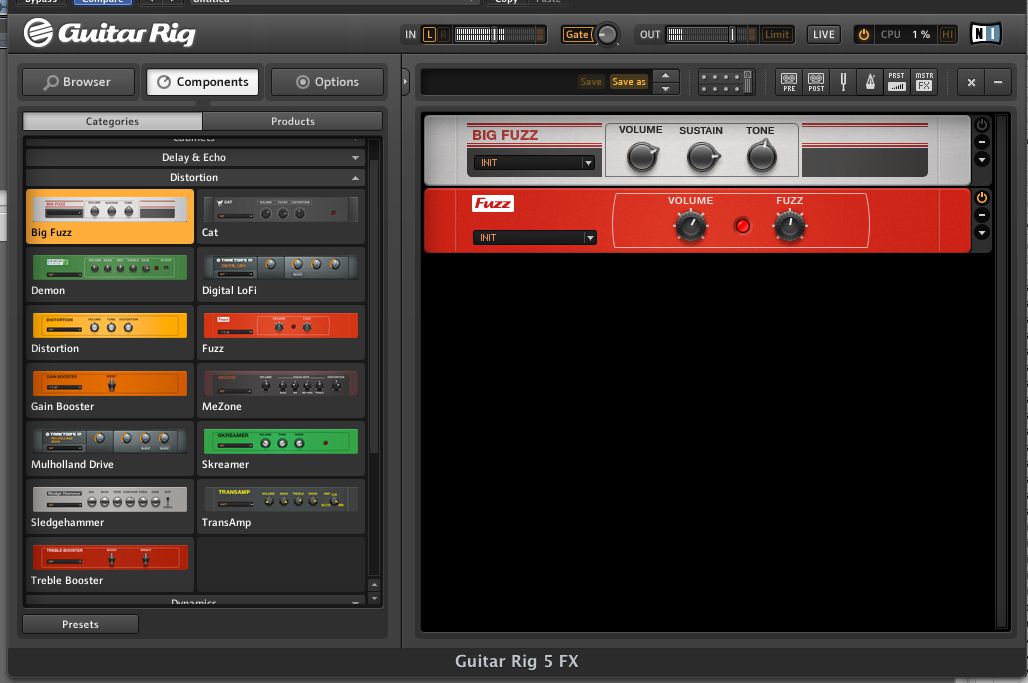 Pic 4b: Some Fuzz pedals inside NI's Guitar Rig
Warpers, Screamers and Bitcrushers
Right at the top of the scale are the most intense of all the distortions. In a lot of cases these tend to emulate or produce digital distortion. Digital distortion is not really something you want in your mix most of the time but when controlled correctly is can be extremely effective.
Not all distortions at this intensity are modeled on digital distortion however, some of them are simply classic overdrive and distortion effects pushed to the absolute max. Using extremely high gains and feedback circuits to achieve their sound screamer pedals and effects are not for the faint-hearted.
Screamers work extremely well with guitars and give almost indefinite amounts of sustain in some cases. Heavy metal lead guitarists favor this effect but it can be used on other instruments in the mix when something extreme is called for.
Purely digital distortions are really a completely different beast altogether. Although effects such as warpers and bit crushers are often grouped with distortion effects, the sound they make is totally individual and removed from just about every effect we have looked at here.
Bitcrushers for example reduce the resolution and bit depth of the audio they are processing. This produces a very metallic, almost robotic effect. The term lo-fi is slung about a fair bit but would be wholly accurate in this case.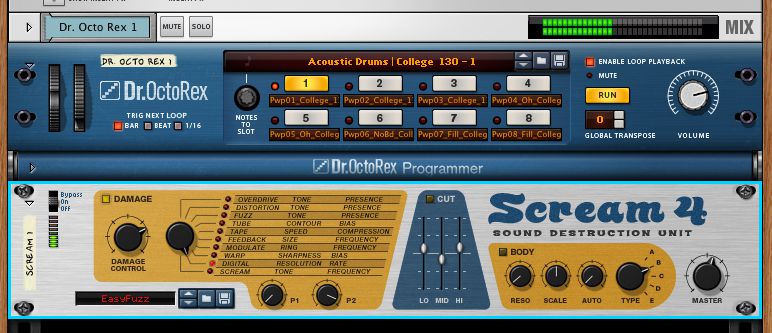 Pic 5: Scream4 has an excellent digital distortion section, including bit crushing
Below you can hear an example of some audio being treated by a bit crusher and the resolutions and bit depth being swept in real time. As you can hear this really is nothing like the other processors we've heard so far.
(Audio 5) A drum loop, dry at first, is then treated with an overdriven bit crusher. The resolution is then slowly decreased until total destruction occurs!
So, everything from gentle analog warmth, through to heavy gritty tones and all the way up to warped digital madness. Distortion can literally do it all, if you are looking for something to heat up your tracks or to completely destroy them reach for the trusty distortion unit!