You may be aware that synchronization (or sync) is one of the most important ways to earn money from the music you produce these days. As the music business has splintered into many different digital offshoots, simply selling records isn't always enough any more. Licensing tracks to agencies or even composing to order is a popular approach. But how do you navigate the minefield of sync licensing and also royalties, which is where repeat fees can come into play? Luckily we have a whole course to tell you exactly how it works.
Music Business 104 : Synchronization Licenses and Royalties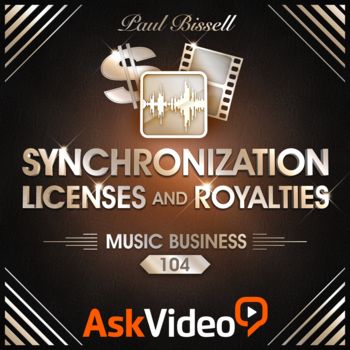 In this course, Paul Bissell simplifies and explains the sometimes murky concepts of licensing and royalties when it comes to selling your music to libraries, movie studios and other agencies. Starting with the basics of explaining the terminology, he goes on to detail the different kinds of license that exist and the kinds of companies out there that you might be working with.
Paul uncovers the world of work-for-hire and has advice on how you should approach negotiations - a vital part of winning any bid and crucially, getting paid fairly for your work. Speaking of fairness, there's a whole section on fair use - how your work is going to be used is something you need to agree on before you sign anything.
This course is required viewing for every musician and producer that needs to make sure they get the most out of any licensing deal that they make. So sit back and watch this and the other courses in the Music Business series so you can get out there and make business deals that will benefit the most important person you know - you! This course is yours for just $29.99 one-off payment, or you can get an Academy Pass to watch every course in our library - over 869 courses and counting - for just $15/month regular price.