The Egg100 is a natural development of the revolutionary, curved, infinite baffle design concept of its big brother, the Egg150, housed in a smaller chassis with a four-inch (100mm) driver.

This new system has been designed for greatest accuracy in near-field conditions, taking into account the fact that it will be used on consoles or flat surfaces. The frequency response is continuously adjustable to allow for the bass loading that can add up to 6dB to the sound level. The bass port is angled and placed as low as possible to take advantage of this effect without phase error.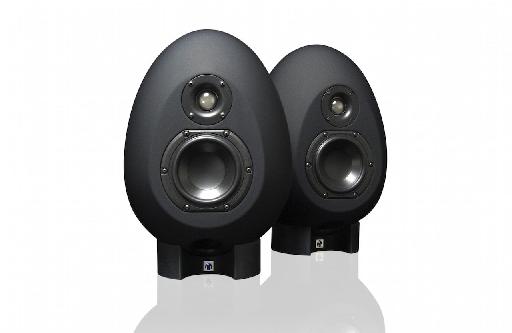 The new MunroSonic Egg100s come in black...
Near-field monitors should, by definition, remain unaffected by room size and acoustic conditions but this is rarely the case. Typically, small, rectangular cabinets and a horizontal focus plane create diffraction and reflections that interfere with both frequency and phase, both of which adversely affect stereo imaging and mix accuracy. The Egg100 has a variable tilt base that allows perfect adjustment of the upward angle of the listening axis, so avoiding interfering reflections from the mixing console or desk surface.

This has enabled us to make a supremely efficient speaker system - the phase coherent bass energy results in up to 6dB low frequency headroom - which means they pack a lot of punch for such small speakers. You'll be amazed!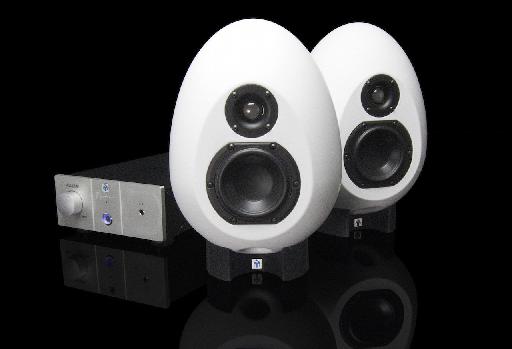 ... there's a white version...
The Munro Sonic paradigm shift is in replacing the traditional wooden box with a scientifically proven, curved, chassis that almost completely eliminates diffraction and internal resonance which distort and smear the original sound. The result is incredible clarity that brings the smallest of details into sharp focus, and yet delivers the mix as a coherent whole without any harsh or '˜edgy' artefacts often associated with '˜revealing' monitors.
The system comes complete with a separate control unit and amplifier which features active analogue crossovers, LF and HF trim pot EQ for location set-up, and a superb Class-A headphone amplifier, which alone is worth the cost of the control unit.
The Egg100, as with all MunroSonic products, is designed and manufactured in the UK by Munro Acoustics and Sonic Distribution and BS EN ISO 9001:2000 certified. The result is an exceptionally well-built, elegant and sonically purist piece of wholly British engineering.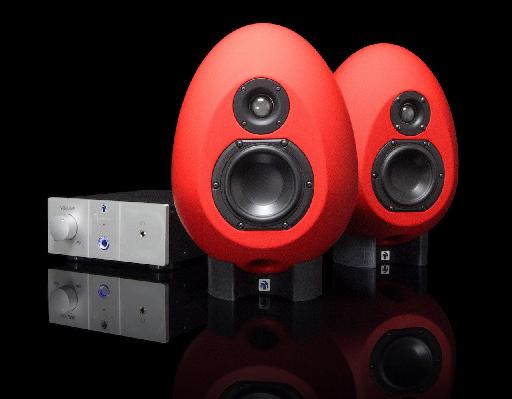 ... and now you can get a red pair too!
Some of the biggest names in the UK music industry have already chosen our products, including Mike Hedges, Gil Norton, Rik Simpson, Steve Bentley-Klein, Robin Rimbaud (Scanner), Chris Porter and many others, leading the way by mixing their recent works on our exceptional near and mid-field monitoring systems.
The Munro Sonic Egg100 will be available in May 2015 priced at RRP £1,299.00 ex VAT.

Key Features:
Unique monocoque shell construction (rigid and resonant neutral)

Near zero diffraction interference (smooth frequency response)

No internal standing waves (greatly reduced smearing)

Perfect bass port integration (superb transient response)

Free standing control unit and integrated amplification with 3m matched speaker cables

Volume Level control and LED headroom indicator

Class-A headphone amplifier

Custom-designed speaker holder for adjustable vertical alignment (allows for perfect sweet spot in both vertical and horizontal planes)

Precision trim pots for bass (LF) and High Frequency (HF) calibration

Munro Sonic Egg 100 Monitoring System

Pricing: UK RRP £1,299 ex VAT | US MAP $1,999
Availability: May 2015