Live 10's new Multi-Clip editing is a powerful tool for comparing MIDI clips in Arrange View, avoiding overlap and ensuring harmonic coherence throughout a composition. But Multi-Clip editing can also be put to work in crafting compelling call-and-response structures in the Session View.
Why Multi-Clip?
Multi-Clip editing allows you to view the contents of up to seven MIDI clips at the same time and coordinate their notes accordingly. You can do this by simply holding down the Shift and/or Command key while selecting more than one clip in the Session or Arrange view, or by selecting multiple clips with a mouse drag.
Multi-Clip Conventions
In previous versions of Live, all MIDI notes were colored red, with intensity of hue corresponding to each note's velocity: bright red at 127 and transparent white at 0, with a range of grey-ish pink between. Live 10 retains the velocity-dependent hue intensity, but notes now take on the color of the clip they're contained within – crucial for differentiating which notes belong to which clip when navigating multiple clips simultaneously.

To keep clips easy to navigate, you can make sure their parent tracks have a color scheme you can work with. Simply right-click a track's header to select a new color; if you want to change the color of inconsistent clips to a parent track's color, select the Assign Track Color to Clips below the color palette in the context menu that appears.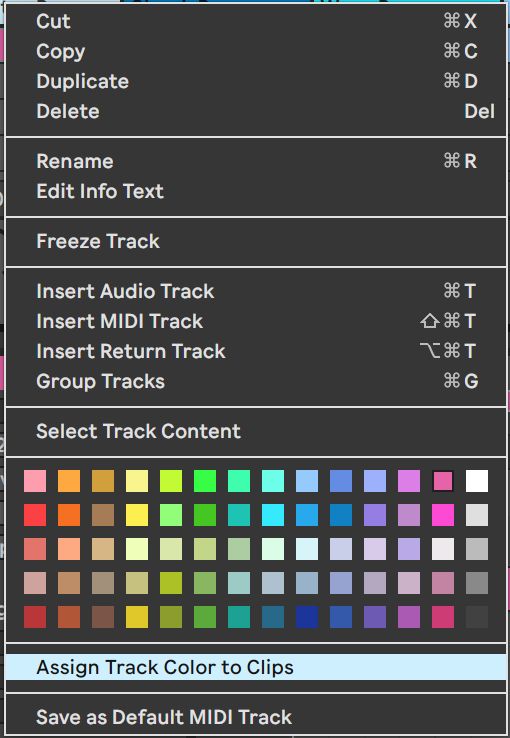 The track color context menu
Building Polyrhythmic Structures
Writing into a new MIDI clip with a simple Operator sub-bass patch, I've got a very basic two-note pattern. This will form a foundation to weave two other bass lines around.

LISTEN: Just the basics.
Now I've added a Wavetable as a secondary bass instrument to another track. Selecting them both, I can switch between which clip is in view – and being edited – by hovering over and clicking the correlating loop brace: a pink loop brace corresponding to the pink Operator Bass clip, and a turquoise loop brace corresponding to the turquoise Wave Bass clip. Notably, as of Live 10 the MIDI clip Fold toggle – and MIDI note preview as well – are now universal throughout all clips in a set.
Adding the second bass line in, I've made sure not to overlap the notes; not only will this make the mixdown process considerably easier as low-register energy won't be in competition, but the resulting syncopation creates a "call-and-response" dynamic that can be quite engaging.

Listening back, it's a bit too repetitive, so I've duplicated the 1-bar Wave Bass clip to 4 bars by hitting Command+D twice, and shifted the last B in this E Minor pattern up to a C. Now as I select both of them and hover over the Operator Bass clip loop brace, you'll notice vertical lines denoting the shorter 1-bar length of that clip within with 4-bar context of the Wave Bass loop.

Vertical lines showing the 1-bar Operator Bass loop length in contrast to the 4-bar Wave Bass pattern.
LISTEN: Double bass line action.
For my third low end component, I've brought an instance of the Max for Live Essentials Bass synth into a new MIDI track. Double-clicking an empty clip slot to create a new MIDI clip, I've referenced the other two bass lines with another multi-selection to create a third responding component. A simple two-note pattern on the new instrument is staggered by a quarter-bar every fourth bar to make it less repetitive.
LISTEN: Three bass lines in conjunction.
Building onto this pattern with the theme of polyrhythmic syncopation, I've added some mid-range counterpoint in the form of a simple two-note stab played on an Analog placed on yet another MIDI track. I've again utilized Multi-Clip selection to reference its placement. Note that I've made sure it still doesn't overlap any existing notes.
LISTEN: Added Stabs.
Identifying the second quarter-note as available real estate for a new element, I've added another instance of Wavetable to write a four-bar chord progression, with a chord falling on the second beat of each bar.
LISTEN: Four-bar chord progression on top.
Providing a second section to the composition that can alternate against the chords, I've added another Wavetable to create a pluck sound at a higher octave. Since it won't happen when the stabs are in the mix, I don't have to be so concerned about overlap there, and while there's one note overlapping with the Operator Bass, it's in a different register, so this isn't cause for concern.

The Plucks as they stand are a bit repetitive, so I've duplicated them out to 16 bars, shifted occasional notes forward or back 1/16th note, and then actually shortened the loop length to 15 bars, creating a less predictable cycle.
LISTEN: Lucky plucking.
To add some texture in the upper register I've added yet another Wavetable to create a short pad. Using Multi-Clip selection, I've identified an available octave and timing on the first beat to create a pad every fourth bar.
LISTEN: Pads added.
With a solid foundational structure in place, I've now added an instance of Collision to a new MIDI track. Using Live 10's Capture function, I grabbed a twelve-bar non-linear lead line using a nice bell tone with harmonics that cut through the mix. However, I realize it might be conflicting with some of the plucks, so I'll just select those two clips by clicking one, holding down Command, and selecting the other, allowing me to edit just the two clips that are in direct competition with each other.
Note this example of the first five bars of the edited leads.
LISTEN: Everything but the stabs.
To be clear, overlapping notes aren't inherently bad, or necessarily bad at all – but experimenting with polyrhythmic "call-and-response" structures can not only help declutter a mix, but also yield compelling musical results worth exploring. With this in mind, Multi-Clip editing provides a powerful framework to forge convincing interlocking musical structures that would have required a much higher degree of guesswork – or at the very least multiple workarounds – in the past. As a somewhat overlooked feature in Live 10, Multi-Clip editing provides a fresh creative approach to syncopated drum programming and polyrhythmic structures of all kinds.