Mouse On Mars Talk Mixing Genres on Dimensional People & Not Having A Sound
Oliver Greschke caught up with electronic production wizards Mouse On Mars to discuss their latest album, studio techniques and all manner of other musical topics...
Electronic wizards Mouse on Mars just released their new album "Dimensional People" on Thrill Jockey Records. It's received a lot of attention and also critical acclaim from the New York Times, Boston Globe and Pitchfork and features artists and musicians such as Bon Iver's Justin Vernon, Beirut's Zach Condon, Spank Rock, the National's Aaron and Bryce Dessner.
Mouse on Mars are not only highly prolific musicians but also innovators, and with Oliver Greschke they run the software label MoMinstruments where they develop mobile music apps, often used in their music productions. In this interview Oliver sits down with his colleagues to discover more about their creative process and their technical approach to their latest album, their use of the Elastic Drums app and how they keep striving to not have a defined, easy-to-label "sound".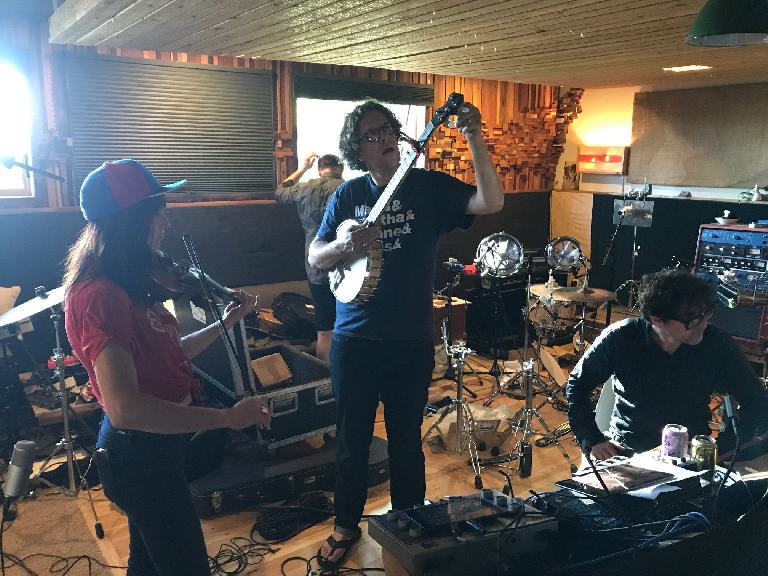 Q: Mouse on Mars are well known for using mobile apps as serious tools in their daily studio work. What do you like about mobile music apps in general? And more specifically, what do you like about the mobile apps you are using most frequently?
Jan: We mostly use our own mobile apps because we have a personal affiliation to them.
Andi: And we get them for free!
Jan: No, we don't get them for free, they cost 10 years of your life and they cost many many friends. I'm joking! We like our sound to be mobile and dynamic, so we also like to use tools which offer the same immediacy.
Q: We have seen another video created by "Electronic Beats" where you are working with a 3D speaker system by D&B. What was your motivation to work with the system? Which additional possibilities do you see in such a system compared to a traditional PA?
Andi: It was a great adventure to play with this spatial sound system. When we went to D&B - the manufacturer - I was kind of sceptical, but the result was very interesting, almost emotional to hear all the stuff we recorded in the studio in spatial surroundings. So it was a great experience. It totally makes sense to hear music this way and not only on stereo speakers.
To work with the system was not too complicated - the plugin to place the sounds is still in beta, so it was sometimes a little bit tricky, but in general working with the system was quite easy. You see the speakers on a matrix and you can place sounds directly on a speaker, so they get placed on a certain spot in the room. Because the sound gets spread to several speakers, the sound is less loud and bit more distant.
We like our sound to be mobile and dynamic, so we also like to use tools which offer the same immediacy.
The system creates a room effect by itself, so we didn't have to use other room effects as you would normally do, since lots of our sounds had additional room information in there anyway because they where mostly recorded with a microphone in a room.
So it was quite easy to mix with this system. You don't have to take care of the loudness that much, as levels are not that important any more because the sounds are squeezed into a stereo signal chain. You can separate them and give them the space they need. Even the final release of Dimensional People is in "traditional stereo" and this experience helped us to quickly finish mixing.
Q: Are there going to be live shows in which you use this 3D PA? Where and when?
We will perform at the Moog Music Festival (Moogfest) using a similar 3D System... and there are more shows to come.
Jan St. Werner (Mouse on Mars) using Elastic Drums in their single "Foul Mouth":
Q: There so many great other artists involved in Dimensional People. Did that just happen by accident, or did you had the idea to collaborate with other people from the very beginning?
Jan: We didn't start the record thinking "we are starting the record". We were in the middle of a few experiments. One was with mobile apps - actually app development had finished, Elastic Drums had been released and Fluxpad was released on our newly created Mominstruments label, so this was one development. Then we met Moritz Simon Geist - the inventor of "Sonic Robots" (Sonic Robots: https://youtu.be/RU2BB7RFBLM, MoM & Sonic Robots: https://youtu.be/fLztjOfufxY) - his machines really excited us and we started to experiment with them. Then we had been working with orchestras and ensembles, Musikfabrik from Cologne, that was another field of experimentation. We were developing a new piece ,"De Umbris Idearum" with Musikfabrik, an electro-accoustic performance piece (MoM & Sonic Robots & Musikfabrik: https://youtu.be/mYsQEwASP6A).
For Dimensional People, lets say we started with a few sessions including the robots, the apps and a few ideas from the ensemble.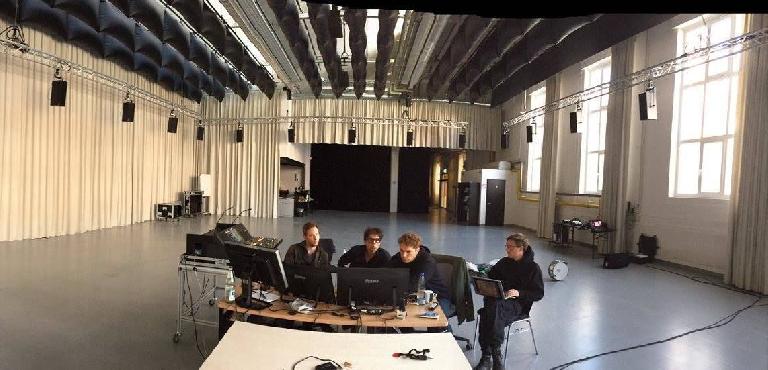 Andi: ...and we performed these ideas at "Michelberger Festival" 2016 which is a Berlin music festival organized by Michelberger Hotel, with the idea to organize collaborations between different musicians.
We arranged our ideas like a musical, so there were parts of this orchestral piece and musicians including members of The National, Bon Iver, etc could perform to it. At this festival we also made sessions in our studio with Justin Vernon from Bon Iver and others and showed them our apps. As a result we got invited by Justin Vernon to visit him in the US.
In 2017 we took up Justin's offer and occupied his studio for several days. We did a quick session with Sam Amidon, it was like 5 minutes... and at that moment the idea came up to record more musicians. Then Justin was very helpful telling us "hey, there is this banjo player, this pedal steel player, do you want to record them?" We checked our recordings we had and thought about where this guy and that instrument could fit. Of course this totally changed our sketches, but it worked out so very well that we went on with overdubbing other musicians.
Jan: At some point we had something like a story. I think our records always started at that moment, when we realized "we are working on a story now" or "we are on a journey". And at that very moment we tried to understand that journey, that story that's being written and then we tried to be true to that story and make decisions that helped that story to come to life. And with dimensional people it really started when all these loose ends - the apps. the robots, the ensemble works, the spatial experiments with D&B and meeting all these musicians and starting collaborations with these musicians, kind of came together. Then we realized we were working on a new Mouse on Mars album, we had to finish this story and release it!
We arranged our ideas like a musical, so there were parts of this orchestral piece and musicians including members of The National, Bon Iver, etc could perform to it.
Q: While other musicians struggle with mixing "traditional handmade" music with electronic music, on "Dimensional People" all kinds of different genres and sounds seem to be possible and fit together so naturally. Did you have any concept about mixing these different elements, or is it just musical genius and that certain Mouse on Mars fingerprint that glues it together so well?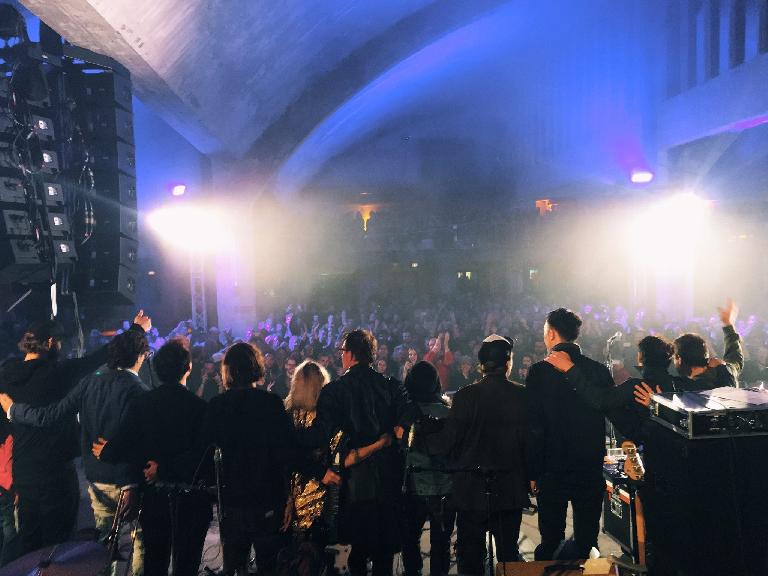 Jan: We don't have a plan we just follow the road. As I said, it's really intuitively understanding the different components and trying to bring them together in a dynamic way, so that they can be combined and seen from different perspectives. The Mouse on Mars sound - I don't know what it is, I think it's actually our limitation, it's just certain preferences for certain frequencies and certain filters and certain treatments and dynamics. People think that it is something you want achieve - to have your own sound - but actually we always try to not have a sound (laughs), but we are sort of failing. On the other hand if we always sound a little different in the end, that's nice.
Q: Mouse on Mars are now in their 25th year of creating music together, a really long time! How can you still stand each other? ;) Did you work out certain routines/strategies for working together?
Jan: I think we leave each other a lot of space and we let each other do what they want to do. We just like what we do. I like Andi's contributions but I can tell him, I don't like this or that and he is not pissed off, I think that's all you need.
Q: Was your relationship always like this?
Jan: Yes. It was always respectful, and always curious what the other one would do. What would be Andi's comment or reaction. There is curiosity but also familiarity. When I met Andi I felt like, "oh, I know this guy", I think I understand what he wants. At that time he had something like a pop project, but I rather read it as a sample-mania-collage project, while my music was much more experimental and industrial and noisy, rather atonal. So we came from very different directions, but we both had that affiliation to sound and that's what we still have.
We are not interested in genres, we are interested in sound material and what you can do with it. How far you can play it, how far you can combine it with other sounds - this is our passion! And we give each other a lot of space. Sometimes - when Andi is really obsessed with something, I just leave and do something else. Or if I am obsessed with something Andi just says "okay, just do it that way then". But we also don't take it too seriously, we are not too obsessed with what is right or wrong. At the end of the day it's just sound, it's not a matter of life and death. I think we are coaching each other, like a football coach - "give me that sound in better quality, do this, do that".
Q: How do you start with an idea?
Jan: It's totally different every time. Sometimes Andi starts on an idea and then I'll say "wow, I like this, can you give me a bounce, so I can add something to it." Sometimes it's just a single sound or a sketch in Fluxpad we share. Or we are both in the studio and we are just listening. I also really like to nap in the studio, just lay down on the couch and zone out a bit, while Andi is working on something for quite some time. This can really help to listen to what's going on, and all of a sudden I might jump up saying "this is not right, this does not feel right, I feel the bass is wrong". Or "can I try something with the hi hat?" and then Andi is like, "yeah, of course, now you continue on the computer". There are many different ways of how we work together, really.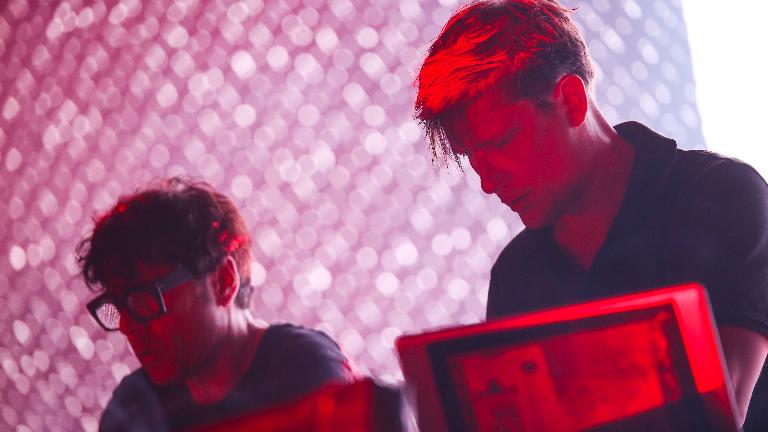 Q: What were the most important artists for you recently?
Check out our Spotify Playlist: https://www.the-dowsers.com/playlist/mouse-mars-revised-doctrine-recognition-recollection-spatial-memory/
Q: What are the next plans of Mouse on Mars (tour, etc.) and of Jan St. Werner and Andi Toma as individuals?
Jan: Andi is fixing his boat right now, he wants to be on the river Spree as soon as possible.
I am dealing with my Students in Nürnberg - "Dynamische Akustische Forschung", that's my class. The teaching and research part is really important to me. I enjoy working with the students a lot, it's like having another band.
Together we are rehearsing for the MoM live shows. We have a core ensemble of 5 musicians to present Dimension People:
Dodo Nkishi: guitar, voice, percussion, drums
Hilary Jeffrey: trombone, piano
Andrea Belfi: drums, percussion, mouth harp
Andi Toma: electronics, guitar
Jan St. Werner: electronics, violin
...and wherever possible we will add more guests musicians.