Moog Launching New Drum Machine Synth Module At MoogFest
A Moog Music DIY synth drum machine or module looks to be in the works and will probably be available only at Moogfest 2017 to those who sign up for the Moog Engineering Workshop.
Moog Music have announced a new synth for Moogfest. It's called DFAM (Drummer From Another Mother) and seemingly will be available to those who participate in the Moogfest Engineering Workshop.
In last year's VIP workshop the BFAM (Brother From Another Mother) was given life as a eurorack sequencer. Although we don't have any specific details about the DFAM yet, we anticipate it'll be a drum synth module, probably without sequencer that can be used standalone or as a eurorack module.
EDITOR's NOTE: Moog Music have released more details on the DFAM and the workshop:
"(the) Workshop consists of two four-hour sessions (held over two days) led by Moog engineers, where participants learn the foundations of analog synthesis and are guided through the process of building their own unreleased Moog synthesizer/sequencers. The synthesizers built in the workshop will be part of a limited run of 100 units. No experience is necessary, but basic soldering knowledge is recommended.
"This year's workshop provides unique access to work alongside Moog Music engineers in the creation of an exclusive, unreleased, semi-modular, analog percussion synthesizer aka the Drummer from Another Mother. The (DFAM) voicing is designed to craft highly dynamic percussive sounds, pattern creation, and will allow for deep evolving timbral clangs."
The BFAM from 2016 was a popular synth. You might be able to find it being sold online for around $400-500. Here the spec: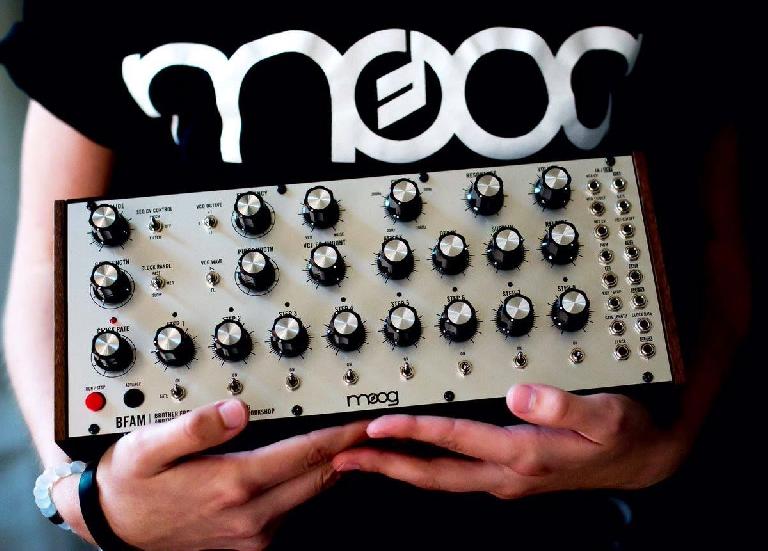 Photo: spaceprodigi with BFAM
One sure fire way to find out more about the Moog DFAM is to join the VIP Moogfest Engineering Workshop and make one. Don't forget to contact us and tell us more about it ;)