Moog One 8-Voice & 16-Voice Polyphonic Synthesizers Now Available
Moog One is now available featuring 61-key, 16-voice Programmable, Tri-timbral Analog Synthesizer with 3 VCOs; Oscillator FM, Ring Mod, and Hard Sync; 2 Analog Filters; 4 LFOs; 3 EGs; and LCD Display.
We knew it was coming back in June 2018.
Today Sweetwater have let slip / announced (you choose) the Moog One, their first polyphonic synth in decades is real, and more importantly available to buy. While other companies continue to compete and re-invent the analog mono synthesizer at prices for every pocket Moog have ventured into the poly space and the ONE looks impressive and starts from $5,999 for the 8-voice and $7,999 for the 16-voice versions.
All photos are courtsey of Sweetwater.

Here's all the details on the Moog One from Sweetwater. Scroll down for the feature list:
The Ultimate Moog Dream Synth
As the first polyphonic Moog synthesizer in more than three decades, Moog One spearheads a new era of analog synthesis. Handcrafted at the Moog factory in Asheville, North Carolina, Moog One is a programmable, tri-timbral analog synth featuring an intuitive tactile interface that transcends the boundary between instrument and artist, allowing you to achieve your musical goals unimpeded. And then, of course, there's that legendary Moog sound. Moog analog circuits are renowned for their unrivaled punch and rich harmonics, and Moog One represents the definitive evolution of these classic circuits. Years of research went into this analog dream synth, and it shows in every aspect of its masterful design. Under your fingers, Moog One will exceed your every expectation as it inspires your musical creativity and opens portals to a vast sonic universe.
Advanced Sound Engine Architecture
Available in 8- and 16-voice versions, Moog One can simultaneously articulate eight or 16 voices, depending on the configuration of your instrument. The Moog One polyphonic sound engine is built upon the most advanced architecture ever conceived for a Moog synthesizer. Per voice, Moog One features three state-of-the-art analog voltage-controlled oscillators (VCOs), two independent analog filters (a Variable State filter and the famous Moog Ladder Filter) that can be run in series or parallel, a dual-source variable analog noise generator, an analog mixer with external audio input, four LFOs, and three envelope generators. You can split or layer the three timbres — each with its own sequencer, arpeggiator, and onboard effects library — across the premium 61-note Fatar keyboard with velocity and aftertouch.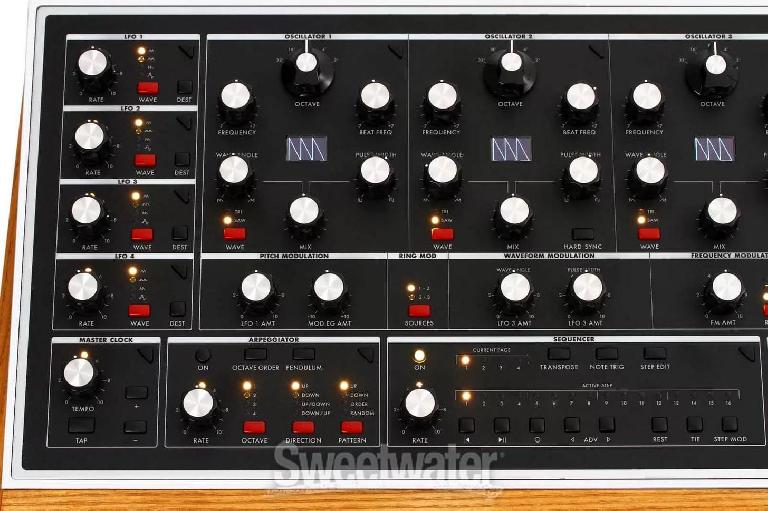 Premium onboard effects
Moog One offers a growing library of programmable per-synth and master bus effects, including chorus, delay, phase, bit reduction, vocoding, and a suite of premium Eventide reverbs such as Blackhole, Shimmer, Plate, Room, and Hall. Effects can be applied as Synth Effects and Master Bus Effects. Synth Effects are applied to individual timbral layers, while Master Bus Effects can be accessed via sends from all three synthesizers. Though its onboard effects are digital, the Moog One audio path is completely analog when all the effects are true bypassed.
Creativity without constraint
Clad in a handcrafted ash cabinet, the Moog One aluminum front panel is fitted with 73 knobs and 144 buttons, welcoming hands-on interaction with all the sound-sculpting and performance controls. Extended on-screen functionality is effortlessly accessed via More buttons (one for each module) that serve up additional parameters in the center-panel LCD to deliver the most intuitive and efficient synthesis experience possible. To the engineer, Moog One is a sophisticated technological marvel; to the synthesist, it is an unparalleled facilitator of fluid musical expression that lets you create, sculpt, and transform your sound without constraints.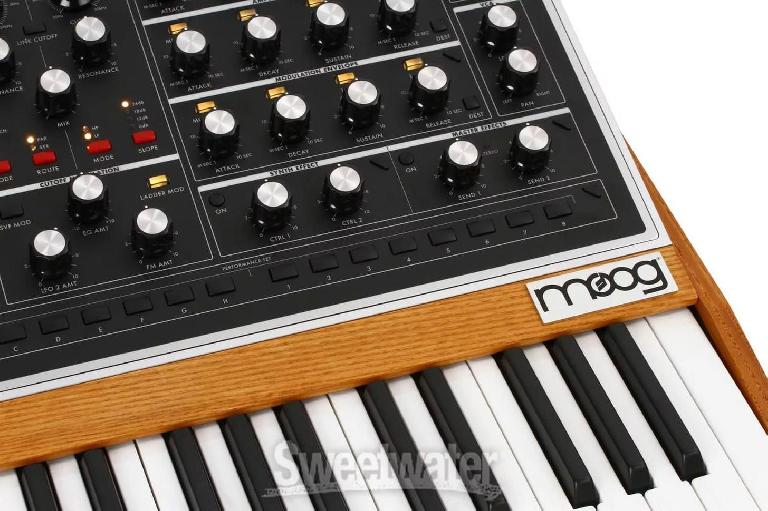 Performance Sets and Snapshots for instant recall
A valuable feature that vintage synths didn't offer was preset storage. If you haven't had the joy of playing, say, a Minimoog, imagine not being able to save or recall a patch for instant deployment in a live show. Moog One is a veritable playground for tone tweakers and sound designers. Its front panel is graced with scores of knobs and buttons; the status of each — as well as the countless under-the-hood parameters — is stored in memory for quick recall from a massive bank of presets.
The Moog One searchable Browser and interactive LCD center panel make finding your sounds quick and easy; saved Presets can even be assigned to the front panel Performance Sets for instant recall. When investigating a sound, pressing the Snapshot button lets Moog One capture and recall a time-stamped snapshot of a preset at its current settings, eliminating the need to incrementally save data manually while experimenting.
Store tens of thousands of presets
A Moog One preset is a self-contained blueprint, saving the parameters for all three layers of timbrality, along with each timbre's sequencer, arpeggiator, and modulation settings. Moog One has the capacity to store and recall tens of thousands of presets that you can easily categorize, edit, notate, and even share via USB drive. Up to 64 presets can be arbitrarily grouped to a Moog One Performance Set, where they are immediately selectable via the front-panel Bank/Preset button configuration — a vital feature for live performances and session work.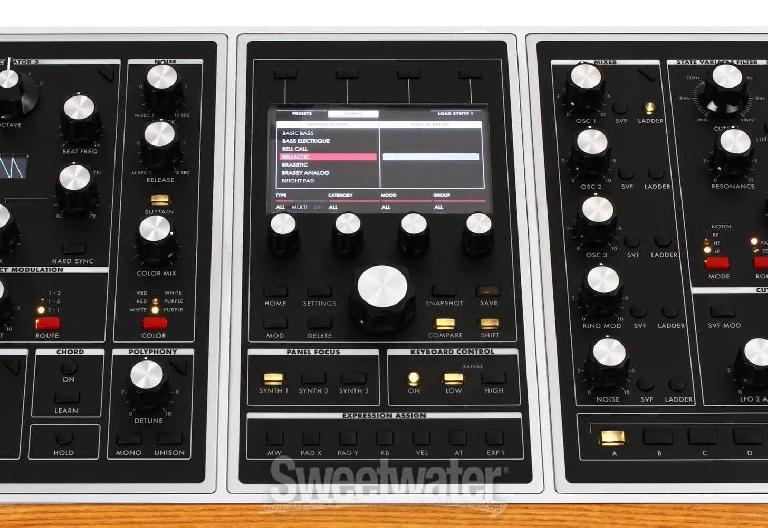 Presets can be shared with an unlimited number of Performance Sets, allowing quick access to desired presets for each live gig, studio date, and composing session. Preserving more than just presets, User Spaces save global behaviors, MIDI settings, knob behaviors, port and pedal configurations, and even the LED brightness level of your working environment. This means that a USB thumb drive in your pocket can temporarily make any Moog One in the world your personal instrument.
Three polysynths in one
Moog One is not only polyphonic; it's tri-timbral (3-part multitimbral) — that is, capable of playing up to three individual Synths simultaneously — split, layered, or zoned across the keyboard — all from within a single preset. With each Synth capable of accessing its own sound parameters, note range, arpeggiator, and sequencer, you can create rich ensemble performances and deeply layered, evolving soundscapes.
Essentially three independently addressable polysynths in one, the Moog One tri-timbral architecture lets you easily assign, split, layer, and stack voices with up to 48 oscillators in Unison mode. What's more, each synthesizer is furnished with its own full-featured step sequencer, arpeggiator, and effects processor. The Panel Focus module simplifies and streamlines the complexities of multitimbral synthesis. Choosing a Synth for panel focus switches control of the Moog One front panel knobs and buttons to the selected Synth layer. You can also select multiple Synth layers concurrently to simultaneously tweak multiple Synths.
Cutting-edge triangle/saw and square/pulse oscillators
Each Moog One voice is driven by three newly designed analog VCOs. Each oscillator outputs a user-defined mix of the selectable triangle/sawtooth wave, plus a variable-width pulse wave. Unlike with traditional oscillator designs, you can shape and modulate the rise/fall time of the triangle wave, and the reset phase of the sawtooth wave, to build classic analog tones that are uniquely rich and complex.
Blending the tri/saw and square/pulse waves together opens the harmonic floodgates, resulting in waveform complexity not commonly associated with analog synthesis. The Moog One oscillator section is also equipped with waveform modulation, hard sync, ring modulation, and FM (Frequency Modulation) for virtually unlimited analog sound generation.
Dual-source noise generator
Each Moog One voice has access to an advanced dual-source analog noise generator that lets you select, mix, and dynamically articulate different noise colorations (white, red, and purple) via its dedicated noise envelope generator. This unique module is a potent tool for adding percussive attack, breathiness, or full-spectrum impact to a sound.
Flexible analog mixer
The Moog One mixer provides volume controls and filter routing for each oscillator, noise generator, ring modulator, and external audio input, allowing sound sources to be shaped by using filters independently or in combination.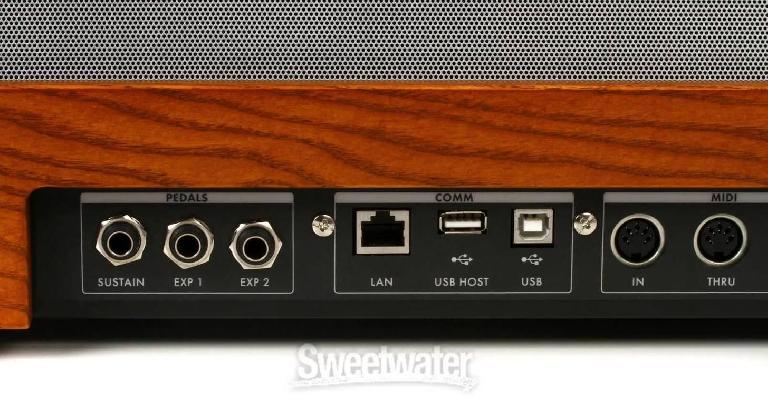 Moog Ladder and State Variable filters
Moog One features two kinds of analog filters – a newly designed multimode State Variable filter for surgical precision and the legendary Moog Ladder filter with selectable 1-, 2-, 3-, and 4-pole lowpass/highpass modes. Between them, the two filters can process sounds — individually or together, in series or in parallel — to deliver a colorful spectrum of vintage, contemporary, and futuristic filter sounds.
Three assignable envelopes
The envelope generator (EG) is a time-honored tool for dynamic sound shaping. There are three Moog One assignable DAHDSR (Delay, Attack, Hold, Decay, Sustain, Release) EGs that go way beyond traditional ADHR envelopes in terms of flexibility. In addition to looping, synchronization, and time-scaling capabilities, the character of each of these envelopes can be easily molded by per-stage envelope curves.
Low-frequency oscillators
The LFO (low-frequency oscillator) is another classic synthesis tool for creating cyclical motion in analog synthesis. Moog One is spec'd with four wide-range LFOs that are assignable to nearly any destination. With capabilities that include MIDI synchronization and clock divisions, start delay time, number of repeats per instance, fade-in and -out times, and much more, these LFOs far surpass the traditional LFO's comparatively limited functionality. Using the Variation parameter, you can smoothly morph between sine and triangle, square and pulse, sawtooth and ramp, or sample and hold and noise waveshapes.
Premium Fatar keyboard and X/Y pad
The exquisite tactile experience of playing Moog One doesn't end with its knobs and switches. The keyboard feel is incredible! Its premium 61-note, velocity- and aftertouch-sensitive Fatar TP-8S keybed is semi-weighted evenly across its black and white keys. Particularly notable is the shape and matte finish of the black keys, allowing for a balanced, dynamic playing experience with natural, seamless fluidity up and down the keyboard.
The enhanced Left-Hand Controller (LHC) features pitch-bend and mod wheels made of high-quality milled aluminum and, beside them, a fully assignable, pressure-sensitive, 3-axis X/Y pad that provides additional emotive expression and continuously variable control.
A tour de force
Packed with cutting-edge technology and more than a half century of Moog analog synthesis design expertise, Moog One is nothing short of a tour de force, one of the most compelling synthesizers we have ever laid hands on at Sweetwater. We are, quite simply, blown away. We know you will be as well.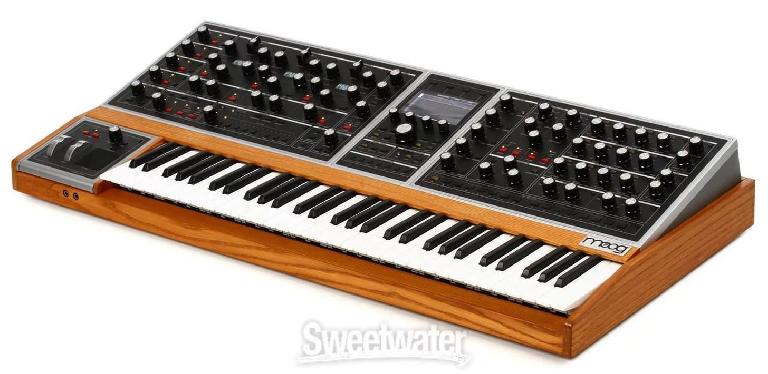 Moog One Analog Synthesizer Features:
8- or 16-voice polyphony
3 VCOs per voice with waveshape mixing and OLED displays
Unison mode (up to 48 oscillators on the 16-voice instrument)
2 filters per voice with filter mixing (2 multimode State Variable filters that function as a single filter, and a classic lowpass/highpass Moog Ladder filter)
3 DAHDSR envelopes per voice with user-definable curves
3-part multitimbrality
Separate sequencer and arpeggiator per timbre
Chord memory
Dual-source noise generator with dedicated envelope
Mixer with external audio input
Ring modulation with selectable routing
Oscillator FM and hard sync with selectable routing
4 assignable LFOs
Premium 61-note Fatar TP-8S keybed with velocity and aftertouch
Assignable pressure-sensitive X/Y pad
Digital Effects (Synth and Master Bus)
Eventide reverbs
Selectable glide types
USB and DIN MIDI
Save, categorize, and recall tens of thousands of presets
Create Performance Sets that make up to 64 presets accessible at the push of a button
2 x ¼" stereo headphone outputs
2 pairs of assignable ¼" outputs (supports TRS and TS)
4 x ¼" hardware inserts (TRS)
1 x ¼" external audio input (line-level)
1 XLR + ¼" TRS combo external audio input with trim knob
9 assignable CV/GATE I/O (5-in/4-out)
USB drive support for system and preset backup
LAN port for future expansion
As soon as we get hands-on / a video demo we'll post about it here on Ask.Audio.