Moog Minitaur 2.2 Bass Synth Now Shipping
It's here! Complete with wood side panels, the new Moog Minitaur analog bass synth is at version 2.2 which means there's new firmware, features and improvements all round. This video shows it off.
At the end of July 2017 we reported that Moog Music Inc. were gearing up to release a new version of their popular analog bass synthesizer, Minitaur 2.2. As well as the wooden side panels there are new wave-shapes and much more. Here's the full details plus a new video from Moog Music showcasing the new features in the firmware and the software editor too.
Asheville, NC, August 10, 2017 — Today we are excited to announce that Minitaur v2.2 is now shipping and through October 10th, all new Minitaurs purchased from an Authorized Moog Dealer will come with a free set of wood side pieces.
The new Minitaur v2.2 update expands this powerful analog bass synthesizer with a host of new performance elements and user requested features, including front-panel access to new LFO wave-shapes, oscillator hard-sync and much more...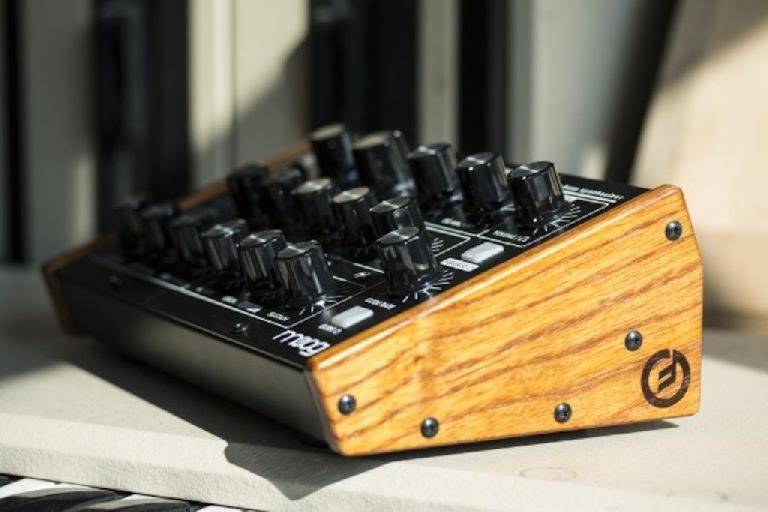 Minitaur 2.2 Changes
Added RPN 2 Coarse Tuning support (-64 to +63 semitones)
Added LFO modes: Square, Ramp, Saw, Sample/Hold, Filter EG
Added VCO2 Hard Sync
Added "VCO 2 Only" option for LFO-to-VCO pitch modulation.
Additional shifted panel controls
Hold GLIDE + turn LFO RATE knob to set LFO Waveform (Tri, Sqr, Saw, Ramp, S/H, Filter EG).

Hold GLIDE + turn VCO 2 LVL knob to turn VCO 2 Hard Sync on or off.

Hold GLIDE + turn VCO LFO AMT knob to set LFO "VCO2 Only" (Off or On).

Hold GLIDE + turn FILTER ATTACK knob to set Filter EG Delay Time (0ms to 10s).

Hold GLIDE + turn GLIDE knob to set global Top Octave Wrap behavior (Off or On).

Fixed LFO KB Reset when LFO Midi Sync is active

Fixed Release switch response to editor when in independent decay/release

Restore edited preset if saving is initiated on the hardware, preset location is changed, and then save is canceled

Last received MIDI mod wheel value persists, when turning "load preset mod wheel" on/off.

Improved LFO MIDI Sync

Re-mapping CV inputs restores preset value for previously-mapped parameter .

Removed internal pitch-CV offset on boot ("cv start note" is now 0; was 20 — can also set a custom CV start note via sysex F0 04 08 23 18 00 nn F7, where nn = start note in hex)

Pitch-CV input re-scaled to full range when mapped to parameters other than Pitch-CV

Wrap top octave fix, for small VCO2 detuning values

Filter EG delay time range set 0 to 10 seconds

Glide time restored after Note Calibration

Minitaur no longer adds a tilde (~) after preset name, when saving on the hardware