Moog Discontinues Minimoog Model D, Opens Door For Behringer & Roland
As one door closes another opens. The highly sought after Minimoog Model D reissue from Moog Music is being discontinued. But don't fret, other options are already coming soon.
Wouldn't you love to be a fly on the wall at Moog Music, Roland and Behringer? Within 24 hours of Behringer opening up pre-orders for their controversial (to some) Behringer D $299 clone of the Minimoog Model D monophonic analog synthesizer, and within a week of Roland's $499 SE-02 (loosely inspired by Minimoog) collaboration with Studio Electronics, Moog Music have called time on the recreation of one of the world's most iconic synths.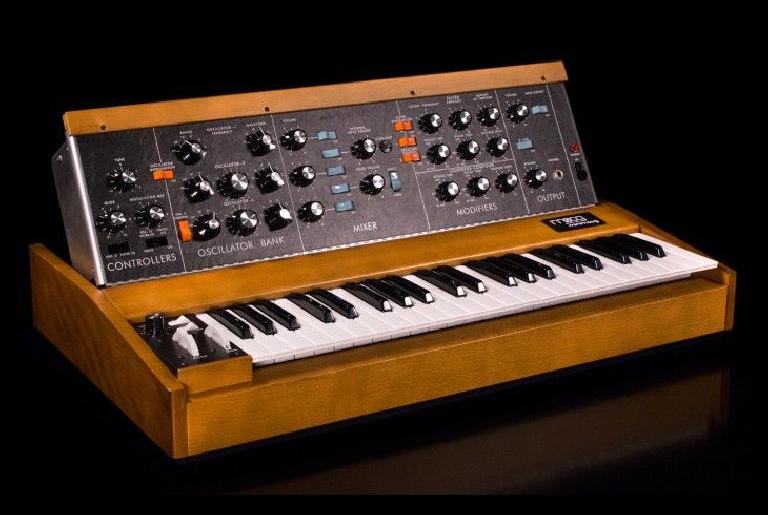 With a price point over 11 times that of the soon to be available Behringer D, some cynics may not buy the company line that the official Minimoog reissue has simply run out of parts due to high demand. Perhaps Moog Music decided to quit while they were ahead?
Regardless, the Minimoog Model D will remain a limited edition while Behringer D and Roland SE-02 will appeal to those looking for a similar sound at a greatly reduced price and with additional features. In the case of the Behringer D it's eurorack compatible. The Roland SE-02 sports a number of enhancements, including a sequencer and patch recall.
So is this a case of "The king is dead. Long live the king!"?
Here's the official press release from Moog Music and an exclusive video performance of Three Jewels by Mike Dean below:
The Final Countdown: Minimoog Model D Production Ending

Today, we announce that after a whirlwind year back in production, our limited re-issue run of the iconic Minimoog Model D synthesizer is coming to a fast end. To commemorate the close of production of the world's first portable synthesizer, we invited prolific producer Mike Dean to spend one day creating a new Minimoog Model D track in the Moog Factory in Asheville, NC. Dean arrived in the factory last Monday at noon, and wrote and recorded the new track Three Jewels on the build line while Moog production engineers crafted some of the final Model D synthesizers beside him. With the track completed in just five hours, Dean walked out of the Moog factory with its employees at the end of their shift--last year Dean spent a weekend at the Moog factory, crafting Grande Faucon in 48 hours.


The Minimoog Model D was originally introduced in 1970 and built until 1981. Then in May 2016, we resumed building the Minimoog Model D for the first time in 35 years. Orders for the synthesizer quickly outpaced our initial estimates, leading to the addition of a night-shift to meet demand for the iconic instrument. Our parts-inventory for the Minimoog Model D project was originally expected to span multiple years of manufacturing, but is being consumed at a much higher rate than anticipated. Thus, this second historical production run of the Minimoog Model D will reach completion much earlier than intended, and this marks the final opportunity to acquire a new Minimoog Model D.

The Minimoog Model D has been a part of our daily lives here at the Moog Factory for over a year now, and is woven into the fabric of our history. As we draw closer to the end of this limited production run, we reflect on this labor of love as one of the most rewarding and joyful projects we have ever undertaken.
Thank you for sharing in this creation and joining us on this magical journey.


Contact your local authorized
Moog dealer or distributor
to inquire about purchasing one of the final Minimoog Model D analog synthesizers.
The excellent video course by Rishabh Rajan on the Minimoog Model D won't be discontinued and is still available to watch.
Check it out here.