Ableton ist eine leistungsstarke und dennoch zugänglich DAW. Ableton Pull-Faktor ist die Benutzerfreundlichkeit und seine Kreativität Optionen, hatte, als ein wenig zu erkunden rund um die Anwendung fertig ist werden können. Was ich besonders schätze etwa Ableton ist, wie es route MIDI kann um verschiedene MIIDI Kanäle mit dem Monitoring In-Option. Lassen Sie uns, wie Sie eine Reihe von Sounds aus einem einzigen MIDI-Clip erstellen zu suchen. Mit Ableton MIDI-Spuren und die Überwachung In-Funktion können Sie die Differenzierung in Ihre Tracks. Dies wirft die Frage auf, ob es möglich ist, eine ganze Komposition mit nur einem MIDI-Clip erstellen.
Schritt 1 - Zunächst werden die MIDI-Clip
Ich möchte zuerst eine einfache Drum-Loop zu erstellen. Ich habe 808 Drum-Kit von Ableton Drum-Bibliothek ausgewählt und geschrieben haben, eine 2-bar Drum-Pattern. Was wir tun werden ist die Schaffung zusätzlicher MIDI-Instrumente, die auch mit dieser MIDI-Clip und dessen MIDI-Daten werden.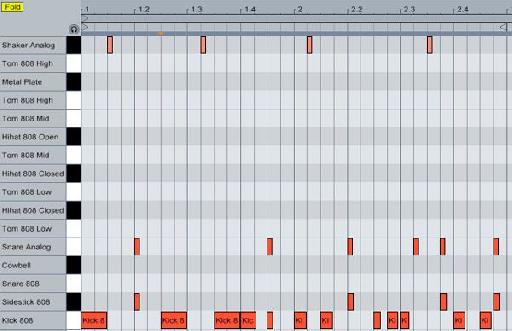 Der Drum-Pattern.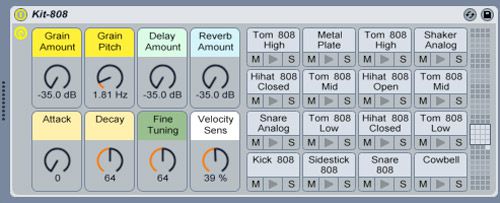 The 808 Drum Kit.
[Audio-id = "8634"]

Schritt 2 - Erstellen That Bass
Erstellen Sie eine MIDI-Kanal (Shift-Command-T). Von der MIDI Von

The 808 Drum-Kanal.
Unter-Monitor machen In ist ausgewählt und nicht Auto sicher. Dies wird die MIDI-Daten oder Clip-Informationen aus der Drum Channel, die Bass-Kanal.

Monitoring In.
Weiter ist immer eine schöne Bass-Sound. Ich habe den Bass-Gitarre Preset (Instruments gewählt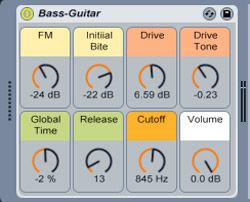 Die Bass-Kanal.
[Audio-id = "8636"]
Schritt 3 - Erstellen Mehr Instruments
Next Ich habe einen anderen MIDI-Kanal, geleitet sie auf die DRUM-Kanal über das Beobachtungs-In wie vor, erstellt und die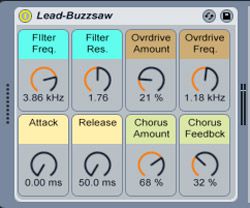 Lead-Synth-Kanal.
[Audio-id = "8635"]
Ich habe dann einen anderen Synthesizer Instrument, um die oben genannten Synthesizer mit den Einstellungen unten ergänzen. Ich habe einen Pitch MIDI-Effekt, um die Oktave zu erhöhen hinzugefügt, und ein Akkord von MIDI-Instrumenten mit einigen verschiedenen Schichten auf der MIDI-Note für den Aufbau einer Akkordfolge. Sie können sehen, dass aus einer einfachen MIDI-Muster haben wir uns bereits eine ganze Auswahl an Sounds mit nur Ableton Instrumente und MIDI-Effekten-in gebaut.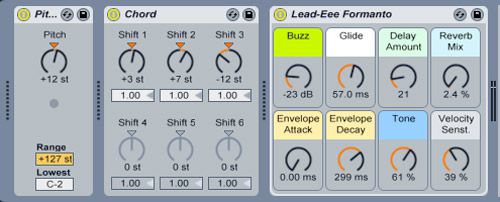 Die Synth-Kanal so weit.
[Audio-id = "8638"]
Schritt 4 - Mixing it Up
Die beiden Synths Signal links und rechts, um eine gewisse Trennung in den Mix zu erstellen.
Schließlich habe ich eine Bleepy Synth-Sound (Bleep-poipoi), mit einem Pitch MIDI-Effekt und eine Arpegiator etwas mehr Bewegung auf die einfache MIDI-Muster erstellen erstellt:

Bleep Synth Channel.
[Audio-id = "8637"]

Jetzt diese Mischung zusammen, bis alle Ebenen richtig klingen.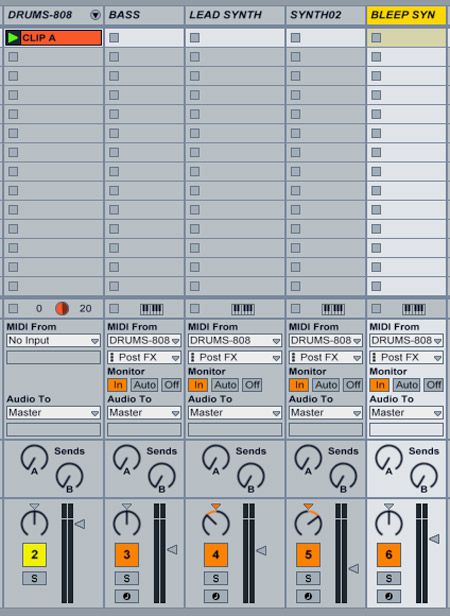 Mix der Elemente auf die richtige Mischung zu bekommen.
[Audio-id = "8641"]

Abschluss
Es ist erstaunlich, was man von einem MIDI Clip in Ableton erreicht werden und durch den Einsatz von Ableton Monitoring In Funktion, um die MIDI-um mehrere MIDI-Instrumenten.
Mit diesem Konzept können Sie bauen riesige Instrument Regelungen ganz einfach und effizient in Ableton. Stellen Sie sich vor, welche anderen Möglichkeiten es für Instrument-Erstellung unter Verwendung dieses Verfahrens sind.
Schauen Sie sich Bill Burgess Tutorial auf eine vollständige Erklärung über mehr Ableton-Schnittstelle und bietet .
Sie können auch Brian Cass Ableton TNT -Funktion für mehr Tipps und Tricks!