Ableton is a powerful yet accessible DAW. Ableton's pull factor is its ease of use, and its creativity options that can be had when a bit of exploring is done around the application. What I especially like about Ableton is the way it can route MIDI around to different MIIDI channels with the Monitoring In option. Let's look at how you can create an array of sounds from one single MIDI clip. With Ableton's MIDI tracks and the Monitoring In feature, you can create differentiation in your tracks. This begs the question whether it's possible to create an entire composition using only one MIDI clip.
Step 1 - First, the MIDI clip
I first want to create a simple drum loop. I have chosen an 808 Drum kit from Ableton's Drum Library and have written a 2-bar drum pattern. What we are going to be doing is creating additional MIDI instruments that will also be using this MIDI clip and its MIDI data.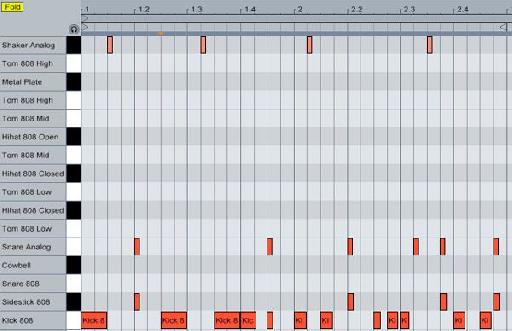 The drum pattern.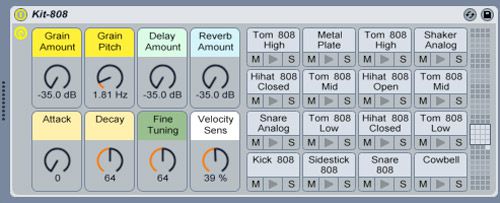 The 808 Drum Kit.
Step 2 - Create That Bass
Create a MIDI channel (Shift-Command-T). From the MIDI From pull-down menu choose the Drum Channel. I have called my drum channel DRUMS-808.

The 808 Drum channel.
Under Monitor make sure In is selected and not Auto. This will route the MIDI data or clip information from the Drum Channel to the Bass Channel.

Monitoring In.
Next is getting a nice bass sound. I have chosen the Bass-Guitar preset (Instruments > Instrument Rack > String Bass) and tweaked it a bit to get it to sit right with the 808 Kit.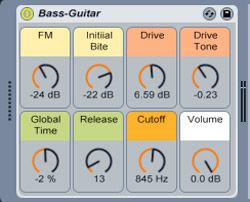 The Bass Channel.
Step 3 - Create More Instruments
Next I have created another MIDI channel, routed it to the DRUM Channel through the Monitoring In just like before, and added the Lead-Buzzsaw synth preset (Instruments > Instrument Rack > Synth Lead). I have also tweaked its settings as shown below to create a synth sound that cuts through the mix by upping the Ovrdrive settings.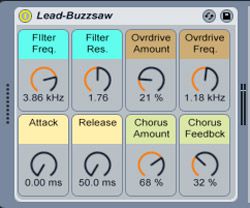 Lead Synth Channel.
I then created another synth instrument to complement the above synth with the settings shown below. I've added a Pitch MIDI Effect to raise the octave, and a Chord MIDI Instruments with some different shifts on the MIDI note to build up a chord progression. You can see that from one simple MIDI pattern we've already built up quite a selection of sounds using just Ableton's built-in Instruments and MIDI effects.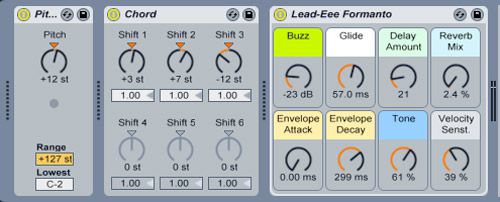 The Synth Channel so far.
Step 4 - Mixing it Up
The two synths are panned left and right to create some separation in the mix.
Lastly I've created a Bleepy Synth sound (Bleep-PoiPoi), with a Pitch MIDI Effect, and an Arpegiator to create some more movement to the simple MIDI pattern:

Bleep Synth Channel.
Now mix these elements together until all the levels sound right.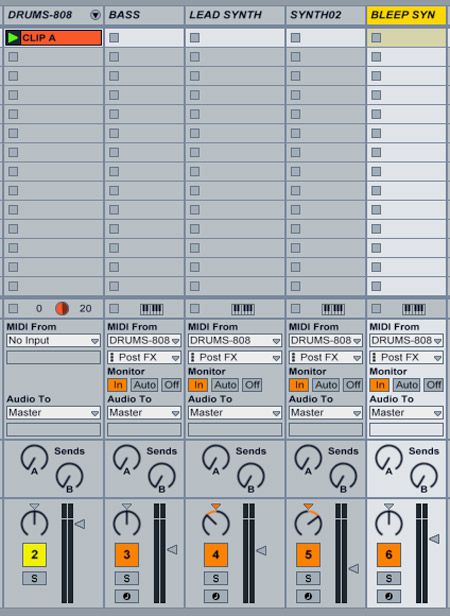 Mix the elements to get the right blend.
Conclusion
It's amazing what can be achieved from one MIDI Clip in Ableton and by making use of Ableton's Monitoring In feature to route the MIDI around to multiple MIDI Instruments.
Using this concept you can build up huge instrument arrangements quite easily and efficiently in Ableton. Imagine what other possibilities there are for instrument creation using this method.
Check out Bill Burgess' tutorial on a full explanation on more of Ableton's interface and features.
Also check out Brian Cass' Ableton TNT feature for more tips and tricks!