Modulat is a MaxforLive Toolkit of prebuilt modules that you can use to effect parameters, output audio and generally be awesome. Spawn a module from the menu and connect it up using patch cords, this is MaxforLive without the coding! This new release brings tow new modules to add even further modulation and creative possibilities to your compositions!
What's New
Introducing the Note Out module. Outputs MIDI Notes with a trigger, pitch value and velocity value signals. Similar to the Note In module, pitch and velocity values can be scaled (-1 to 1) or raw (0 to 127). Because of rounding errors when dealing with floating point values, it is advised to use raw values for the pitch. This module is able to prevent any incoming MIDI notes from being send out by default. This way you can mix the Note Out notes with the already existing notes or not.
Introducing the Route module. Up to 8 inputs and outputs can be routed in any way imaginable doing a drag and drop on the input and output names within very similar to how inputs and outputs of modules can be connected. Click on a connection to delete it and click on an input or output to delete all of its connections.
You can switch between different setups or routing combinations with the setup number at the top making it possible to change the routing of other modules dynamically. The maximum amount of setup numbers can be set as well. It is advised to not use high values unless actually needed as high values will increase the loading time for Modulat slightly.
The DSP part of the module is being compiled on the fly to ensure efficiency. If an input, output or a setup number isn't used, the CPU usage will not increase. You can use this module for very simple tasks such as a gate without having to worry about wasting CPU usage on all of the other things the module could do.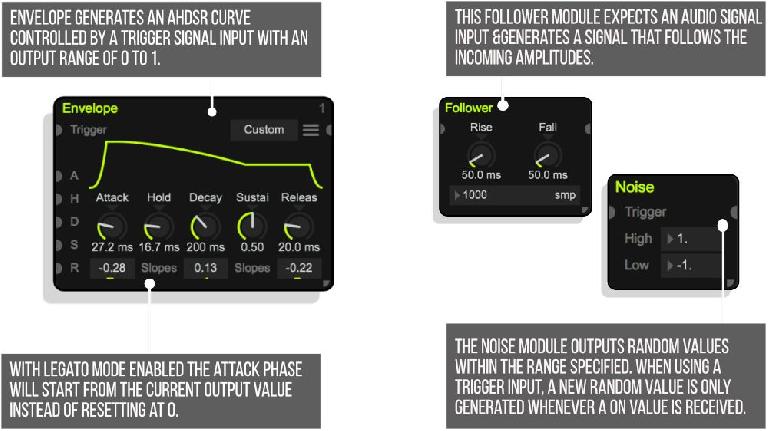 Copy and paste works as usual across different Modulat instances and even carries over to other Livesets.
Other Changes - Delay module now includes a "Quarter Notes" unit. Similar to the "Intervals" unit, it takes the BPM of your Liveset into account. This allows for more flexibility compared to using intervals as it is a floating point value instead of a list of available time lengths.
Additionally, the DSP part of the Delay module has been changed massively to support delay times below the vector size (64 samples) and have more accuracy while using the "Samples" unit.
The Crossfade module is now part of the "Routing" group within the browser.
The Envelope module was able to crash Live in a specific situation.
As usual quite a few bugfixes and changes were made to improve consistency between modules.
PLEASE NOTE: MaxforLive 8.0.2 is required