Cambridge, MA (July 17, 2014) — iZotope Inc., a leading audio technology company, and Black Octopus, creators of high-quality sounds for music production, have released Modern Grooves, a new expansion pack for iZotope's acclaimed drum sculpting and beat sequencing plug-in, BreakTweaker.

Featuring modern, clean, and crisp sounds with a dash of retro throwback, the expansion includes more than 300 sounds with 40 presets—all designed to have a timeless feel and work well with a wide range of material.

In an interview with iZotope , Black Octopus founder Toby Emerson describes his approach to creating Modern Grooves: "I hope the pack will provide something for artists of all skill levels. Users can start with the presets and then tweak the sounds to create something original… For people wanting to sketch ideas in the studio, I tried to lay out the patterns in a musically logical way—someone could jam out full tracks on the fly just by switching between the patterns using a keyboard or MIDI controller."
Modern Grooves can be seen and heard:
Pricing and availability
Modern Grooves is available now at iZotope.com for $39.00.
BreakTweaker is on sale now through July 31, 2014 for $199 (save $50) or BreakTweaker Expanded for $249 (save $50).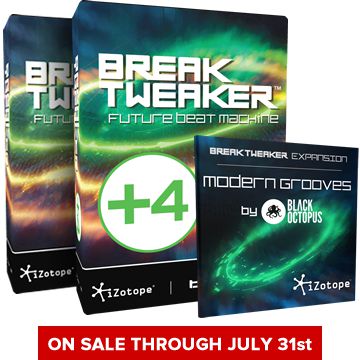 BreakTweaker is available with demo content as a free 10-day trial at www.iZotope.com/BreakTweaker.
Check out all add-ons for BreakTweaker, including Modern Grooves, here:
https://www.izotope.com/en/products/effects-instruments/breaktweaker/add-ons/

Check out the AskVideo.com video course on BreakTweaker here:
http://www.askvideo.com/course/izotope-breaktweaker-explored